Europe Funds Palestinian Schools Named After Terrorists Who Killed Children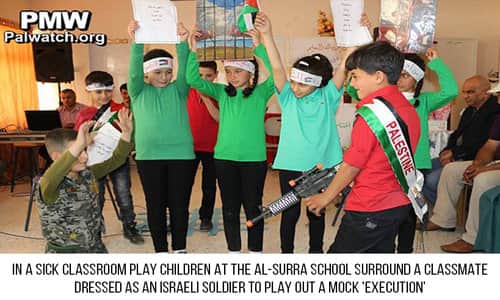 By Shiri Moshe/Algemeiner.com
October 06, 2017
Share this article:
---
The Belgian government is being urged to take action after a Palestinian school that was built with its funding was renamed in honor of a mass-murdering terrorist.
The Beit Awwa Basic Girls School was established in the southern West Bank "through a fund from the Government of the Kingdom of Belgium and through the Belgian Development Agency BTC," according to a plaque at the school, which was first identified by the monitoring group Palestinian Media Watch (PMW).
Now known as the Dalal Mughrabi Elementary Mixed School, it was renamed by the Palestinian Authority's (PA) Ministry of Education in honor of the Palestinian terrorist who took part in the 1978 Coastal Road massacre.
Thirty-eight people -- including 13 children -- were killed and over 70 were wounded in the attack, which turned Mughrabi into a venerated hero among Palestinians.
The school's logo also features a map of Israel, the West Bank, and the Gaza Strip, all depicted as a single territory. Its Facebook page has posted pictures glorifying Palestinian attackers, including Adi Hashem al Masalmeh, who was fatally shot after stabbing an Israeli soldier in October 2015.
Daniel Schwammenthal, director of the AJC Transatlantic Institute, told The Algemeiner that "the Palestinian Authority under President Abbas has established a culture of incitement that fuels terror and hatred, making it impossible to see how he can ever lead any serious peace negotiations."
"By naming schools after terrorists, the PA is indoctrinating even little children, apparently determined to ensure this conflict will last well into the next generation," he continued.
Schwammenthal called on the Belgian government to "investigate this issue and insist that the PA rename the school immediately."
"It is the government's responsibility to ensure that its foreign aid is not perverted in such a way to promote hatred rather than be used for its intended goal of furthering education," he added.
Olga Deutsch, head of Europe Desk at NGO Monitor, pointed to research by her group showing that "the Belgian government provides millions of euros to highly politicized non-governmental organizations (NGOs) that promote anti-Israel narratives, lawfare, and [Boycott, Divestment, and Sanctions] campaigns," some of which have ties to terrorist groups.
"This case of Belgian funding directly supporting the glorification of terror is abhorrent," Deutsch told The Algemeiner.
"NGO Monitor calls on Belgium to follow the lead of countries like Norway who have demanded the return of monies from such anti-peace initiatives," she added.
Norway in May harshly condemned the PA for naming a women's center built with funds contributed by the country after Mughrabi, and demanded that the funds contributed be repaid.
"We further call on European donors to take to heart the need to exercise better accountability for where their funding goes," Deutsch said.
According to its website, the Belgian Development Agency (BTC) will fund the construction of 10 more schools in the West Bank by 2020, in addition to the 23 it already built since 2001.
---