Critical Year For Israel As UN Bias Expected To Continue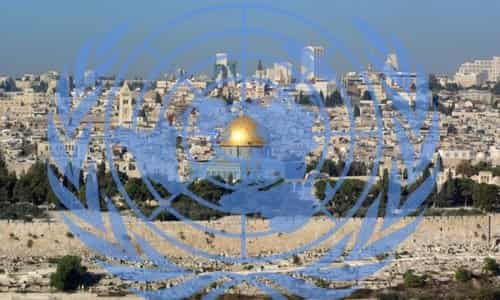 By PNW Staff
September 20, 2016
Share this article:
---
As the United Nations begins it's 71st General Assembly in New York City, Israel is preparing itself for another round of attacks. There is no other nation on Earth as vilified in the United Nations as Israel.
Many fear the Security Council this year will push through a resolution setting territorial parameters, and a deadline, for the creation of a Palestinian state.
President Obama has hinted that in the final months of his term, he may reverse the traditional U.S. policy of vetoing such resolutions. Some have even suggested the recent military aid deal formalized by the United States and Israel is part of that plan by using a carrot and stick mentality.
The US has given Israel the military assistance carrot but will now allow the stick to fall at the UN by not protecting it from a hostile world body.
In the meetings and resolutions of the UN Human Rights Council, UN General Assembly, UN Educational Scientific and Cultural Organization (UNESCO), International Labor Organization (ILO), and the World Health Organization (WHO), Israel has been singled out as a target time and time again.
Year after year, these groups and the UN General Assembly focus their attention on condemning Israel while ignoring to an absurd degree perpetrators of tyranny, discrimination, and human rights all over the world.
A cursory view of the record of the UN's resolutions should give an idea of the level of bias present in this otherwise esteemed international body.
The United Nations Human Rights Council
Led in recent years by none other than Saudi Arabia, one of the world's worst offenders in both religious oppression and the subjugation of women, the Human Rights Council has adopted 131 resolutions intended to criticize specific countries.
Of those 131, an incredible 68 were leveled against Israel alone. From its 47 rotating member states, the council has directed 55% of its resolutions against Israel in 2016, 36% in 2015, 43% in 2014 and 40% in 2013.
Absent from the discussion, strangely enough, is criticism of Saudi Arabia's treatment of women and religious minorities.
The United Nations Educational, Scientific and Cultural Organization
The sole focus on country-specific resolutions from UNESCO, approximately 10 per year, has been Israel. The resolutions range from the absurd conspiracy theory put forth in 2016 that Israel is "planting fake Jewish graves" in Jerusalem (Arab-sponsored and voted on by both France and Spain) to dozens of other pronouncements on the illegality of Jewish cultural sites and condemnation of Israel's educational system.
With Syria in 2013 as the one exception, no other nation has yet been the focus of a country-specific resolution by UNESCO.
The World Health Organization
The WHO is focused primarily on health issues on a global scale, but an exception is made for its annual resolution that bears the name "Health Conditions in the Occupied Palestinian Territory, Including East Jerusalem and in the Occupied Syrian Golan" which once again focuses only on Israel as the target of its condemnation.
No other country suffers this fate. UN Watch Executive Director Hillel Neuer described a recent resolution as "reaching new heights of absurdity," when the body, "accused Israel of violating the health rights of Syrians in the Golan, even as, in reality, Israeli hospitals continue their life saving treatment of Syrians fleeing to the Golan from the Assad regime's barbaric attacks."
The International Labor Organization
The ILA's mission is to improve labor conditions, reduce unemployment and protect workers worldwide. It pretends to do this by, once again, producing only a single country-specific report each year condemning only Israel.
With global problems of wage inequality in China, forced labor in Dubai, sweatshops in Burma and cruel working conditions in Bangladesh, this exclusive focus on Israel is as bizarre as it is counterproductive.
The United Nations General Assembly
The General Assembly has among the worst track records of bias. Between 2012 and 2015, it adopted 97 resolutions aimed at criticism of specific countries. Of those, 83 (86%) were direct only towards Israel.
Largely ignoring the massacres committed by Assad's regime and dozens of other despots around the world, year after year Israel is singled out in what amounts to a pogrom, thinly veiled as global democracy, against the state of Israel which is, ironically, the only democracy in the Middle East!
The UN Commission on the Status of Women in 2016 blamed the "Israeli occupation" for the subjugation of women in Palestinian society. Of all 193 countries, only Israel was singled out for criticism, despite the plight of women in many Arab states where their rights are virtually nonexistent and abuse is common, or in India where sexual violence is running rampant.
Israel is blamed for the fact that 51% of Palestinian women have been the victims of gender violence. Israel is blamed for Palestinian families who force their daughters into marriage for money. Israel is blamed for the condition of the Palestinian healthcare system.
So they would have us conclude that Israel is responsible for Palestinian men beating women, for Palestinian marriage practices and for the Palestinian healthcare system.
An international body that claims to be democratic has shown itself to be little more than a mob whose sole target is most often Israel. Like the age old accusations of Jews poisoning wells, Israel is year after year singled out to take the blame and condemnation of the world's problems.
Whether health, education, employment, gender or human rights, an unending series of resolutions is passed against Israel while the world's despots vote to shift the blame away from themselves.
The UN is far from the objective and enlightened bastion of global democracy and modernity many believe it to be and its record on Israel is shameful to say the least.
---