Shocking New Report: Over 40% Of Europeans Hold Antisemitic Views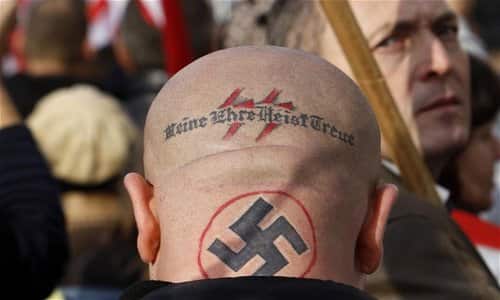 By Ruthie Blum/Algemeiner
January 27, 2016
Share this article:
---
More than 40% of European Union citizens hold antisemitic views and agree with the claim that Israel is committing genocide against the Palestinians and behaving like the Nazis, according to data presented during Sunday mornings weekly Israeli cabinet meeting, the Hebrew news site nrg reported.
Ahead of International Holocaust Remembrance Day this week, Israeli Diaspora Affairs Minister Naftali Bennett, who also serves as minister of education, presented the countrys 2015 antisemitism report, pointing to the trends emerging in Europe as a result of the spread of radical Islam; the refugee and migrant crisis; the anti-Israel boycott, divestment and sanctions movement (BDS); and the rise of the extreme Right.
The "new antisemitism" explored in the report deals mainly with Jew-hatred among Muslims, rather than fringe parties in various European countries. The report states that "anti-Israel protests and accusations that Israel is a blood-thirsty, illegitimate country creates a slippery slope that eventually leads to the assault on Jews identified with Israel."
Another aspect of antisemitism raised in the report, according to nrg, is that it has led to Jewish "enclosure in guarded areas and to a record high in emigration from Western Europe."
The report discusses the rise in antisemitism following what it calls a "triple alliance against the Jews an increase in antisemitism on the part of Muslim immigrants; a rise in the extreme Right, accompanied by xenophobia and violence against minorities; and a rewriting of Holocaust history, mainly in Eastern Europe... and in Western Europe, dissemination of hate-filled propaganda by radical left-wing movements, which promote boycotts and the delegitimization of Israel and create a climate that encourages attacks on Jews for their identification with Israel."
The most blatant antisemitic violence committed in 2015, according to the report, was the HyperCacher attack in Paris, in which four Jews were killed, two days after the Charlie Hebdo massacre. The report also cites the growing trend of individual acts of antisemitism in France, and the accompanying rise in the desire of French Jews to leave the country and seek refuge elsewhere.
The report also examines the re-emergence of classical antisemitism: "In Russia and Ukraine, the Jews are portrayed in the media as a group whose loyalty to their country is dubious."
As for the United States, the report looks at the "new antisemitism" on campuses across America, with 75% of Jewish students saying that they have either experienced or witnessed antisemitism.
---