Prepping Goes Mainstream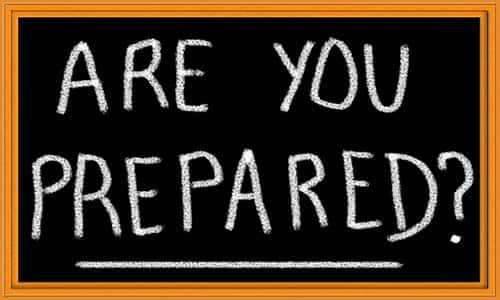 By Tom Olago
February 10, 2016
Share this article:
---
Today's news headlines often make for miserable reading: The world totters on the brink of financial collapse. New, dangerous, uncontrollable diseases show up suddenly. This volcano is due to erupt, or that major earthquake may strike massively without notice, and nothing can stop that mega-meteorite heading towards earth to smash us all into toothpick-sized pieces.
Maybe unprecedented civil unrest would be mankind's final undoing. Or perhaps a 'nuclear winter' that will leave emaciated zombie-like survivors scrambling for scraps of contaminated food and water. The doomsday possibilities are endless, and create the perfect environment for the "preppers" or "survivalists" to thrive in what has undoubtedly become a multi-billion-dollar industry.
Daniel Barker for Naturalnews.com recently reported that more and more American families are beginning to see the value in preparing for a number of possible scenarios in which the stockpiling of food, water and other essentials could prove to be a very wise investment. This would include having a backup plan for power grid failures and the imposition of martial law due to an economic collapse.
Barker explains that prepping comes from historical concept of self-reliance and appears to be a peculiarly American phenomenon that dates back to the days of the founding fathers, who learned survival tactics through hardships and challenges faced then.
How entrenched is this culture nowadays? Pretty strongly, by most indications. An article by thedailybeast.com republished late 2014 by the teaparty.org reported that the dreaded Ebola disease pushed over half (52%) of Americans into a panicked survival mode. 38% said they believed they or a family member would be infected. Yet, at that point only three cases had been diagnosed in the U.S.
Precautionary measures were widely embraced with immunity-boosting measures and strict sanitation, while stockpiling of medical supplies and food took center stage. Sales of gas masks and their harrowing-sounding NBC (Nuclear Biological Chemical) survival systems skyrocketed.
Prepper-turned-entrepreneur Roman Zrazhevskiy exemplified the 'prevention is better than cure' adage with his quote regarding "pandemic kits": "It's better to have it and not need it than need it and not have it," he asserted.
On Doom and Bloom, a prepper blog and online store, concerned citizens were offered a $59.99 "Deluxe Ebola Pandemic Kit" that included goggles, coveralls, masks, and biohazard bags. Online marketers were cashing in by creating survivalist websites and publishing Ebola guides.
Express.co.uk recently ran an account of several people who have been prepping in earnest, essentially conducting disaster management dry-runs and experimenting with various options to survive doomsday scenarios.
One such example quoted by writer Adrian Lee is that of Steve Hart, who has supplies to last six months stockpiled in his home. Harts primary fear is terrorism, but he also is wary of the effects of a nuclear accident on foods and cyber-attacks.
Harts 4x4 in the driveway is always nearly full of diesel while in the boot there is a rucksack bursting with kit. "I've not only got a plan B but a plan C and D as well," explained the 59-year-old site manager, who is among Britain's growing band of "preppers".
Your average prepper, Lee reports, is highly likely to be male. Prepping is a male-dominated pastime but does appeal to a handful of women such as Sarita Robinson, a psychology lecturer at the University of Central Lancashire, in Preston. The 40-year-old became fascinated by prepping and survival psychology while living in California.
"I don't have a bunker in my garden or a shotgun in my boot," she said. "But by taking a few simple precautions such as having a first-aid kit, spare food, a portable stove and water purification tablets you can cope better. You only have to look at the floods in York and Cumbria to realise we are not immune from disasters... I would like to see more women get involved in prepping but we have still got this idea that blokes are going to save us," added Sarita.
The prepper trend has also attracted a wide array of preparedness expositions and conferences. As David Morris explains in a Fortune.com article, he visited one such expo late 2013 in Florida. The expo titled, Life Changes, Be Ready! gave him the impression that "the preparedness crowd isnt marginal at all - economically".
Morris recounted that the show floor was packed with a dizzying array of small businesses and products that defied stereotypical "prepper" classification - not just ammunition and crossbows and camping gear, but also seed banks, beehives, financial planning, and others.
Despite continued skepticism from certain quarters, it certainly looks like the preppers will continue to carry the day. The mosquitoborne Zika virus is the latest global scare, sweeping across the Americas at an "explosive" rate, according to recent CNN.com reports.
The general survival rule-of-thumb seems to be to know how to balance regular precautionary measures with the need also be ready for worst-case scenarios. Yet every new threat or crisis affecting humanity still drives home the point that it will always be better to be safe than sorry.
---