Rapid Growth Of Islam Will Shift Demographics Worldwide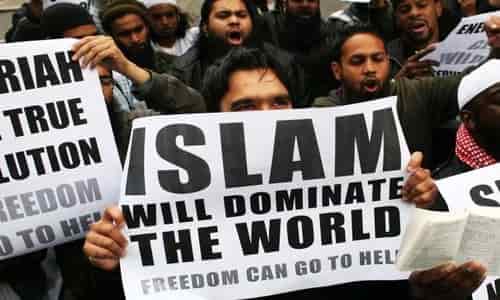 By Tom Olago
February 12, 2016
Share this article:
---
Recent polling data suggests that the American Muslim population stands a strong chance of doubling in size by 2050 and becoming the second largest religion by 2040. Current Muslim population stands at 3.3 million but is expected to rise to about 8.1 based on projections.
In contrast, the Pew Research Center projects that the total number of Jews will decline from 1.8 percent to 1.4 percent by 2050 while Hindus will see a modest increase from 0.7 percent to 1.2 percent.
According to the gospelherald.com, at the current Muslim growth rate, Islam would then surpass Judaism as the religion holding the second largest number of followers in the United States.
Jonah Bennett shared these Pew statistics in a dailycaller.com write-up. Reasons for the rise in population are expected to be driven mainly by immigration, as well as the fact that Muslim families tend to have far more children than average.
So should that matter? And if so, how and why? One key indicator can be found in general American perceptions and public opinion. In relation to this, Bennett draws attention to a Reuters/Ipsos poll in December that showed a certain amount of anxiety exists among Americans regarding the Muslim community.
A total of 14.6 percent of Americans are generally fearful of Muslims a figure that jumped to 34.7 percent when respondents were asked about "a few groups and individuals" in the Muslim community. Its therefore not very surprising that about half of Americans want mosques to be closely monitored, and most Americans reportedly do not want to open up the border to Muslim refugees.
These negative perceptions are not helped by surveys conducted across Europe indicating that 25 percent of Muslims believe that Islam can justify violence against civilians. A separate Pew poll has also shown that one in eight (12.5%) of American Muslims think that suicide bombing can be justified. In France, Muslims comprise 8 percent of the population but make up around 70 percent of the prison population.
Even the historically strong 'Christian Britain' better described now as the United Kingdom has been affected by these trends. Breitbart.com recently reported a new survey by researchers at Lancaster University that revealed only 42 per cent of Brits identify as Christians, despite the fact that England remains one of the last confessionally Christian nations in the world, with the Anglican communion enjoying official status as the state religion.
While the Church of England is only one generation away from extinction, as Lord Carey, the former Archbishop of Canterbury, warned earlier this year, Islam is quickly coming forward to take its place. During the past two years the Church of England lost two million followers, whereas the number of Muslims in Britain grew by a million, according to NatCens British Social Attitudes Survey.
The speedy growth of Islam is however not limited to America and Europe in general; in fact, all indications are that it is now a global trend. A Pew Research Center poll in April 2015 purported to explain the why of the rapid expansion of Islam. As Pew notes: Indeed, Muslims will grow more than twice as fast as the overall world population between 2010 and 2050 and, in the second half of this century, will likely surpass Christians as the worlds largest religious group.
While the worlds population is projected to grow 35% in the coming decades, the number of Muslims is expected to increase by 73% from 1.6 billion in 2010 to 2.8 billion in 2050. By then, Muslims at 29.7% will be nearly as numerous as Christians, who are projected to remain the worlds largest religious group at 31.4% of the global population.
According to Pew, the following factors account for the high rate of Islamic growth worldwide:
- Muslims have more children than members of the seven other major religious groups analyzed in the study. Each Muslim woman has an average of 3.1 children, significantly above the next-highest group (Christians at 2.7) and the average of all non-Muslims (2.3). In all major regions where there is a sizable Muslim population, Muslim fertility exceeds non-Muslim fertility.
- Muslims have the youngest median age (23 in 2010) of all major religious groups, seven years younger than the median age of non-Muslims (30). A larger share of Muslims will soon be at the point in their lives when people begin having children.
- More than a third of Muslims are concentrated in Africa and the Middle East, regions that are projected to have the biggest population increases.
- Religious switching, which is expected to hinder the growth of some other religious groups, is not expected to have a negative net impact on Muslims. By contrast, between 2010 and 2050, Christianity is projected to have a net loss of more than 60 million adherents worldwide through religious switching.
The trend is seemingly unstoppable barring any unforeseen influences. CBN.com recently quoted Pew Director of Religion Research Alan Cooperman: "Christianity had a seven-century head start on Islam, and Islam is finally catching up".
---