ISIS Threat Reignites Guns In Church Debate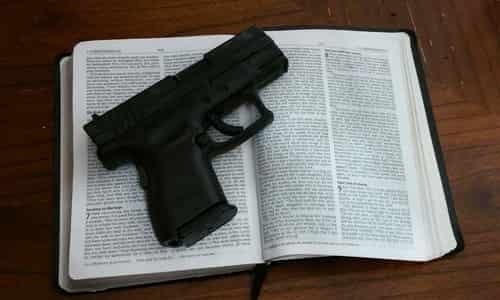 By Tom Olago
February 12, 2016
Share this article:
---
Christian churches are beginning to seriously rethink their security arrangements and assess how best to protect worshipers without distracting them or making them feel tense and unsafe during services after it was revealed an ISIS supporter was planning to shoot up a Detroit Megachurch.
Khalil Abu-Rayyan, 22, now stands accused of making terror threats on behalf of ISIS. When investigators asked Abu-Rayyan why he allegedly wanted to target the church, he said: "It's easy, and a lot of people go there, plus people are not allowed to carry guns in church. Plus, it would make the news. Everybody would have heard. Honestly, I regret not doing it. If I can't go do jihad at the Middle East I would do a jihad over here.
It's developments like these that some security experts have been warning about and are encouraging churches to prepare themselves for possible 'lone wolf' attacks.
In one such development in late 2015, the St. Andrew's Presbyterian Church in West Ashley, SC, participated in a county security conference focusing on church safety. The training titled 'Keeping your Church and Ministry Safe in an Uncertain World' was hosted by the Charleston County Sheriffs Department. A report on this initiative was published last August in the postandcourier.com by Lauren Shirley.
The Charleston County Sheriffs Department hosted the safety and security training, which was free and open to leaders of religious congregations and facilitated by Training Force USA, a Florida-based company.
"What I'm saying to you, ladies and gentlemen, is do not put yourself or your church at risk," training facilitator Tom Gillan warned at the session. "Security is the last thing that a church thinks of when theyre building a church. They're thinking about more of what musical instruments we need, what color were going to paint the walls, are we going to need stained-glass windows?..Security is the last thing on the list."
He suggested churches do background checks on volunteers and employees, take a proactive stance, craft a safety and security policy and adapt a security-conscious mindset to keep churches and ministries safe.
The training's were being held all over the country, but Gillan recognized the importance of this week in Charleston, especially given the aftermath of the June shooting at Emanuel AME Church, which he said deeply affected both him and his wife.
The question that the Christian church is now wrestling with is whether the church should offer armed protection and resistance to counter criminals and terrorists. Its not a familiar decision as the threats have so far been more isolated than pervasive, and churches typically prefer to be seen as havens of safety and peace. Looking like a semi-military outpost doesnt fit the bill or enhance the brand.
But circumstances have left churches with little choice. Besides the threats from ISIS, Al Qaeda, and other such terror groups, all churches are vulnerable to cash heists by criminals targeting church offerings and collections. Certain churches that are predominantly of one race are also more open to attack.
Penny Dickerson for the Daytona Times highlighted this aspect mid-2016 following the Emmanuel A.M.E. Church in Charleston. The tragedy occurred when Dylan Roof, a lone white gunman entered the Emmanuel A.M.E. Church in Charleston and sat through a near hour of Bible study before he unloaded a barrage of bullets that killed nine congregants.
Dickerson further explains Church safety initiatives that have since been implemented. For instance, the Texas-based National Organization for Church Security and Safety Management, Inc. (NOCSSM) trains churches through the country in the areas of security and safety.
President and founder of Gatekeepers Security Services, Chuck Chadwick is also its licensed security manager. The companys Gatekeepers Program has put hundreds of armed Gatekeepers in churches across Texas.
Our mission in our Gatekeepers program is to train these men and women to go toward the sound of the gunfire and stop the violence, and the only way to really do it effectively is through firearms, said Chadwick.
This is costly beyond the reach of most of the much smaller churches. According to Brian J. Gallagher, a Maryland-based church safety expert, more than 80 percent of the nations churches have less than 100 members. Their budgets cannot usually afford high-tech training or often the necessary base-level security an alarm system.
Training is readily available and much of it not just to anyone who can afford it. Late 2015, Michael Gryboski in a Christian Post report made reference to Geof Peabody, a firearms trainer based in El Dorado County, California. Peabody offers a free course to train church ministers and their staff.
He held the first class at a local Seventh-Day Adventist Church around eight years ago, noting that interest in the training course has only increased.
"It just kind of kept going from there. The first one we did this year we had 55 ministers sign up for it. It's pretty epic," said Peabody, adding that the course has been "immeasurably successful." Peabody told CP that about 500 ministers have taken his course, which includes a classroom section typically held at a church and then a training section held at a gun range.
Which brings up the million-dollar question: What the Bible says about it all? Some Christians also tend to ask: Well, why should we protect ourselves, shouldn't God take care of us when we come to worship him?
When asked for theological justification for firearms in church, Peabody directed CP to Luke 22:36-38, where Jesus tells his disciples to sell their cloak and buy a sword.
How likely would it be that Jesus should require his disciples to buy an offensive weapon and never expect them to use it? He even went so far as to prioritize the sword over clothing, asking them to sell their cloaks to buy weaponry.
And why would He do that if waiting on divine or angelic intervention for protection were always the appropriate defense? The implication is that trusting in God for protection does not invalidate the need to reduce, or where possible eliminate, the opportunities that evil persons or groups may use to perpetrate carnage and lawlessness.
Perhaps Jesus wanted His disciples to carry the swords merely as a deterrent rather than for offensive purposes? Or perhaps it would be more likely Jesus intended that the swords should be used only whenever necessary for defense and not carelessly?
Later, when Peter used a sword to cut off the ear of the servant of the high priest in an attempt to protect Jesus, he was rebuked by Jesus only for attempting to hinder the process of His mandated death (John 18:10) not for the attempt to defend Him.
These positions are seemingly some of the more popular ones being referenced in support of the need for armed protection in churches.
Samuel R. Hayes III, a Navy veteran, a certified weapons specialist and the CEO of Caliber Training Group based in Atlanta reflected on this: "One could argue that the true essence of Christianity is to defend yourself and your core beliefs with righteous indignation when presented with a threat.
There's this ideology in the church that using physical force up to and including lethal force in an instance like the recent shootings in South Carolina is bad. Arguably, (that ideology is) against Gods will if you are not armed and properly trained to meet a threat, should you be called on to step into the role of 'protector,'" Hayes said.
"Discreetly carrying a firearm is a skill-set that you hope you never need. But youll be glad you were able to engage a threat responsibly and effectively as a result of your training," he added.
Carey Lodge, who also reported on the Emmanuel AME shootings, quoted Bishop Ira Combs, a pastor in Jackson, Michigan, who declared in a service after the incident one Sunday: "If they (the church) had security, the assailant would not have been able to reload".
As he preached during a service the pastor was flanked by a man on each side of the pulpit, each armed with handguns beneath their suit coats. Other security personnel were also deployed and communicated with Secret-Service-style earpieces.
Charles Ellis, pastor of the Greater Grace Temple, a Pentecostal megachurch in Detroit with 6,000 members would approve. "Nobody should have to worship in fear or be looking over their shoulder," he said. Ellis has ensured that there is adequate and visible security during church services.
Legislation is already moving through some states to allow for greater access to guns in church.
One example is House Bill 786, or The Mississippi Church Protection Act, which would allow leaders of any church to authorize designated members of the congregation to carry firearms for the protection of worshipers.
It would allow for immunity from civil liability to any church, and the designated member, as long as that person has the required firearms permit and takes a firearms safety course. The bill says anyone who is a law enforcement officer or has a military background can assist the church in training.
If passed, the bill would take effect on July 1.
---