Christianity's New Mission Field: Muslim Refugees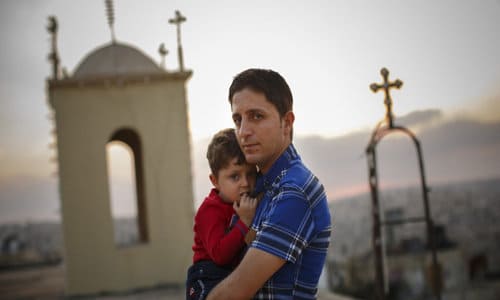 By Tom Olago
February 16, 2016
Share this article:
---
For those Christians who believe the massive influx of predominantly Muslim refugees into Europe can only mean trouble in exchange for benevolence, there is some encouraging news.
It turns out that many of these refugees are in fact receptive to the Gospel of Jesus Christ, and are willing to take advantage of their religiously tolerant new environments to change their faith.
A brand new mission field for Christians has presented itself. Christian churches are welcoming the opportunity and seizing the moment so far as sharing the gospel is concerned. Did not Jesus Himself, as part of His great commission, command that all His disciples should preach the gospel to every creature to the ends of the earth?
Interestingly enough, one prominent German denomination seems not to agree with that. According to the Religion News Service (RNS), the Evangelical Church of the Rhineland (ECR) has reportedly claimed in a position paper that trying to evangelize refugees is un-Christian. In Christianity Today, November 2015, Morgan Lee examined the topic in the context of Germanys refugee crisis, and quoted from the RNS interview and research findings:
A strategic mission to Islam or meeting Muslims to convert them threatens social peace and contradicts the spirit and mandate of Jesus Christ and is therefore to be firmly rejected, said the Evangelical Church of the Rhineland in a paper entitled "Pilgrim Fellowship and Witness in Dialogue with Muslims".
Lee further explains that the Evangelical Church of the Rhineland (ECR) is one of twenty Lutheran, Reformed and United Protestant groups that make up the Evangelical Church in Germany (EKD). According to the most recent figures, 23 million Germans are part of EKD, whose numbers have consistently declined in recent years.
German Evangelical Alliance secretary general Hartmut Steebs firm and sharp rejoinder to the ECR statement, insisted instead that evangelism would remain an essential part of the response to refugees. "We declare firmly that the fundamental missionary task of Christians, namely to preach the Gospel of Jesus to others and invite them to follow it, cannot be given up," he told RNS.
Lee noted that yet other European churches believe that watering down the gospel will help attract non-Christians and make its message more palatable to them. Such churches have downplayed their Christian identity in deference to the refugees they are assisting.
One German church that will be hosting 50 refugees will move its chairs, pulpit and font, reported the Express. Earlier this year, a top bishop in the church of Sweden instructed churches in her diocese to remove crosses.
Even then, some challenges still endure for those who would wish only to see conversions from Muslims genuinely seeking salvation. One example cited by Lee that complicates the issue is that Muslim refugees have a political incentive to convert.
In at least two countries the asylum seekers are fleeing - Iran and Afghanistan - converting to Christianity from Islam is punishable by death. Refugees may wager that theyre less likely to be sent back to their birth countries should they convert.
This is not only true in Germany but in other countries such as Sweden with similar situations.
That may well leave some churches inundated with false converts. Worse still if some of them only desire to infiltrate churches and masquerade as Christians in order to later facilitate terrorist attacks.
Other churches elsewhere in Europe choose to focus more on the opportunities for evangelization and humanitarian gestures that the arrival of these refugees has created. Croatias Christian leaders, for instance, have reached out to the nearly 30,000 refugees who have entered.
"Gods given us an amazing opportunity," Teanna Sunberg, NCM communications coordinator for Central Europe, said. "Hes brought the Muslim world to our doorstep."
Similarly, Tom Heneghan in his report for the RNS in October 2015 provided another similar example: The Consortium of Evangelical Missions. This association, linking mission activities of evangelical groups around the country told its members last September: We have today the unique opportunity to introduce Jesus to countless people right here who have not yet heard the Good News.
Hazel Torres for Christian Today gave the example of Silas, a 25-year-old Iranian man who was reported by Charisma News to be one of these converts. When asked what really prompted him to change religion, Silas said his spiritual transformation came after he read the Bible that a friend lent to him.
"When I started to read the Bible, it changed me. ... At first, I didn't want to be a Christian, I just wanted to understand it. But the more answers I got, the more I ... realized I was finding God," he said.
Gottfried Martens, a pastor in Berlin, told the Daily Mail that he has been interviewing migrants who have purportedly accepted Christ, adding that he only baptizes those he believes are truly sincere. Silas is among them.
He said even if he were to be deported back to Iran, he would never give up his faith in Christ. Jesus changed his life, and he will pay any price to serve Him now, he vowed.
Martens said as a result of the conversions, churches all over Germany that used to suffer from declining membership are now seeing remarkable growth. In his own congregation alone, Martens said he used to minister to just 150 members. But now he said the church already has more than 600 parishioners and more new converts are joining the congregation. Martens described the number of conversions as nothing short of a "miracle."
A recent article published in the csmonitor.com shed further light on these developments. Both Protestant and Catholic churches have benefited from the boost in church numbers due to conversions from Islam. The trend has helped to replace declining numbers of local Christians.
The Haus Gotteshilfe Lutheran church in Berlin has become one such hive of activity catering to Afghans, Kurds, and Iranians wanting to learn the Bible.
Haus Gotteshilfe now runs Bible classes and baptism preparation attended by some 60 refugees, and Sunday services have grown so crowded that the congregation has decided to add a Persian-language service. Lutheran deaconess Sister Rosemarie Götz of the church reflected: I would never have thought that Id be teaching the Bible to Persians.
Germanys Lutheran church has sent an official guide to its pastors on how to deal with asylum seekers eager to convert. Swedens congregations are also moving into uncharted territory. At St. Claras church in central Stockholm, Sunday services are now translated into Farsi. The refugees, in turn, boost service attendance.
Reverend Dan Sarkar, the local vicar there, warns every new participant: Being here wont improve your chances of getting asylum. On the contrary, if you convert and are rejected for asylum you will face extreme problems when you leave Sweden. Anybody who doesnt agree with the conditions should leave the class, Sarkar tells his pupils. So far, only one has.
It is clear that such refugees are now free to exercise a choice that could cost them their lives back where they came from, and that the door is wide open for them to be converted with much less risk for those evangelizing them.
The refugee crisis is neither good for the refugees or the strain it put's on Europe However, the opportunity to share with tens of thousands of Muslims who would otherwise probably never hear the Gospel reminds us of the importance of this verse from Romans "And we know that for those who love God, that is, for those who are called according to his purpose, all things are working together for good." (Romans 8:28)
---