America's Most/Least Bible Minded Cities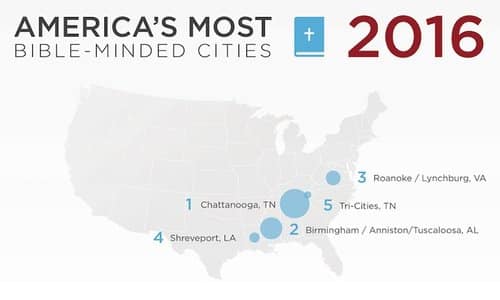 By Tom Olago
February 17, 2016
Share this article:
---
Irrespective of your level of faith in God or the lack of it, you might feel strongly enough about it to want to live in a city or state of like-minded people who share your belief systems and values.
If so, a recent survey can help U.S residents make that decision. Survey statistics were drawn from the non-partisan and non-profit Public Religion Research Institute's American Values Atlas (AVA) whose survey covered 50,000 people.
Quentin Fottrell of Marketwatch.com suggests, for instance, that if you should happen to be an atheist, you might want to move to the Pacific Northwest. Portland, Oregon, San Francisco, California and Seattle, Washington are tied on a 2015 list of metropolitan areas with the most religiously unaffiliated residents (37%).
What factors contribute towards these leanings in the Pacific Northwest? Some answers may lie in a 2004 book, Religion and Public Life in the Pacific Northwest: The None Zone.
Its authors found that there was no dominance of any major denomination there, so religious groups, spiritual environmentalists, and secularists must vie or sometimes must cooperate with each other to address the regions pressing economic, environmental and social issues.
"A clearly recognizable religious reference group functions as a social mirror, alongside or against which an individual can define himself or herself. The Pacific Northwest has neither," the writers concluded, adding, "Most people who come into the region do not come seeking to replicate what they left behind."
On the other end of the spectrum, people of faith would be most concentrated in Charlotte, North Carolina which was the metropolitan area with the fewest people without any religious affiliation (16% in 2015). This was closely followed by Dallas, Texas and Milwaukee, Wisconsin (17% in 2015), Houston (18%) and Kansas City (19%).
Fottrell was quick to add some important caveats: "The AVA survey didn't specify that a certain percentage of these metro areas were atheists. While many people who dont believe in God may not attend religious services, there are (of course) faith traditions such as Unitarian Universalism that welcome and include humanists and atheists; many people who might not believe in God may just as likely go to church for spiritual reasons too, or merely because they like it".
What are the factors influencing the relatively high religious affiliations in the South? 10 of the 12 states with the highest self-reported religious-service attendance are in the South, along with Oklahoma and Mormon-dominated Utah.
According to a separate Gallup survey of over 177,030 U.S. adults last year on church attendance: "The strong religious culture in the South reflects a variety of factors, including history, cultural norms and the fact that these states have high Protestant and black populations both of which are above average in their self-reported religious service attendance."
Overall, roughly one-fifth of the U.S. population has no religious affiliation whatsoever, studies show. Some 17% of Americans said they had no religious affiliation, according to research published last year by polling firm Gallup. The polling concludes that 38% of people identify as Protestant, 9% as Christian, 23% as Catholic, 2% as Jewish and 2% as Mormon, 6% gave "other" as an answer, while another 4% gave no answer to the question, and 17% answered "none".
How Americans feel about religious groups also varies, according to a 2014 survey of over 10,000 adults by Pew Research Center. On a rating from zero to 100 where zero reflects the coldest, most negative possible rating and 100 the warmest, most positive rating Jews received 63%, the most positive rating, followed by Catholics, at 62%, and evangelical Christians, at 61%. Buddhists received a 53% rating, while Hindus received a more neutral 50% and Mormons 48%. Atheists and Muslims received just 41% and 40%, respectively.
Unsurprisingly, the Southern 'Bible Belt' cities top the list of the most "Bible-minded cities" in the United States, calculated each year by the American Bible Society (ABS) and Barna Group.
As Sarah Zylstra for Christianity Today noted, the rankings, based on each citys Bible-reading habits and beliefs, come from a decade of interviews with more than 65,000 adults in the country's 100 largest metropolitan areas.
As Chattanooga, Tennessee regained its top spot from Birmingham, Alabama, many demographic trends held firm. More than half of Chattanoogas population (52%) of about 173,000 is Bible-minded, which Barna defines by both action and attitude. In other words, individuals "who report reading the Bible in a typical week and who strongly assert the Bible is accurate in the principles it teaches."
"As in previous years, the South remains the most Bible-minded region of the country, with all of the top 10 cities located below the Mason-Dixon line," stated Barna.
No wonder either about where megachurches are concentrated. Tennessee is home to more megachurches per capita (67) than any other state, according to the Hartford Institute for Religion Research. The state has more than one megachurch for every 100,000 people.
Here's the full list of the top 10 most Bible-minded cities:
1. Chattanooga, Tennessee (52%)
2. Birmingham, Alabama (51%)
3. Roanoke/Lynchburg, Virginia (48%)
4. Shreveport, Louisiana (47%)
5. Tri-Cities, Tennessee (47%)
6. Charlotte, North Carolina (46%)
7. Little Rock/Pine Bluff, Arkansas (45%)
8. Knoxville, Tennessee (45%)
9. Greenville/Spartanburg/Anderson, South Carolina/Asheville, North Carolina (44%)
10. Lexington, Kentucky (44%)
And the 10 least Bible-minded cities:
91. Salt Lake City, Utah (17%)
92. Phoenix/Prescott, Arizona (16%)
93. Hartford/New Haven, Connecticut (16%)
94. San Francisco/Oakland/San Jose, California (15%)
95. Las Vegas, Nevada (14%)
96. Buffalo, New York (13%)
97. Cedar Rapids/Waterloo, Iowa (13%)
98. Providence, Rhode Island/New Bedford, Massachusetts (12%)
99. Boston, Massachusetts/Manchester, New Hampshire (11%)
100. Albany/Schenectady/Troy, New York (10%)
---