Kings Of The East Prepare For World Power Status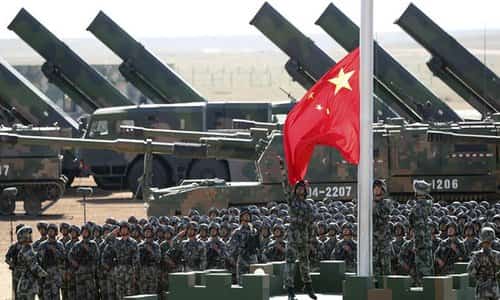 By PNW Staff
July 31, 2017
Share this article:
---
Just hours after bomber jets from the U.S., South Korea and Japan swarmed the skies over the Korean Peninsula in a "show of strength" message to North Korea, China's President Xi Jinping demonstrated his own show of strength with an elaborate military parade at it's largest military training center that features life-size mockup targets, including Taiwan's presidential palace.
The parade was to celebrate the 90th anniversary of the People's Liberation Army and was overseen by President Xi Jinping who called on the Chinese military to transform itself into an elite fighting force to bolster the country's rise into a world power.
He said the Chinese military had the capabilities to 'preserve national sovereignty, security and interests' and demanded the troops' show 'absolute loyalty' to the party. "Always listen to and follow the party's orders," Xi told his assembled troops. "And march to wherever the party points to."
More than 100 planes flew overhead and almost 600 types of weaponry were on display for the occasion -- nearly half of which were making their debut in public, according to the Defense Ministry.
Attracting the most attention Sunday was the J-20, China's newest-generation stealth fighter that could potentially rival the F-22 or F-35 in the US military.
"It's evidence that it's operational -- it's a statement," Zhang said. "It will give China's air force an advantage over neighboring countries' air power."
Perhaps coincidentally, the last weapons rolled out at Sunday's parade were China's own nuclear warhead-capable ICBMs, which state TV announcers proudly called "symbols of a major power."
Zhang said China showed off the DF-31AG mobile intercontinental ballistic missile, an upgrade to the DF-31A that was introduced in 2009.
"The AG version has better off-road ability and is believed to carry multiple warheads," he said. "The DF-31A is fitted with one warhead. Deploying multiple warheads on China's strategic missiles gives them better abilities to penetrate US missile defense."
The PLA has undergone an extensive modernization program investing heavily in aircraft carriers, nuclear submarines and stealth fighters with the strategic aim of competing with the US for regional dominance.
It comes a day after North Korea tested a ballistic missile that it claims can reach all of the United States, US President Donald Trump criticized China for not reining in Kim Jong Un and his missile program.
'I am very disappointed in China,' Trump wrote in a pair of Twitter posts. '...they do NOTHING for us with North Korea, just talk. We will no longer allow this to continue. China could easily solve this problem!'
North Korea's test Friday of an intercontinental ballistic missile was its second of the long-range weapon in a month. The first on July 4 showed the missile had the range to reach Alaska.
Friday's test was designed to show the Hwasong-14 missile's maximum range with a 'large-sized heavy nuclear warhead,' a statement from Pyongyang's Korean Central News Agency said.
It said Washington should regard the launch as a 'grave warning" and that it could now hit other parts of the US mainland.
China appears to believe that such warnings should be taken seriously as it continues to make preparations along it's 880-mile border with North Korea and is realigning forces in surrounding regions to prepare for a potential crisis, including the possibility of a U.S. military strike.
Recent measures include establishing a new border defense brigade, 24-hour video surveillance of the mountainous frontier backed by aerial drones, and bunkers to protect against nuclear and chemical blasts, and drills with special forces, airborne troops and other units that experts say could be sent into North Korea in a crisis.
Mark Cozad, a former senior U.S. defense intelligence official for East Asia, now at the Rand Corp, comments that China's contingency preparations "go well beyond just seizing a buffer zone in the North and border security."
"Once you start talking about efforts from outside powers, in particular the United States and South Korea, to stabilize the North, to seize nuclear weapons or WMD, in those cases then I think you're starting to look at a much more robust Chinese response."
"If you're going to make me place bets on where I think the U.S. and China would first get into a conflict, it's not Taiwan, the South China Sea or the East China Sea: I think it's the Korean Peninsula."
---