ISIS Chemical Threat Closer To Reality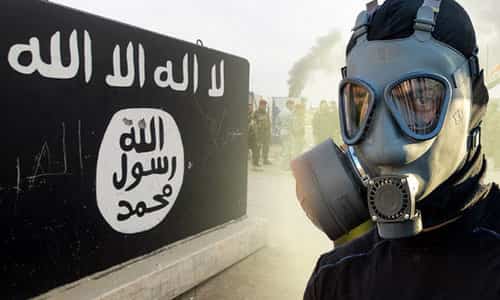 By Tom Olago
February 22, 2016
Share this article:
---
Indications are that ISIS will attempt some form of terrorist attack soon. It's expected to be just a matter of time - not if, but when. How and where still remains to be seen, but the 'how' factor could turn out to be the most disturbing aspect of all.
Just this last week an Isis cell was dismantled in Morocco that authorities say were planning an attack involving chemical weapons.
Ten suspects were arrested in a raid on a safe house last Thursday. They had been planning a suicide attack for the following day, Moroccos Central Bureau of Judicial Investigations (BCIJ) Director Abdelhak Khiame told a press conference.
Six jars of sulphur-containing chemical fertilizer, which when heated can release a fatally toxic gas, were found during the raid. The chemicals may have been put in the bombs in order to be disseminated on detonation.
Four machine guns, thirteen tear gas bombs and significant quantities of ammunition were also among the weapons seized, together with an Isis flag. They were clearly well armed to commit a major attack although it has not been revealed what their target was.
As deadly as these sulphur bombs would have been the real fear is that ISIS has been able to get it's hands on radioactive material.
A recent reuters.com article, reported that Iraq is searching for "highly dangerous" radioactive material stolen last year. This is according to an environment ministry document and seven security, environmental and provincial officials who fear it could be used as a weapon if acquired by ISIS.
According to a document seen by Reuters and officially confirmed, the material, stored in a protective case the size of a laptop computer, went missing in November from a storage facility near the southern city of Basra belonging to U.S. oilfield Services Company Weatherford WFT.N.
Weatherford said in a statement that it was not responsible or liable for the theft. "We do not own, operate or control sources or the bunker where the sources are stored," it said. The material is owned by Istanbul-based SGS Turkey, according to the document.
The U.S. State Department said it was aware of the reports but has seen no sign that Islamic State or other militant groups have acquired it. The Sunni Muslim militant group has, however, been accused of using chemical weapons on more than one occasion over the past few years.
In November, a U.S. official said separately that Iraq had reported to the International Atomic Energy Agency (IAEA), the Vienna-based U.N. nuclear watchdog, a missing specialized camera containing highly radioactive Iridium-192.
The material is classed as a Category 2 radioactive source by the IAEA, meaning that if not managed properly it could cause permanent injury to a person in proximity to it for minutes or hours, and could even prove fatal to someone actually exposed to it for a longer period. Additionally, the ministry document said the material posed a risk of environmental harm as well as a national security threat.
And, with good reason, for large quantities of Ir-192 have gone missing before in the United States, Britain, and other countries, stoking fears among security officials that it could be used to make a dirty bomb.
A dirty bomb combines nuclear material with conventional explosives to contaminate an area with radiation, in contrast to a nuclear weapon, which uses nuclear fission to trigger a vastly more powerful blast.
There was no indication, though, that the material had come into the possession of Islamic State, which seized territory in Iraq and Syria in 2014 but does not control areas near Basra. Iraqi forces are battling Islamic State in the country's north and west, backed by a U.S.-led coalition. The closest area fully controlled by Islamic State is more than 500 km (300 miles) north of Basra in the western province of Anbar.
That news is however not assuring, as the U.S. believes mustard gas has been used by Islamic State in Syria and Iraq, meaning that they already have independent sources for acquiring chemical weapons. ISIS has no qualms about engaging in chemical warfare as it does not subscribe to, nor make any pretense to observe the international rules of war.
Besides the risk of a dirty bomb, the radioactive material could cause harm simply by being left exposed in a public place for several days, said David Albright, a physicist and president of the Washington-based Institute for Science and International Security.
"If they left it in some crowded place, that would be more of the risk, if they kept it together but without shielding," he said. "Certainly it's not insignificant. You could cause some panic with this. They would want to get this back."
The senior environmental official said authorities were worried that whoever stole the material would mishandle it, leading to radioactive pollution of "catastrophic proportions".
This awareness has triggered a frantic search for the toxic material, with army, police and intelligence forces working day and night to locate it, according to a security spokesman for the Basra operations command. Hospitals, too, have been urgently directed to contact security should they come across patients with signs of radioactive contamination.
Fears now abound that the dream scenario for ISIS would be to attack the U.S with chemical weapons. According to a recent editorial report published in investors.com, CIA Director John Brennan confirmed that the Islamic State uses chemical weapons. This warning came just days after the director acknowledged that ISIS is planning attacks on the U.S. homeland in 2016.
Brennan reportedly said ISIS has "used chemical munitions on the battlefield" and could construct chlorine and mustard gas-releasing weapons. Defense Intelligence Agency Director Lt. Gen. Vincent Stewart also told the Senate Armed Services Committee that ISIS will attempt to direct attacks on the U.S. homeland in 2016, and that the caliphate is infiltrating the refugees fleeing the ISIS mayhem in Iraq and Syria.
It would appear that the count-down has begun. As the investors.com editorial asks: "If ISIS is going to cross our border and attack America, why wouldnt it shoot for the moon and use chemical weapons against us in assaults that would make the 9/11 attacks look like a walk in the park?"
ISIS wouldn't even have to smuggle them in. According to medical and biodefense experts recently interviewed by ABC News, terrorists could easily manufacture chemical weapons surreptitiously within the U.S."
"Because theyre relatively easy and inexpensive to manufacture, chemical weapons have long been considered the poor man's atomic bomb, " they said, and "could be dispersed from a crop-dusting plane, from aerosols, or by distributing the chemical in water supplies."
The article solemnly concludes: This nation should be on Code Red right now with a "severe risk of terrorist attack" a WMD terrorist attack that could kill many thousands. Incredibly, President Obama abolished the color-coded terrorism threat advisory scale five years ago.
So, are U.S citizens doomed to remain sitting ducks just waiting for ISIS to choose its poisons for them? Not necessarily. A recent townhall.com article by Leah Barkoukis quotes some reassurances given by CIA Director John Brennan.
"Believe me, intelligence security services have stopped numerous attacks operatives that have been moved from maybe the Iraq to Syria theater into Europe&They have been stopped and interdicted and arrested and detained and debriefed because of very, very good intelligence."
The CIA chief also said the agency was aware of an attack being planned somewhere before the November massacre in Paris, but the encryption communication methods used by terrorists hindered efforts by law enforcement to collect more intelligence.
This is a disturbing indication that, in some ways, ISIS is still a step ahead of law enforcement and security.
---