Do We Want Facebook And Twitter Determining Acceptable Speech?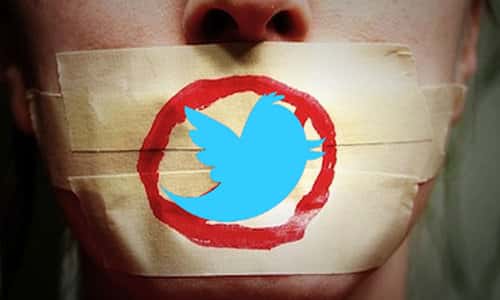 By Tom Olago
February 24, 2016
Share this article:
---
As trends to muzzle free speech continue to spread across the U.S and Europe, its becoming increasingly clear how important the participation of social media giants will be in these developments. Google, Facebook, and Twitter are seemingly at the forefront in co-operating with governments to restrict freedom of speech in various ways.
Some aspects are clearly beneficial, such as preventing terror groups from communicating or posting online, while others infringe more on constitutionally-protected freedom of speech.
The devil is in the details, a number of which have been reported recently in some measure regarding Facebook and Twitter. These have been summarized as follows:
Twitter Freedom of Speech Issues:
An indication of ongoing social media clampdowns on free speech was revealed by Twitter's recent announcement that it was establishing a "Trust and Safety" council, or panel to police speech on the site. Rudy Takala for the Washington Examiner explained that the council will work to develop policies censoring speech on the site. The group will be comprised of more than 40 organizations from 13 regions around the world.
"With hundreds of millions of tweets sent per day, the volume of content on Twitter is massive, which makes it extraordinarily complex to strike the right balance between fighting abuse and speaking truth to power... It requires a multi-layered approach where each of our 320 million users has a part to play, as do the community of experts working for safety and free expression," the statement said.
Takala explained that the announcement is the latest by Twitter in a string of moves aimed at improving its public image. Both the Obama administration and members of Congress have been calling on social media sites, and particularly Twitter, to do more to assist in the fight against terrorism. A California woman filed suit against Twitter in December, claiming that propaganda spread by the Islamic State on the site contributed to her husbands shooting death in Jordan.
In January, the site also announced that it had silently removed as many as 125,000 accounts belonging to members of the Islamic State since the middle of 2015. And in December, Twitter amended its terms of service more expressly to prohibit abusive language.
According to Charlie Nash in a piece for Breitbart.com, the latest move will contribute to combating violent speech on the site, but will likely expand Twitters effort to police content far beyond that as well. Groups involved with the council include the Gay and Lesbian Alliance Against Defamation, Feminist Frequency, European Schoolnet, and the International League against Racism and Anti-Semitism.
It may be all very well for Twitter to target terrorist organizations such as ISIS, but concerns are being raised that intolerance is also being demonstrated against the expression of free speech within the provisions of the 1st Amendment. As Milo Yiannopoulos recently reported for Breitbart.com, rumors that Twitter has begun 'shadowbanning' politically- inconvenient users, are said to have been independently confirmed by sources.
Shadowbanning, sometimes known as "Stealth Banning" or "Hell Banning," is commonly used by online community managers to block content posted by spammers. Instead of banning a user directly (which would alert the spammer to their status, prompting them to create a new account), their content is merely hidden from public view.
According to sources, Twitter also maintains a 'whitelist' of favored Twitter accounts and a 'blacklist' of unfavored accounts. Accounts on the whitelist are prioritized in search results, even if theyre not the most popular among users. Meanwhile, accounts on the blacklist have their posts hidden from both search results and other users timelines.
Not surprising then is that, for weeks, users have been reporting that tweets from populist conservatives, members of the alternative right, cultural libertarians, and other anti-PC dissidents have disappeared from their timelines, fast on the heels of Twitters establishment of the Trust and Safety Council.
Another fear is that Twitter could use its influence to interfere in the 2016 presidential election by muffling conservative voices on the platform and engaging in various forms of political censorship. It is reported that algorithms will be programmed to filter out timelines carrying politically incorrect voices and opinions, and there is no telling how far or how long the downward spiral will continue.
As Yiannopoulos solemnly concludes: Users in search of a transparent, politically unbiased platform will soon have to find - or build - an alternative.
In view of the risk of damage to its brand and reputation, why would Twitter suppress or seek to suppress the expression of local speech? One potential reason, Yiannopoulos suggests, is that more top-down control over content gives Twitter more to offer advertisers and politicians.
Which makes sense, given the way most voters follow up on news and politics. A report by voanews.com, quoting a 2014 Pew Research survey, states that voters are increasingly turning to their smartphones to read political news and follow political figures. Those numbers are highest among young voters, who value making personal connections with politicians.
Yiannopoulos argues that if Twitter is already polling in real time, there is no reason why it wouldnt be able to tweak its algorithm in real time to manipulate elections by controlling what political messages people end up seeing.
For instance, it could instantly track when an undesirable candidate was starting to see growth, and then change the algorithm to nip it in the bud. And of course, they will be able to do this not only in the US but worldwide as well. There have been reports of this type of Twitter involvement in the Philippines, as well.
Facebook Freedom of Speech Issues:
At the behest of German Chancellor Angela Merkel, the social network giant Facebook has begun a Europe-wide campaign to counter so-called hate speech on its platform in the form of posts considered by German law, and described to Facebook, as racist or xenophobic. Facebook launched this process in January and euphemistically called it an Initiative for Civil Courage Online.
Allum Bokhari for Breitbart.com reported that since last September, German prosecutors have also been investigating Facebook for not doing enough to counter hate speech. The pressure paid off, with Facebook COO Sheryl Sandberg flying to Germany to declare that hate speech has no place in our society.
Facebook seems to have also demonstrated other political biases. John Hayward, in his recent analysis for Breitbart.com, refers to Douglas Murray (for the Gatestone Institute) who looked at Facebook as a battleground in the war on free speech. Murray reportedly recalled a recent case in which the social media giant was forced to back down when caught permitting anti-Israel postings, but censoring equivalent anti-Palestinian postings.
Another issue has to do with the definition and interpretation of hate speech terms.
"The sinister thing about what Facebook is doing is that it is now removing speech that presumably almost everybody might consider racist along with speech that only someone at Facebook decides is racist,'" Murray wrote. "And it just so happens to turn out that, lo and behold, this idea of 'racist' speech appears to include anything critical of the EUs current catastrophic immigration policy."
Murray summarized 'Facebook's War on Freedom of Speech' thus:
- Facebook is now removing speech that presumably almost everybody might decide is racist - along with speech that only someone at Facebook decides is "racist."
- The sinister reality of a society in which the expression of majority opinion is being turned into a crime has already been seen across Europe. Just last week came reports of Dutch citizens being visited by the police and warned about posting anti-mass-immigration sentiments on social media.
- In lieu of violence, speech is one of the best ways for people to vent their feelings and frustrations. Remove the right to speak about your frustrations and only violence is left.
- The lid is being put on the pressure cooker at precisely the moment that the heat is being turned up. A true "initiative for civil courage" would explain to both Merkel and Zuckerberg that their policy can have only one possible result.
Other popular social media sites also seem to be under pressure to follow the trend. As Breitbart News has reported, moderators on the link-sharing and discussion site Reddit have already deleted dozens of links and comments about immigrant gang violence after the Cologne sexual assaults in a feined attempt to clamp down on "vileness."
---