Canada To Vastly Expand Right To Die, Including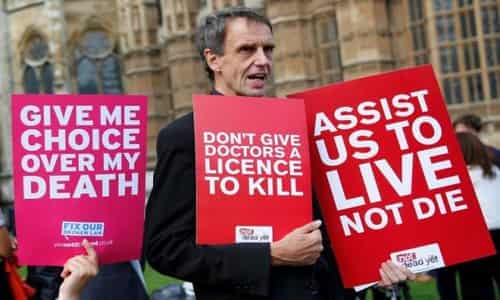 By Tom Olago
March 03, 2016
Share this article:
---
The so-called 'right to die' may very well become an unrestricted reality in Canada, if the federal committee for euthanasia and assisted suicide has its way.
Recent committee recommendations, if adopted, will allow "wide-open euthanasia" and "wide-open abuse" of vulnerable Canadians, according to Alex Schadenberg, executive director of the Euthanasia Prevention Coalition (EPC).
Alex Schadenberg told LifeSiteNews: "We haven't seen what the bill's going to say, but we see the recommendations, and basically it's a wide-open model with very little clear defining controls... It's a near-worst case scenario."
These recent developments, as were elaborated upon by Lianne Laurence for Lifesitenews.com, may also pave the way for a wider application outside of Canada if approved.
Laurence explained that the all-party committee of 11 MPs and five senators was tasked with providing a framework for a new law after the Supreme Court struck down the existing Criminal Code prohibition against assisted suicide and euthanasia in February 2015, a ruling that takes effect June 6.
After hearing from 61 witnesses and reviewing over 100 written briefs, the committee released 21 recommendations on February 25 to regulate what it calls "MAID" - medical assistance in dying.
Extracts from the committee proposals as published in an assortment of news reports include the following:
- Publicly funded healthcare institutions be mandated to provide euthanasia and assisted suicide, and that objecting doctors must "at minimum" provide their patients with an "effective referral," which some reports indicate is yet to be properly defined.
- Nurses and nurse practitioners, as well as doctors, be called upon to euthanize their patients, or assist them in committing suicide. Two doctors should agree a patient is eligible for assisted dying and there should be a waiting period - depending on the disease and its deterioration.
- Physical or psychological suffering that is enduring and intolerable to the person in the circumstances of his or her condition should be recognized as a criterion to access medical assistance in dying.
- Patients should be able to request death in advance, in case they're diagnosed with an illness that might render them incapable of consenting. They don't need to have a terminal illness or face imminent death in order to request it.
- Canadians should be able to get help dying in hospitals, care facilities or in their own homes.
- People would not be rendered ineligible for assisted death based on mental illness alone. Physicians would be entrusted with assessing consent and capacity: "...the Committee has faith in the expertise of Canadian health care professionals to develop and apply appropriate guidelines for such cases... The difficulty surrounding these situations is not a justification to discriminate against affected individuals."
- Children, or "mature minors," be eligible for euthanasia in the second of a recommended two-stage legislative rollout over two to three years.
Schadenberg expressed concern that the concept of a 'mature minor' was not clearly defined. He excoriated the committee's recommendation that mental illness, including treatable depression, could be the sole determinant for eligibility for euthanasia or assisted suicide.
Also of concern is that "there's no effective oversight of doctors under the committees proposed scheme", as Schadenberg noted, stating that the report recommends "exactly the same system as in Belgium and the Netherlands, that is, two doctors decide, and then after the two doctors decide, one of them kills you, and after youre dead, the doctor sends in the report... There is no third-party oversight, none".
He also criticized the committee's recommendations for advance directives, which he described as "fairly wide open," and of particular risk to patients diagnosed with such conditions as dementia or Alzheimers and who are extremely fearful of the future.
The EPC is not against advance directives on principle, but that they can be abused, he said. "You need to have an advance directive that clearly defines the question." Schadenberg also pointed out that one of the greatest problems with the Supreme Court decision was the lack of definition of the terms.
Schadenberg also decried the committee's recommendation that doctors opposed to euthanasia and assisted suicide must give patients an "effective" referral, and that publicly funded healthcare institutions must provide euthanasia and assisted suicide.
As Schadenberg grimly concluded: "It's all pretty bad. Its basically forcing this upon Canada... There's no free will. This is not about choice, autonomy. This is about imposing death, 'assisted death', as they call it, upon Canadians."
It's all very close to becoming legally enforced reality. A separate report by Globalnews.ca filed by Anna Paperny explains that Ottawa has just over three months until June 6 to come up with a national framework for assisted death. It could also oblige Quebec to expand its assisted death law, which came into effect in December but was much more restrictive.
Paperny also notes its wide scope: The report recommendations would make Canadas assisted death framework one of the broadest in the world: The U.S. jurisdictions where its legal - including Oregon and Washington state - only allow it in the months before someone is expected to die.
But Canada has a less than stellar record when it comes to making sure doctors' consciences dont compromise patients' access to care, says Dalhousie Universitys Jocelyn Downie, who co-authored a provincial-territorial report on assisted death last year.
"We haven't been good at it in the past because the governments have left it to the colleges of physicians and surgeons. And the colleges, I think, have abdicated their responsibility."
Interestingly, the committee was less sympathetic toward institutions, such as hospitals or long-term care facilities that object to assisted death taking place on their grounds. "If you get public funding the position in this report is, you have an obligation to provide all legal services... This is going to be a point, I have no doubt, of enormous discussion," Downie said.
It is also noteworthy that four Conservative members on the special committee dissented from key aspects of the report, including its inclusion of children and people with mental illness.
Despite the controversies, the U.S is likely to be directly in the path of Canada's Right-to-Die snowball. As Susan James for nbcnews.com noted, currently only five U.S. states allow aid-in-dying: Oregon, Washington and Vermont by legislation; and Montana and New Mexico by court rulings currently being challenged. Forty states explicitly ban the practice.
However, that may start to change radically in the wake of Canada's court ruling. If Canadians have the constitutional "right to life, liberty and security," they also have the right to end their lives, the court ruled unanimously.
According to that decision, the "sanctity of life" also includes the "passage into death." And that argument, activists contend, turns on its head a long-standing objection cited by movement critics that assisted suicide is tantamount to euthanasia. This may have major implications on American law.
To qualify for assisted dying in Canada, an individual must be a consenting, mentally competent adult with a "grievous and irremediable" condition that causes "endless suffering," physical or psychological, the court said.
James further quoted Arthur Caplan, founding head of the Division of Bioethics at New York University Langone Medical Center and an NBC News contributor: "The activists who want to legalize assisted dying are closely watching Canada&the decision gives momentum and builds enthusiasm for a similar strategy here at the state level."
Barbara Coombs Lee, executive director of Compassion & Choices, the group leading the fight to legalize aid-in-dying in America is doubtlessly thrilled with the ruling, which is said to have created a large legal chasm between the vast majority of American states and Canada.
"It is a huge recognition of the enormous harm done to dying people and a huge correction of longstanding injustices... People in most states who are terminally ill and looking forward to some sort of horrific symptoms before they die are forced to end their lives prematurely & while they can still boost themselves over the balcony or in front of the train or put a gun in their mouths," Coombs Lee told NBC News.
If death-with-dignity were legal across the U.S., those people might live longer, knowing they could have a "peaceful aid-in-dying option," she said. "It prolongs lives, pure and simple."
James further reported that so far, the most powerful voice within the cause has been that of Brittany Maynard, the 29-year-old newlywed who faced an excruciating death from brain cancer and moved to Oregon to end her life legally.
In videos that went viral, Maynard urged Americans to change laws. Since her death last November, "death with dignity" bills have been introduced in 22 states, most recently in California and New York.
Reacting to the Maynard case, Coombs further stated that "It boils down to its very essence that people who oppose aid-in-dying can't be rationally pro-life, only pro-suffering".
These arguments seemingly resonate with most Americans. In December, a HealthDay/Harris poll revealed 74 percent of Americans agree that terminally ill adults with no option of recovery should have the right to end their lives with a doctor's help; 14 percent disagreed.
But critics argue legalization leads down an ethical "slippery slope" that would sanction euthanasia of the elderly and disabled. Yet other critics note that these rulings do not respect God as the source of life or His commandments not to kill.
They instead permit systems that legalize assisted death or murder in the name of preventing further suffering, effectively playing God and granting fallible humans the tremendous responsibility of deciding who gets to live and who does not.
---