Christians Find Themselves The Target Of Islamic Blasphemy Laws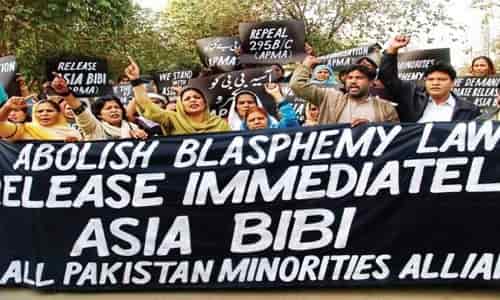 By Tom Olago
March 07, 2016
Share this article:
---
Blasphemy laws, the idea that it is illegal to speak irreverently towards a holy personage, custom or belief, to many in the West seems like something from a bygone era. However, nearly a quarter of the worlds countries and territories (22%) have anti-blasphemy laws or policies with punishments that vary from fines to the death penalty.
In many cases Christians find themselves the target of these laws and this is true more than ever in Pakistan, where you could face the death penalty for insulting Islam.
Pakistan has received widespread criticism for recently handing down a death sentence to a Christian couple charged under the country's controversial blasphemy laws. The death sentence is due to be challenged in the Supreme Court of Lahore.
Authorities in the country have claimed the couple confessed to sending a mobile text message insulting Islam. The couple has since denied sending any such SMS message and has explained that their mobile phone was stolen months before the message in question was sent. This is not uncommon in Pakistan where Christians find themselves the target of persecution but such laws are also used to target people when wanting to settle personal scores or take advantage of a neighboring family for personal gain.
In many cases mob rule will take over before such accusations ever make it to the courts and the defendants are forced to flee for their lives.
When politicians have spoken out against the laws they have paid with their lives. Punjab Governor Salman Taseer - a prominent critic of the law - was assassinated by his bodyguard. Many in Pakistan viewed his killer as a hero. A month after Salman Taseer was killed, Religious Minorities Minister Shahbaz Bhatti, a Christian who spoke out against the laws, was shot dead in Islamabad.
When Taseer's killer was executed last week for his crime, over 100,000 people showed up to protest. Clearly many in Pakistan are in favor of these blasphemy laws.
In a similar fashion, the Egyptian court has sentenced three teenage Coptic Christians to five years in jail for insulting Islam in a video posted online last year.
This despite the fact that the three boys sentenced to jail were only between 15 and 17 years old when they shot the video. According to yahoo news, their teacher who is also seen in the video has already been sentenced to three years in jail.
"They have been sentenced for contempt of Islam and inciting sectarian strife," explained defense lawyer Maher Naguib. "The judge didnt show any mercy. He handed down the maximum punishment." Naguib said the teens meant to "mock the beheadings carried out by ISIS (Islamic State) militants."
The Egyptian Commission for Rights and Freedoms, an independent rights group, held a similar position. The group said ahead of the judgment that it watched the video and found that the teenagers were performing scenes "imitating slaughter carried out by terrorist groups", and warned that there was a return "of using contempt of religion as accusations against writers and religious minorities".
According to Egyptian law, penalties for blasphemy is to be "...inflicted on whoever makes use of religion in propagating, either by words, in writing, or in any other means, extreme ideas for the purpose of inciting strife, ridiculing or insulting a heavenly religion or a sect following it, or damaging national unity".
Todd Daniels, the Middle East regional manager for International Christian Concern stated that the case represented "yet another case of how Egypt continues to bend to the weight of extremist ideology".
Many times the application of blasphemy laws appears to relate to proselytization. In 2014, a Coptic Christian teacher was jailed for six months after parents of her students accused her of evangelizing and of insulting Islam.
This is also the case in Saudi Arabia, where the government has issued an official statement stipulating that capital punishment may now be used for the distribution of "publications that have prejudice to any other religious belief other than Islam." This means that anyone handing out any kind of religious literature that is not of Islamic faith, including Bibles, can legally be executed.
They have also demonstrated they are not afraid to carry out the death penalty, which usually comes in the form of beheadings. Whereas ISIS has received most of the world's attention, Saudi Arabia beheaded more people last year than ISIS.
Saudi Arabia would also like to see the world follow its lead in making blasphemy laws global. Last July, Saudi Arabia called on every nation to implement a global blasphemy law to criminalize any act that defames religious beliefs and symbols of faith.
Abdulmajeed Al-Omari, director for external relations at the Ministry of Islamic Affairs for the kingdom, claimed such abuse breeds intolerance, extremism, and human rights violations throughout the world.
"We have made it clear that freedom of expression without limits or restrictions would lead to violation and abuse of religious rights," Al-Omari said. "This requires every nation to intensify efforts to criminalize insulting heavenly religions, prophets, holy books, religious symbols and places of worship."
The evidence shows, however, that the "heavenly religions, prophets, holy books, religious symbols and places of worship" referred to by Al-Omari does not include Christianity or any other non-Islamic faith.
Open Doors USA, a nonprofit organization that serves persecuted Christians has ranked Saudi Arabia No. 12 on its Christian persecution list. The religious police also often raid house churches, and converts to Christianity from Islam face the risk of being killed by family members.
Virtually no room is left for the free practice and expressions of all faiths as is commonly accepted and permitted worldwide - in principle at least.
Ted Nettleton, Director of media relations at the U.S. organization Voice of the Martyrs, explains: "What Christians call evangelism is often called blasphemy under such restrictive laws. Liberty-loving people everywhere and of all faiths should firmly stand against the spread of blasphemy laws, and work toward the repeal of such laws in places where they already exist."
---