Armed Drone Proliferation Poses New Risks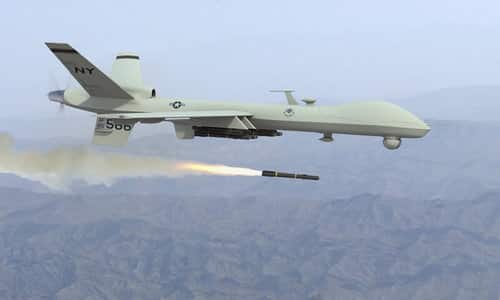 By Tom Olago
March 09, 2016
Share this article:
---
The numbers of countries who can answer "me too!" to owning an armed drone is growing fast. Besides countries that have had them for long, such as the U.S., U.K., and China, it's less well-known that Nigeria, South Africa, and Somalia (most likely) have them as well.
Pakistan and Iraq have also owned and used such drones locally. Even Hamas and Hezbollah have been known to improvise crude and home-made versions that have been effective albeit at much shorter ranges.
Clay Dillow's recent report for Fortune.com further noted that at least a dozen other nations have publicly declared they are pursuing armed drone technologies, and 'countless' others seek to discreetly build or buy them as well. In the past 18 months, the weaponized drone club has quietly grown to double-digit membership, largely thanks to Chinese technology that is both less expensive and easier to obtain than U.S. drone technology.
The U.S drone range includes the weaponized MQ-9 Reaper reputed to be the U.S. Air Force's signature drone strike technology. It has so far only been sold to the U.K and by recent accounts was due to be sold to Italy next, in what would appear to be a U.S attempt to drip-feed access to it.
The U.S. is signatory to the Missile Technology Control Regime, or MTCRa voluntary 1987 arms control agreement aimed largely at controlling the proliferation of cruise missile technologies as the Cold War came to a close. The MTCR requires member nations to apply a "strong presumption of denial" on the sale and export of airborne technologies that can travel 185 miles or more and carry a 1,100-pound payload. Though signed with cruise missile exports in mind, the MTCR has ensnared many large, long-range aerial drones in its language as well.
While the U.S. is signatory to the MTCR, drone exporters like China and Israel are not, making China a particularly attractive vendor as Israel is self-restricted for security reasons. Analysts estimate though that the price tag on a Chinese CH-4 drone is roughly a quarter that of the American MQ-9 Reaper it is designed to emulate. Buying weaponized drones from China also entails far fewer regulatory hurdles.
This, in turn, translates into a stratification of the drone-owning club, according to Sarah Kreps, an associate professor in Cornell University's department of government and an expert on weapons proliferation and international security.
At one end is the U.S. and a handful of its allies that have the resources to sustain satellites, global data links, and foreign bases that offer the kind of global reach the U.S. drone program is renowned for. Then theres a lower tier that includes those countries operating Chinese-made weaponized platforms capable of flying only a few hundred miles from their ground controller, but with deadly effect even at those shorter ranges.
"Once countries like China start exporting these, they're going to be everywhere really quickly. Within the next 10 years, every country will have these," Noel Sharkey, a robotics and artificial intelligence professor from the University of Sheffield, told Defense One.
"Any country that has weaponized any aircraft will be able to weaponize a UAV (Unmanned Aerial Vehicle)," said Mary Cummings, Duke University professor and former Navy fighter pilot, in a note of cautious agreement. While I agree that within 10 years weaponized drones could be part of the inventory of most countries, I think it is premature to say that they will... Such endeavors are expensive and require larger UAVs with the payload and range capable of carrying the additional weight, which means they require substantial sophistication in terms of the ground control station."
Other experts suggest that its time the U.S. embrace the inevitable and put weaponized drone technology into the hands of additional allies presumably eager NATO members. The U.S. has been relatively constrained in its willingness to sell armed drones, exporting weaponized UAV technology only to the United Kingdom, according to a source. In July 2013, Congress approved the sale of up to 16 MQ-9 Reaper UAVs to France, but these would be unarmed.
Experts argue that many U.S allies and partners could as well seek other suppliers or to begin efforts to indigenously produce the systems if the U.S remained reluctant to sell UAVs to them.
Western opinion remains divided on another 'hot potato' issue - whether to make the drones fully autonomous. On the one hand, doing that would increase efficiency, lower costs and risk to humans manning them, but the challenge is that the same advantage could quickly become a disadvantage when used against the U.S or her allies following the expected proliferation.
Worse still would be the consequences of the drones falling into the hands of the 'bad guys'. Mid September 2015, Jonathan Marcus for BBC.com reported that the use of armed drones was spreading, as evidenced by the use earlier that month by Pakistan - to attack a target in the tribal area of North Waziristan.
Marcus noted that while some people saw armed drones as in some sense offering an "unfair" advantage because none of the drone-operating nation's personnel are put at risk, this is not the chief concern of strategists. Rather, UAV capability to respond rapidly, to loiter over an area for hours and to pick out a small target and strike it with a high degree of precision, all mean that they are weapons that are likely to be resorted to with increasing frequency.
A number of domestic police forces have made the argument that armed drones in law enforcement could be an effective weapon for public safety.
However, unanswered questions around potential abuses linger, such as have drone attacks really diminished the size of the targeted groups? How many innocent civilians have been killed in the process in the name of counter-terrorism? Do some of the attacks amount to "extra-judicial killing"? Is usage restricted to the confines of international law?
Marcus adds that the security dilemmas are compounded by the spread of civil drone technology. This too is moving ahead rapidly - you can buy relatively sophisticated, although of course unarmed, "flyers" in many High Streets - and this technology is likely to be "weaponized" by criminal or terrorist groups such as ISIS.
He concluded with concern that the strategic, legal and moral problems posed by the use of armed drones are immense and will only increase as the weapons spread to more and more countries.
---