Missile Wars - US, Russia and China Battle For Hypersonic Dominance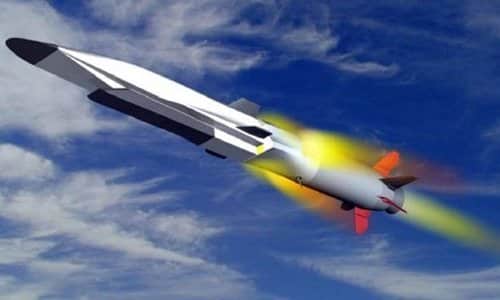 By PNW Staff
February 27, 2018
Share this article:
---
Imagine thousands of long-range missiles, each loaded with hundreds of pounds of high explosives, hurtling toward their targets at more than two miles per second.
Faster than defense systems can react, the hypersonic weapons find their marks and dozens of naval ships, command centers, airfields and radar installations all cease to exist in the blink of an eye. With a single strike, a war is started and nearly won.
Hypersonic missiles now under development in the US, Russia and China threaten radically to accelerate the pace of warfare in the future. Hypersonic missiles travel more than five times the speed of sound and are able to alter course in flight in order to evade interceptors and other defense systems.
Whereas it is true that ICBMs achieve hypersonic speeds upon reentry, they are unable to change course, nor have these same speeds been used in conventional weapons until recently.
Through both their extreme speeds and unpredictable flight paths, hypersonic missiles would make conventional defense systems obsolete.
Suddenly, naval ships, military bases and key government installations all become vulnerable to such precision strike weapons. Development in the US and Russia was slowed by the 1987 Intermediate Nuclear Forces Treaty which banned short and intermediate missiles, but China was not held back by any such limitation.
Admiral Harry Harris, head of the US Military's Pacific Command warned Congress this week that "China's hypersonic weapons development outpaces ours... we're falling behind." Indeed, just with conventional mid-range missiles, China's arsenal outpaces our own by tens of thousands.
The latest missile intelligence indicates that China has tested a hypersonic missile known as the DF-17. Clocking in at 7,680 miles per hour, 10 times the speed of sound, the DF-17 uses a ballistic missile combined with a hypersonic glide vehicle that is guidable upon re-entry.
That is a top speed of more than 2 miles per second, a velocity that makes the projectile virtually impossible to counter. A November 2017 test showed the DF-17 traveling a distance of 870 miles with its payload in roughly 11 minutes, though experts believe this is likely to increase to a range of over 1,500 miles with further development.
From Russia, we now face the threat of the Zircon Missile. Classified as a cruise missile, estimates put its speed somewhere between 3,800 and 4,600 miles per hour, and years ahead of US cruise missiles. Furthermore, the reported velocity that the Zircon is capable of achieving lets it evade any anti-missile system in the US arsenal, or that may be developed in the coming years.
Already out of the prototype stage, the Zircon was announced to be scheduled for production in 2018.
Hypersonic missiles achieve their incredible speeds through either the use of scramjets or ballistic re-entry vehicles that skip across the atmosphere as they return to Earth. Scramjets use the missile's speed to pull more air into its engine and further increase its speed.
Ballistic re-entry vehicles differ from decades-old ICBMs in that their new precision guidance system allows them to be targeted for pinpoint strikes from extreme distances.
The US Air Force, for its part, is testing the X-51A Waverider cruise missile that is designed to travel above Mach 6 (4,603mph). As part of this arms race to keep pace with Russia and China, the Missile Defense Agency is asking for $120 million in its 2019 budget of $9.9 billion to help develop these technologies, an uptick from the $75 million it is slated to receive in the 2018 budget.
While North Korean nuclear weapons and threats of war dominate the headlines, many forget that China leads the world in conventional missile stockpiles and that Russia's war machine has never been stronger.
Both countries are flexing their military muscle as they test their borders, Russia in Georgia and Ukraine, China in the South China Sea and India. With such great leaps forward in hypersonic missile technology, the threat of either country executing a debilitating first strike increases.
---