Israel Braces For Iranian Counterstrike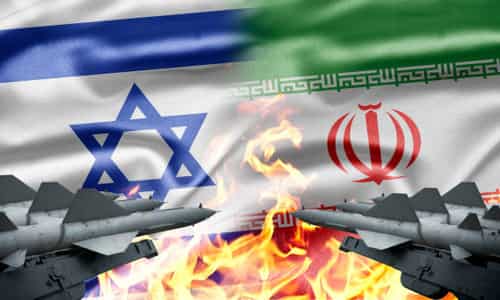 By PNW Staff
April 18, 2018
Share this article:
---
The Israel Defense Forces on Tuesday revealed new information about the deployment of Iranian air defenses in Syria, further exposing Tehran's attempts to entrench itself militarily in the war-torn country.
In an apparent effort at deterrence, Israeli media was provided by the IDF with a map showing five Iranian-controlled bases in Syria, which would apparently constitute potential targets for an Israeli response should Iran carry out any kind of attack.
Tensions between Israel and Iran have been steadily escalating since an Iranian drone that breached Israeli airspace on Feb. 10 was shot down by the Israeli Air Force.
Israeli fighter jets later targeted the mobile control center of the T-4 air base from which it was piloted. Seven members of Iran's elite Quds Force were killed in the strike, including the commander of its drone unit in Syria.
The drone appeared to be a relatively new stealth model known as a Saeqeh, whose design was stolen from an American unmanned aerial vehicle that was captured by Iran in 2011, according to aviation analysts.
During the Syrian counterattack against the Israeli jets, one F-16 was hit by anti-aircraft fire and crashed in a field in northern Israel after the pilot and navigator ejected from it.
In response to that downing of the fighter jet, Israel launched a large-scale attack on Syria's air defenses, destroying between one-third and one-half of its capabilities, according to the IDF.
IDF spokesman Brigadier General Ronen Manelis reported that the Iranian drone operated from T-4 which had been armed, and was en route to carry out an attack on Israeli forces, and was not merely on an information-gathering mission.
One senior Israeli security official told The New York Times that attempted attack was unprecedented, and represented a shift in Iranian policy.
"This is the first time we saw Iran do something against Israel -- not by proxy," the senior Israeli security official said. "This opened a new period."
According to Tuesday's report by Channel 10, Iran's build up in Syria in preparation for a direct conflict with the Jewish state has included the deployment of advanced airborne weapons platforms - including drone aircraft - shipments of weapons disguised as humanitarian aid, and Iranian military flights conducted under the cover of civilian airline companies.
Fuming over the strike, Iran has vowed to exact vengeance on Israel.
Tehran is now believed to be preparing for a sustained campaign of direct confrontation with Israel, with plans to use the Iranian military's growing presence in Syria to launch attacks on targets inside the Jewish state.
For decades, the radical Islamist regime in Tehran has engaged in a de facto war with Israel via proxies - using terror groups in the Gaza Strip and Lebanon to attack Israeli civilian and military targets.
On Tuesday, however, Israeli security officials revealed that Iran is now preparing for a direct assault on Israel, using its growing military assets on Israel's northern border to strike targets inside the Jewish state.
Iranian Foreign Ministry spokesman Bahram Qassemi said Monday that "Israel will receive a blow for what it did at the T4 base. The days when the Zionist regime would hit and run are over. ... I suggest to the Israelis to refrain from foolish steps if they want to continue their treacherous existence," he warned.
The IDF said Tuesday that the deployment of Iranian air defenses in Syria was personally supervised by Quds Force commander Maj. Gen. Ghasem Soleimani, one of the most powerful military figures in the Iranian regime.
Iran has access to a variety of surface-to-surface missiles, from short-range Fajr-5 rockets to medium-range Fateh 110 missiles, which have a range of approximately 300 kilometers (190 miles) to long-range Shehab ballistic missiles capable of hitting targets over 1,300 kilometers (800 miles) away.
To counter those threats, Israel has a multi-tiered missile defense system consisting of the Iron Dome for short-range rockets and mortar shells, the David's Sling for medium-range missiles and the Arrow for long-range ballistic missiles.
Israel sees Iran, which has vowed to destroy the Jewish state, as its central enemy in the region. Israeli officials have repeatedly stated that Israel will not allow Iran to entrench itself in Syria, marking it as a "red line" that it will fight militarily if necessary.
Many Bible scholars believe we may be starting to see a foreshadowing of a much larger conflict described in the book of Ezekiel in which many nations (including Russia & Iran) launch an attack on Israel and are miraculously defeated by God's direct intervention.
Learn more how the converging of events at this time in history could impact you and your family and what other events the Bible predicts are on the horizon. Watch the trailer for
"The Coming Convergence" here.
---