Fatah Continues Presenting Murderers As Heroes To Palestinian Youth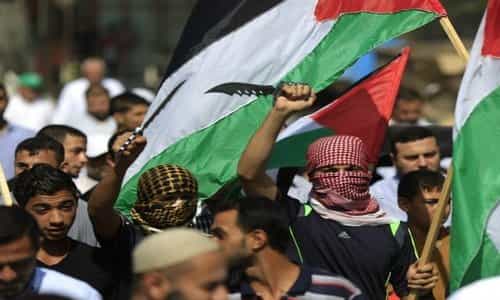 By Itamar Marcus/Algemeiner.com
April 30, 2018
Share this article:
---
A children's camp named after a terrorist -- the Martyr Abu Jihad Camp -- is currently being housed at a Palestinian Authority (PA) National Security Forces facility.
Here is what various PA and Fatah outlets had to say about the terrorist Abu Jihad.
PA Ministry of Information: "Abu Jihad, was a one of a kind military mind ... his heritage will remain ... a source of inspiration for our resistance."
PA Ministry of Education: Radio broadcasts in all P.A. schools "were dedicated to talking about the life of Martyr Khalil Al-Wazir [i.e., Abu Jihad]."
Fatah: "Those who outlined their path in blood cannot disappear, We are loyal to your path, O heroes."
Fatah: "Let us continue attacking."
Fatah: "A people whose leaders are martyrs will triumph, Allah willing."
The Palestinian Authority and Abbas' Fatah continue presenting murderers as heroes to Palestinian youth.
This month, 600 high school students belonging to Fatah's Shabiba youth movement in Jenin are participating in the "Martyr Abu Jihad Camp." According to the official PA daily Al-Hayat Al-Jadida:
The Fatah Movement's Jenin branch, in cooperation with [Fatah's] Jenin region leadership, held the third coexistence camp under the title Martyr Abu Jihad Camp, and this was at the [PA] National Security [Forces] camp Horsh Al-Saada.
The camp will last for an entire month, three days a week, and 600 students from the [Fatah] High School Shabiba will participate in it.
The PA Ministry of Education emphasized the importance of the terrorist's heritage to students in all PA schools. Al-Hayat Al-Jadida reported on April 18, 2018:
Director-General of Student Activities and Spokesman of the [PA] Ministry [of Education] Sadeq Al-Khadour said that as part of the activities in the schools, broadcasts of the radio stations in the schools were dedicated to talking about the prisoners in the occupation's prisons and the life of Martyr Khalil Al-Wazir.
Abu Jihad was a founder of Fatah and deputy to Yasser Arafat. He headed the PLO terror organization's military wing and planned many deadly Fatah terror attacks from the 1960s through the 1980s.
These attacks, in which a total of 125 Israelis were murdered, included the most lethal in Israeli history -- the hijacking of a bus and murder of 37 civilians, 12 of them children.
---