Surveillance Society: City Residents Are Watching You In Newark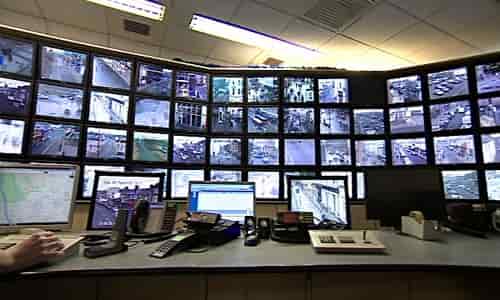 By PNW Staff
June 13, 2018
Share this article:
---
The seeming worldwide obsession with pervasive video surveillance has taken a new turn in Newark, New Jersey, with a live-streamed camera system now open to the public.
Following the destruction of its old city-wide security camera system in Hurricane Sandy, the city has begun to install 300 Panasonic cameras in one the world's first open surveillance systems.
To be completed by next January, at the time of this writing, 62 cameras are already transmitting their video feeds round the clock.
Join the 1,600+ Internet users who have already signed up for Newark's Virtual Patrol and you, too, can watch your neighbors as they walk the streets, play in parks, enter stores and leave their homes. The city invites you, and anyone else across the globe who's interested, to join this virtual neighborhood watch.
Think of how much safer Newark will be with not just Big Brother watching, but tens of thousands of nosey older siblings peering over your shoulder every time you step into public view.
This perfect Orwellian nightmare of citizen informers ready to call the police on anyone who looks suspicious is not without is detractors of course.
First, there are absolutely no restrictions (just an email address and an Internet connection) as to who gets to watch you - or your sister - crossing the street, or your children playing in the park, or when you leave your house to go on vacation for the weekend, or exactly when the person on the late shift leaves work to walk home alone.
All it takes is an email. Stalkers, voyeurs, pedophiles and thieves all have unlimited access to strategically placed video feeds across the city.
The Electronic Frontier Foundation, a defender of freedom in the digital age, has criticized the system for its chilling effect on civil liberties. Adam Schwartz of the EFF demonstrated how, within seconds of signing up, he can click on any of the cameras displayed on an interactive map, "So I can click on one of these cameras and see what's going on.
There are people who, if they are invited to go to a political demonstration and see one of these blue cameras is up, might decide not to show up." A frightening trend over the past two years has been to identify and target those who attend political demonstrations.
These individuals are not being targeted by secret police or government agents, but instead citizen vigilantes. Though you may disagree with their politics, the White nationalists who rallied in 2017 were publicly outed and targeted for harassment at their homes and places of work.
So, too, have gun control advocates and gun rights advocates. How much easier will it be for violent vigilantes to identify anyone who dares to speak their mind in public or march peacefully in protest?
Reactions from citizens have been mixed. A police spokeswoman has stated that despite receiving several calls already from concerned residents, none of these reports has led to an arrest. She went on to say, "We want to give residents the opportunity to work with it.
It gives the community the opportunity to be engaged in police work and create a better relationship with the community." One city resident, Quateisha Rivers, echoes that sentiment when she points out that, "the cops need to be watched because we all make mistakes".
Latoya Jackson, owner of a beauty salon in Newark, sums up the attitude of many small business owners and residents when she says of the system showing the front of her salon, "That's good and bad. As a business owner, it's free security. But it's not good for me as a civilian person."
Therein lies the conundrum: business owners and residents of Newark have been so plagued by crime that they are willing to accept intrusive surveillance that may not protect them from the threat while stripping them of their privacy.
Eric Piza, who worked as a Newark police crime analyst and now teaches at John Jay College of Criminal Justice, believes that the Newark Virtual Patrol, "Not only won't reduce crime, but has the potential to lead police to respond to situations they should not be responding to."
Of course, there is the chance that a concerned citizen may spot a fire before it burns out of control or a kidnapping in progress, but this pales in comparison with the thousands of false alarms, and potential abuse in a system meant to have people snitch on one another.
Not to mention the burglars who can see exactly when your home is empty or rapists who watch for victims at night--in real time--on their smart phones.
Newark's system is unique because it isn't a room full of police or private contractors watching the video feeds like in Chicago, or a powerful artificial intelligence like in China, but instead thousands of citizens, each with their own unique motives and prejudices.
Expect to see more from Newark's Virtual Patrol in the coming years, but whether it solves crime or facilitates crime as it assaults our civil liberties and privacy remains to be seen.
---