Number One Reason Americans Go to Church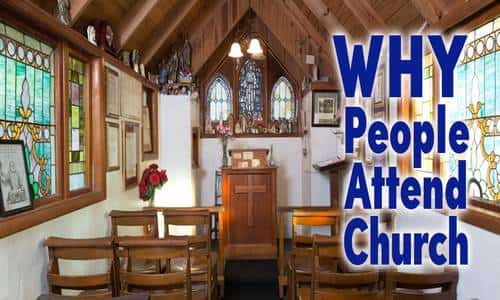 By PNW Staff
July 23, 2018
Share this article:
---
What would cause most Americans to switch churches?
It's not the music, youth programs or even a change in preacher. Instead it is a shift in the church's beliefs. A new study has found that for the great majority of Americans, the number one reason they go to church is to hear sermons that teach about the Bible and how to apply God's word to their lives.
It should come as a breath of fresh air for those worried about the over-the-top nature of some of today's church services that 83% of Protestants say that sermons about Biblical lessons are a major factor that keeps them coming back to a church and close behind with 80% were sermons that help to apply God's Word in everyday life.
When 1,100 Protestants were surveyed, 15% of them reported to have considered switching churches in the past six months, but interestingly it would seem that switching is actually less common. A full 62% of respondents had attended their church for at least 10 years and, of those, 27% had attended the same church for 25 years or more.
Those who had stayed with the same congregation between five and nine years represented another 17% of Protestants surveyed. Though the survey didn't take into consideration reasons for individual changes, there are other factors besides those connected to the church itself, such as moving out of the area for work or marriage, that may also affect the percentages.
Notwithstanding, if someone is considering a change to a new church in the same area, odds are that they have already visited it (54%) to see whether it fits with their beliefs and worship style.
So how does a church retain its congregation? The evidence indicates that preaching on scripture and its relevance to the lives of the Christians in the pews is the best way (68%) followed by community outreach programs (61%) and social activities (49%) that can help reinforce that sense of community.
Matt Woodley wrote this year in Preaching Today's annual State of Preaching outlook that "in a distracted, outraged, shallow culture, people begin to hunger for something rare: that which is focused, balanced and deep. In-depth preaching is our best chance to change lives."
This is particularly important when sermons try, and fail, to compete with fast-paced sensory overload of the Internet age. Experts advise pastors to avoid the cheap jokes, hackneyed corny stories and mistaken theology. Fact: 40% of millennial Christians fact-check sermons on Google to find errors.
When preachers were asked how far in advance they plan their sermons, 22% responded that they plan them the week before and 35% between 3 weeks and the week before. Another 37% plan them between 2 months and a year in advance while 7% plan their sermons more than a year in advance.
Waiting until the last minute and increases the tendency to dumb it down or go "light" while those who look too far into the future may miss out on relevant cultural or community issues that can be addressed with properly applied scripture.
What Christians want or need isn't flashy entertainment in the pulpit. The data shows that what Christians across the country need is deep, Biblical truth that speaks to life's deepest questions; for wisdom and guidance in a troubled world.
As Tim Keller, author of the book "Preaching", writes, "So perhaps you could say a good sermon is mainly the responsibility of the preacher, but a great one is the responsibility of the Holy Spirit." And that is the number one reason Americans go to church.
As with anything in life, balance is key but Pastors who take the time to wait before the Lord in prayer will be more sensitive to the Holy Spirit and their sermons will stand out.
---