Christians United For Israel Summit Boosts Pro-Israel Message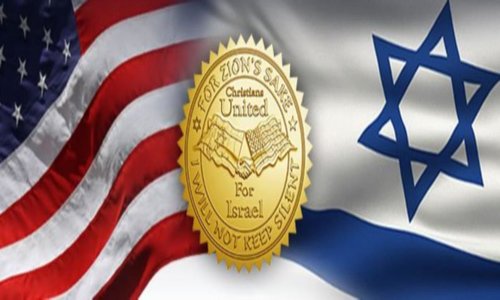 By Jackson Richman/JNS.org
July 26, 2018
Share this article:
---
In addition to showcasing a major pro-Israel constituency, Christians United for Israel's 13th annual summit, which took place from July 23-24, emphasized the contrast between the current White House administration and previous ones, with Israel's ambassador to the United States hailing U.S. President Donald Trump as the best ally Israel has ever had.
"Over the decades, Israel has been blessed with strong supporters in Congress on both sides of the aisle. We have been blessed with presidents, Democrat and Republican alike, who were steadfast friends of Israel," Israel's Ambassador to the United States Ron Dermer said in front of a packed, energetic and flag-waving crowd in Washington on Monday. "We have been blessed with Cabinet secretaries and senior officials who were stalwart champions of the U.S.-Israel alliance."
"But there has never been a U.S. administration more supportive of Israel than the Trump administration--frankly, it is not even close," continued Dermer. "From President Trump to Vice President [Mike] Pence to Secretary [of State Mike] Pompeo, from [National Security Adviser] Ambassador [John] Bolton to [U.S.] Ambassador [to the United Nations Nikki] Haley to [U.S.] Ambassador [to Israel David] Friedman, from [Senior Adviser to the President] Jared Kushner to [Middle East envoy] Jason Greenblatt to Sarah Sanders, this is an administration that sees Israel as an ally and that treats Israel as an ally."
The Iranian regional and nuclear threat, America's moving its embassy from Tel Aviv to Jerusalem and defunding U.S. assistance to the Palestinian Authority were the main issues addressed by Dermer and other speakers at the event, which was attended by approximately 5,000 people, according to CUFI co-executive director Shari Dollinger.
Other speakers on Monday included Israeli Prime Minister Benjamin Netanyahu (live through satellite), retired British Col. Richard Kemp and Haley.
Haley, who was presented with CUFI's "Defender of Israel" award, elicited the loudest cheers from the crowd for her defense of Israel at the United Nations, which Dermer denounced for its anti-Israel bias.
"Washington may be a swamp, but the U.N. is a cesspool--a cesspool of anti-Americanism and anti-Semitism," he said.
Haley joined the chorus and, as she has done at the United Nations itself, constantly denouncing the organization for its rejection of the embassy move, its condemnation of Israel's reaction to violent Hamas protests along the Gaza border and for the makeup of the Human Rights Council, with countries including Sudan and Venezuela, which notoriously violate human rights. The United States withdrew from the UNHRC in June.
"The United States will not just block the anti-Israel measures, we will shine a light on those that are responsible," said Haley. "There won't be any free passes for those who bully Israel at the U.N."
"Sometimes, we are winning at the U.N. through persuasion," she added. "But there are other times when we just have to say, 'Enough is enough.'"
'We're going to consider them agents of terrorism'
Stuart Force, whose son Taylor Force, 28, was murdered in Tel Aviv by Palestinian terrorists in 2016, also spoke at the summit.
Taylor Force's death prompted the passage last March of the Taylor Force Act, which was signed by the president as part of the $1.3 trillion omnibus bill. The measure defunds most U.S. assistance to the Palestinian Authority for rewarding terrorists and their families--a longtime policy known as "pay to slay."
Tuesday's speakers included Sens. John Cornyn (R-Texas), Tom Cotton (R-Ark.), Ted Cruz (R-Texas) and Lindsey Graham (R-S.C.). Also at the podium were Reps. Doug Lamborn (R-Colo.), Mark Meadows (R-N.C.) and Cathy McMorris Rodgers (R-Wash.).
The speakers applauded the president for withdrawing from the 2015 Iran nuclear deal and moving the U.S. embassy to Jerusalem. Additionally, Graham, Cruz and Cornyn each announced legislation they have or plan to be introduced.
Graham, who was a major player behind the Taylor Force Act, said he would propose "Round Two of the Taylor Force Act" to punish the "ministers who actually carry out the new Palestinian law that incentivizes more young people to commit terrorism, not less" amid the Palestinians reportedly increasing its payments to terrorists and their families.
"We're going to consider them agents of terrorism," he added. "We're going to name names."
Cruz announced a bill that would sanction members of terrorist groups, like Hamas, which use civilians as human shields. The proposed measure already has bipartisan support.
In addition to co-sponsoring legislation to provide military assistance to Israel, Cornyn touted a bipartisan bill that targets Iranian airline Mahan Air, which he said works with the country's Quds Force, "an elite unit of Iran's Islamic Revolutionary Guard and Hezbollah as well."
"This airline is the primary way which terrorist personnel and weapons are spread to places like Syria and Lebanon, presenting a clear danger to the security of Israel," stated Cornyn. "That's an unacceptable condition that my bill changes, and I hope we'll pass this bill with your support in a larger package soon."
'A blessing for which Israel is grateful'
CUFI is an organization founded in 2006 by Pastor John Hagee and currently boasts more than 4 million members. Its mission, according to its website, is "to provide a national association through which every pro-Israel church, parachurch organization, ministry or individual in America can speak and act with one voice in support of Israel in matters related to Biblical issues."
Dollinger, who is Jewish, told JNS that the Christian characteristic of her organization is crucial. "We're a Christian organization, first and foremost," she said. "We are about faith, and we are about the fact we are united Christians for Israel--it's in the title."
As part of his remarks, Dermer said "the long history of the relationship between Christians and Jews is a history riddled with anti-Semitism and persecution, suspicion and distrust."
"This has dramatically changed over the past few decades," he continued. "Today, there is unwavering support for the Jewish state among millions of devout Christians. That is a blessing for which Israel is deeply grateful."
"This change didn't happen on its own. It happened because a few bold leaders in the Christian community helped make it happen," added the ambassador. "Leaders like [Pastor] John Hagee, who for nearly 40 years has been building bridges between Christians and Israel. When it comes to supporting Israel, Pastor Hagee didn't join the bandwagon. He drove the bandwagon."
Hagee, who emceed the event, reiterated the importance of Christian support for the Jewish state. "You often hear the phrase 'Christian anti-Semitism,' " he said. "There is no such thing as Christian anti-Semitism. Christianity is driven by the love of G-d."
"Anti-Semitism is drive by hatred," the pastor added. "Call them pagans, call them secularists, call them anything. They're not Christians."
Originally published at
JNS.org
- reposted with permission.
---