Ark Encounter Nears Completion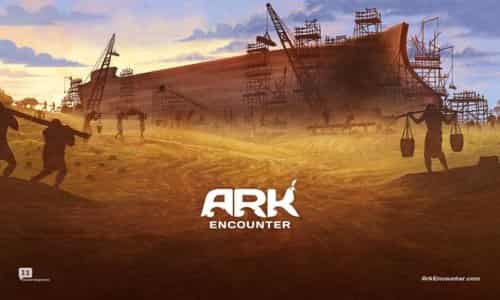 By Tom Olago
April 13, 2016
Share this article:
---
In just four months or so, Answers in Genesis will welcome the public view a life-sized replica of Noah's ark when creationist leader Ken Hams new "Ark Encounter" theme park officially opens. Ham's team estimates that up to 2 million people per year could flock to the area to see the massive ark replica.
Ham said that there will be exhibits about Noah and his family, as well as information helping people understand why, in Ham's view, they should trust the authority of the Christian Bible.
These details were included in a recent report by Billy Hallowell for theblaze.com. Hallowell described the vessel as massive, wooden and based on the dimensions presented in the Bible. It will be a theme park and museum of sorts, housing 132 Bible-themed exhibits that Ham described as "state-of-the-art."
The ark, itself, is set against three eight-story buildings and is 510 feet long, 85 feet wide and 51 feet tall; it sits on an 800-acre property between Cincinnati, Ohio, and Lexington, Kentucky.
Hallowell states that for those who want a bit more context, the replica is the length of one and a half football fields. Ham, founder of the Creation Museum and Answers in Genesis, explains his motivation for opening the theme park:
"As Christians, we believe that we have an obligation to what God's word tells us to do, and that is to do business until he comes, to go out and preach the Gospel and to stand up on the truth of God's word," Ham told The Blaze. "We also see, in this culture, an increasing anti-Christian element ... we see the loss of Christian freedom in some areas and the restriction of the free exercise of religion."
Ham also hopes to demonstrate the high intelligence behind the size and design of the ark by showing sculptures, working cages and potential scenarios through which Noah and his family were able to feed and nourish the animals on board the massive vessel.
Hallowell explains that the ark is only the first phase of the project. Ham and his team plan massively to expand the amusement park in future phases, with a petting zoo, theater, a Tower of Babel replica and plenty of other Bible-themed elements. "There's nothing else like it anywhere in the world," Ham said of the ark.
A separate report for cbnnews.com by Paul Strand quoted Ham on the enormity of the Ark structure: "People are used to those bathtub arks with straws sticking out the chimney, about to sink at any moment," Ham said with a smile. "And when they see the size of this, then they start saying, 'Well maybe Noah could fit the land animal kinds on board.'"
Ark Encounter opens to the public July 7, and Ham said there's a special reason for that. "In Genesis 7:7 it says that's when Noah and his family entered the ark," Ham explained. "So we thought the 7th of the 7th would be a good time to open."
Several dozen Amish carpenters used their traditional techniques and authentic Bible specs to help build this large timber-frame structure.
According to Christian Post reporter Jeannie Law, tickets to the more than 1.4 million visitors expected will be sold for separate daytime or evening visits during the first 40 days of opening, starting July 7. The '40 days and 40 nights' theme reflects the number of days and nights it rained while Noah and his family were on the Ark, as documented in Genesis 7.
The Ark Encounter is located in northern Kentucky (south of Cincinnati). Workers at the Williamstown site are busy constructing the internal exhibit areas of the Ark now that the external shell is largely complete.
"Today, we don't need another Ark to save animals and people from a global Flood," Ham said in the statement. "But we do need another kind of Ark, to take people on what we are calling a 'voyage of discovery.'"
It is anticipated that thousands of new jobs will be created outside of the Ark theme park, and new hotels and other businesses are under development near the Ark site as well.
As could be expected, not everyone is excited about the project in a positive way, with certain groups hostile to Christianity actively resisting the project by using derision to whip up anger, contempt and resistance against it. The upcoming theme park is one nightmare atheists are still struggling to wake up from.
A separate report on the same story by Katherine Weber for the Christian Post revealed that as part of a protest against the Bible, an atheist group is soliciting money to pay for a billboard next to the entrance to the Ark Encounter theme park in Williamstown, Kentucky, that reads "Genocide & Incest Park ... celebrating 2,000 years of myths."
The group, named 'Tri-State Freethinkers', has already raised well over its $2,000 goal to pay for at least one billboard, but is also seeking $150,000 to "build our very own Genocide & Incest Park and ask for state tax incentives and we will not discriminate during hire".
In its promotional video soliciting donations, Jim Helton, president of the atheistic Tri-State Freethinkers, which represents Ohio, Kentucky, and Indiana, is seen throwing a Bible while proclaiming that the book of Genesis is "immoral and highly inappropriate for children."
A clue as to why the atheistic movement is exhibiting such nervousness about the project and going to great lengths to frustrate it can be found in Ham's statement:
"...And we're not forcing the Christian message on them (visitors to the Ark Encounter), but it's going to be there for them...And if people just go away saying 'hmm, maybe I need to look into this. Maybe I need to consider what the Bible says,' then to me, we've accomplished a lot".
There have been other battlefronts as well. The Christian Post separately reported that the Ark Encounter project recently won a major court victory when a federal judge determined that state officials were wrong to deny it participation in a sales tax incentive simply because it's a Christian business. The judge determined that the project should be allowed to benefit from the tax incentive despite having a religious purpose.
---