Simulation Of Category 4 Hurricane On Nuclear Reactor Now Potential Real Event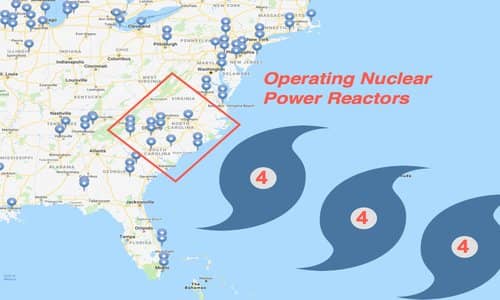 By Michael Snyder/Economic Collapse Blog
September 13, 2018
Share this article:
---
Would it surprise you to learn that there was a "national level exercise" in late April and early May that simulated what would happen if a Category 4 hurricane hit the Mid-Atlantic region?
As you will see below, this actually happened, and now it looks like we will be facing that precise scenario for real. Authorities are warning that Hurricane Florence could produce a storm surge of somewhere around 20 feet when it makes landfall and dump up to 45 inches of rain on some areas of North Carolina. But of even greater concern is the fact that there are 12 nuclear power reactors directly in the path of this storm.
The federal simulation that was held earlier this year concluded that a Category 4 storm could damage a nuclear power plant, and if that happens with this storm we could potentially be facing America's version of the Fukushima disaster.
Let's break this down one step at a time.
A few months ago, officials from 91 different federal departments and agencies participated in the "national level exercise" that I mentioned above. The following comes from MSN...
Senior leaders from the White House, along with more than 91 federal departments and agencies, participated in the "national level exercise" in late April and early May, FEMA said.
Now here we are just a few months later, and this extremely rare event is actually happening.
A category 4 hurricane is headed directly for us, and the federal exercise determined that a storm of this magnitude could damage a nuclear power plant...
The simulated hurricane knocked out power for most gas stations in the Mid-Atlantic region, damaged a nuclear power plant and sent debris into major shipping channels, among other problems, according to a Department of Energy simulation manual.
"What they were trying to do was create a worst-case scenario, but it's a very realistic scenario," said Joshua Behr, a research professor at Virginia's Old Dominion University who is involved in disaster modeling and simulations.
There are 12 nuclear reactors in the Carolinas, and each one of them is near a body of water because water is required for cooling purposes...
According to the Nuclear Regulatory Commission (NRC), there are twelve operating nuclear power plants in the Carolinas that make electricity by the continuous splitting of uranium atoms (i.e., a nuclear reaction). These plants generally reside near a body of water--a river, lake, estuary or ocean--because they require a constant source of water for cooling purposes. Without cooling water, a nuclear reactor will overheat, leading to core damage, containment failure, and release of harmful radiation into the environment.
But being near a body of water makes them very vulnerable to flooding.
And flooding is what caused the Fukushima disaster...
Flooding from the storm could be catastrophic for the nuclear power plants. Excessive amounts of water can damage equipment or knock out the plants' electrical systems, disabling its cooling mechanisms. This is what happened at the Fukushima Dai-ichi plant in Japan as a result of the March 2011 tsunami, causing severe damage to the plant's reactors.
Of particular concern are the two nuclear reactors at the Brunswick nuclear power facility that are located right along the coast.
The Brunswick nuclear power facility is more than 40 years old, and it is less than 2 miles away from the Atlantic Ocean.
And it is only about 20 feet above sea level and it is surrounded by wetlands.
So if Hurricane Florence produces a storm surge of somewhere around 20 feet, both reactors at the Brunswick nuclear power facility could easily be flooded.
Here is more information about these reactors from Mike Adams...
Each unit produces nearly 1,000 MWe of electricity, and they are both built on the General Electric "Type 4" power plant design, which is almost identical to the GE nuclear power plant design used in the Fukushima-Daiichi reactors in Japan. All of these reactors are designed and constructed as "boiling-water reactors" or BWRs. The designs are decades old, and they are subject to catastrophic failures and even core meltdowns that release radioactive isotopes directly into the atmosphere and surrounding areas.
Just like the reactors at Fukushima, the Brunswick reactors rely on electricity to operate the cooling pumps that constantly circulate water.
And just like the reactors at Fukushima, the Brunswick reactors have multiple backup systems in case local power is shut off, but just like with Fukushima a massive wall of ocean water could potentially render all of those backup systems inoperable. Here is more from Mike Adams...
The answer is found in the storm surge -- a massive wave of ocean water that swept through the Fukushima facility, drowning the diesel generators, coolant pumps and backup batteries. In effect, Fukushima was inundated with ocean water, and everything stopped functioning. But the physics of the fuel rods was still operating, and you can't stop fission reactions just by hoping and wishing. So the fuel rods melted down and a nuclear meltdown took place, producing the Fukushima catastrophe we're all still suffering under today.
Are you starting to understand what we are potentially facing?
And if we have a major incident at Brunswick or one of the other nuclear facilities in the Carolinas, it could potentially affect the entire east coast...
It probably goes without saying, but if the Brunswick nuclear power plant goes into a meltdown, the entire U.S. East Coast would suffer unprecedented radiological contamination and disaster. This includes Washington D.C., Virginia, New York and perhaps even Boston, depending on wind speed and direction.
Of course this is a worst-case scenario, but these days we need to be prepared for worst-case scenarios because they seem to keep happening.
But even if all of the nuclear reactors come through okay, this is still an exceedingly dangerous storm and people should be prepared for all possibilities.
---