Has The Era Of Autonomous Warfare Finally Arrived?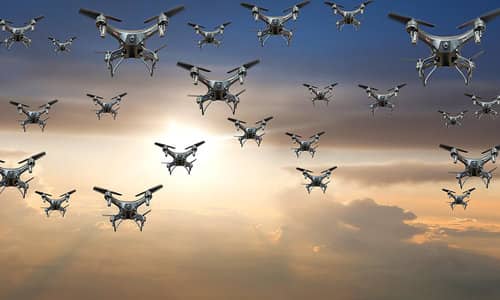 By Nicholas West/Activist Post
September 21, 2018
Share this article:
---
The global arms race for the latest weapons of war is a naturally escalating cycle of countries pursuing ways to dominate the battlefield of the future. Increasingly, that battlefield is a matrix of soldiers with traditional weapons, robots, drones and cyberweapons.
Until this point, command over this matrix has ultimately been in the hands of humans. Now, however, many of the trends in artificial intelligence-driven autonomy are enabling data collection, analysis and potentially combat to be done by algorithms.
Another key signpost has entered the roadmap toward a future of autonomous systems capable of engaging in combat without human oversight. The U.S. military announced the first ever successful unmanned aerial "kill" of another aircraft during a previously unreported training exercise.
The successful test late last year showed the U.S. Air Force that an unmanned vehicle like the MQ-9 has the ability to conduct air-to-air combat, much like its manned fighter brethren such as an F-15 Eagle or F-22 Raptor, according to Col. Julian Cheater, commander of the 432nd Wing at Creech Air Force Base, Nevada.
"Something that's unclassified but not well known, we recently in November ... launched an air-to-air missile against a maneuvering target that scored a direct hit," Cheater said. Military.com sat down with Cheater here at the Air Force Association Air, Space and Cyber conference outside Washington, D.C.
"It was an MQ-9 versus a drone with a heat-seeking air-to-air missile, and it was direct hit ... during a test," he said of the first-of-its-kind kill.
The fact that the military has this capability should not be shocking, as it has been well documented on this website and others that the largest defense contractors in the world have developed a clear intention to create fully autonomous weapons systems.
However, previous research has indicated that robotics/A.I. is not yet up to even the most basic ethical tasks, yet its role in weapons systems continues.
Reason.TV recently weighed in on the consequences of handing over ethical responsibility to computers. Reason conducted a must-see interview with a former Army Ranger and current Defense Policy Analyst, Paul Scharre, who is trying to sound the alarm about an era of warfare fought completely by robotic systems. It seems the only question left is whether that day indeed has already arrived.
Must watch video below:
Originally published at
Activist Post
- reposted with permission.
---