Hezbollah & Israel Step Up Preparations For Coming Conflict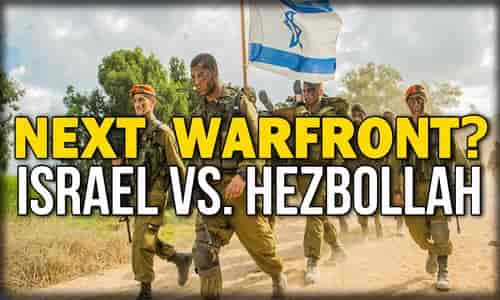 By Yaakov Lappin/JNS.org
October 29, 2018
Share this article:
---
The arms race underway between Israel and Iranian-backed Hezbollah has seen both sides study one another and build up their military power to unprecedented levels.
The Shi'ite armed force, which dominates Lebanon and which has played a key role in the victory of the Bashar Assad regime in Syria, continues to view Israel as its prime enemy. With the assistance of its Iranian patron, it is building an arsenal of rockets and missiles that is larger than most NATO armies.
Israel has spent years building up new military capabilities, including ground offensive abilities that are state-of-the-art, in addition to world-leading intelligence and unrivalled air power.
Throughout this time, Israel has also sought to prevent the outbreak of a third Lebanon war for as long as possible. Hezbollah, for its own reasons, seems to share that goal; still, that has not stopped it from ambitiously preparing for future conflict.
Recent developments have indicated that Israel may not be willing to contain the current situation indefinitely, and watch Iran and Hezbollah boost their threat to Israeli cities. It appears as if the Israeli defense establishment has been using international media to send warnings to Hezbollah and Iran regarding their force build-up in Lebanon.
A Fox News report in recent days quoted "Western sources" as saying that Iran has stepped up deliveries of satellite navigation kits to Hezbollah's rockets, which would enable them to become guided missiles.
The report provided a detailed account of how an Iranian Fars Air Qeshm aircraft flew from Tehran to Damascus, and then to Beirut, reportedly dropping off the dangerous missile-guidance cargo.
Days later, on Oct. 22, a senior military officer from the Israel Defense Forces' Northern Command exposed a new Hezbollah forward position on the Lebanese-Israeli border, which was disguised as a structure used by environmental protection activists.
"This is a breach of the United Nations Security Council Resolution 1701," the officer said, in reference to a resolution that bans armed forces other than the official Lebanese Armed Forces from deploying in southern Lebanon.
The new intelligence-gathering post is part of "Hezbollah's tactical military activities in south Lebanon that are being conducted in the last few years," the officer stated.
"What we've seen ... is Hezbollah using the civilian front and working in civilian uniforms in south Lebanon to order to act in the region with impunity," he added. "We see them gathering intelligence on IDF activity, watching Israeli communities close to the Blue Line, which is the border between Israel and Lebanon, preparing for attacks against the IDF, and against Israeli civilians in the Galilee," the officer said.
"We've seen in the last few years that Hezbollah started to build these observation posts under the cover of a supposed environmental association, called 'Green Without Borders,' " he added. "This NGO is not really concerned with planting trees. It is a front used by Hezbollah to continue its military build-up in south Lebanon."
The latest Hezbollah position was built facing the Israeli kibbutz of Misgav Am, which the Hezbollah operatives photographed, while also conducting surveillance on IDF activity. Such activities by trained Hezbollah operatives are part of the organization's preparations of attacks on Israel, according to the officer.
Israel expects such posts to be dismantled, he added. "We urge UNIFIL [the United Nations Interim Force in Lebanon] to live up to their mandate and to work against Hezbollah's build-up in south Lebanon," the officer said.
Hezbollah preparing 'for the day it receives the order'
Professor Uzi Rabi, director of the Moshe Dayan Center for Middle Eastern and African Studies at Tel Aviv University, told JNS on Thursday that "as time goes by, the threat grows, due to the simple reason that technology is improving."
"At the same time," he added, "this is a threat that Israel can still contain through its means. But there is no doubt that there is a trend here that is concerning in the medium and long term."
Dr. Eitan Shamir, former head of the National Security Doctrine Department in Israel's Ministry of Strategic Affairs, assessed that neither Israel nor Hezbollah have a desire to enter into a war, which would cause severe damage to both sides that would be "on the verge of being intolerable."
Shamir, an expert on insurgencies and combat doctrine, and a researcher at the Begin-Sadat Center for Strategic Studies, said that Hezbollah's role "as an Iranian arm is to be ready for the day it receives the order and has therefore not gone to war."
Hezbollah is still involved in the Syrian front and faces domestic Lebanese constraints, said Shamir. "Israel is always interested in distancing, as far as possible, the time of the next war," he added.
While it is difficult to know with certainty whether Israel is close to reaching a point when it feels that it has no choice but to launch a preventative attack, it does not appear to have reached such a junction, argued Shamir. "However, the aim of the latest exposures is to issue an alert, saying that we may well reach this point--and that it is not at all theoretical," he stated.
Shamir defined this red line as a certain enemy capability that, once reached, "will push Israel into the corner. I don't believe we are there, but we are moving in that direction."
Originally published at
JNS.org
- reposted with permission.
---