Lessons From France - Rapid Growth Of Muslim Youth May Change Country Forever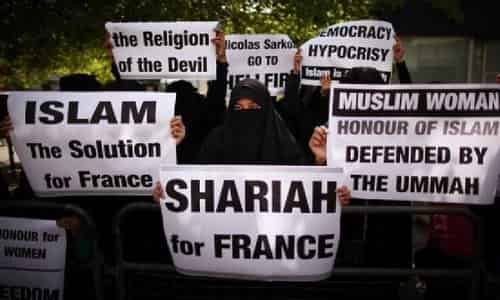 By Tom Olago
April 22, 2016
Share this article:
---
A recent Ipsos poll found that 25% or one in four French youths call themselves Muslim. 83% of those young Muslims describe religion as "something important or very important".
Those statistics alone may not be remarkable, but indications are that the majority of these youth are radicalized or in the process of becoming so.
Matters are not helped by a reportedly laid-back, dismissive government approach that appears to downplay or ignore the implications of a significant radicalized demographic section - even after last year's horrific attacks in Paris.
Michel Gurfinkiel in a recent article published in pjmedia.com analyzed French demographics over time and concluded that they were generally inconsistent.
There were indications that they had been in some cases skewed or tailored towards political correctness to obscure the growth of France's youthful Islamic population and its potential ramifications for French society at large.
As extracted from Gurfinkiel's analysis:
"One way for the elites to deny demographics was to reject ethnic-related investigation on legal or ethical grounds. Until 2004, ethnic, racial, and religious statistics were not allowed under French law - ostensibly to prevent a return of Vichy State-style racial persecutions.
But even more significant, just as was the case in 1997, is the discrepancy among the estimates. Clearly, one set of estimates, at least, must be entirely erroneous. And it stands to reason that the lowest estimates are the least reliable.
First, we have a long-term pattern according to which, even within the lowest estimates, the Muslim population increase is accelerating. One explanation is that the previous low estimates were inaccurate.
Second, low estimates tend to focus on the global French population on one hand and on the global French Muslim population on the other hand, and to bypass a generational factor...the younger the population cohorts, the higher the proportion of Muslims..."
Does that matter? According to Daniel Greenfield for frontpagemag.com, it's terrible news: "This is the future of France. No secular Republic. No equality. No freedom. Just violence, civil war and terrorism".
Experts have expressed varied opinions on the implications of a fast growing and significant Muslim youth population in France. Some are more accommodating than Greenfield's or place greater blame on government systems.
For instance, Lara Marlowe for the irishtimes.com quoted Olivier Roy, a professor at the European University in Florence and a leading expert on political Islam:
"These young people don't become radical because they were brainwashed," he says. "They are drawn to radical Islam because it is radical....Had the French government allowed a French form of Islam to emerge, the faith might not have become a vehicle for radicalism, Roy said.
Even more worrying are reports that suggest that even members of the French police and army are also becoming radicalized. Yves Mamou for the gatestoneinstitute.org recently reported the following disturbing observations:
" According to a confidential memo, dated January 2016, from the anti-terrorist unit of the French interior ministry, France is already host to 8,250 radical Islamists (a 50% increase in one year).
" Some of these Islamists have gone to Syria to join the Islamic State (IS); others have infiltrated all levels of society, starting with the police and the armed forces.
" Some police officers have openly refused to protect synagogues or to observe a minute of silence to commemorate the deaths of victims of terrorist attacks. That police officers are armed and have access to police databases only intensifies anxiety.
Although police headquarters in Paris claims that these cases are rare, they have decided to review on a weekly basis any behavior that oversteps the principle of separation of church and state, such as that of Muslim officers who appear to be leaning toward radicalization.
Since the January 2015 attacks on Charlie Hebdo and the kosher supermarket in Paris, the media have noted several indications of radicalization in the French army. That January, radio station RFI announced that about 10 French soldiers deserted and joined the Jihadist fight in Syria and Iraq.
In July 2015, the press revealed that approximately 180 detonators and 10 bricks of plastic explosives had been stolen from an army depot near Marseille. The investigators naturally suspected internal complicity, as the perpetrators had seemed to be well informed. They are following two possibilities, Islamic terrorism or grand theft; the investigation continues.
On July 16, 2015, President François Hollande revealed that an attack on a French military base had been foiled. Three days earlier, four men, one of whom was a Navy veteran, were arrested. They confessed that they had planned to infiltrate a Navy base in the south of France, seize a high-ranking officer, decapitate him and spread photos of the decapitation on social media.
On March 6, 2016, a "radicalized" military veteran, Manuel Broustail, was arrested while getting off a plane in Morocco. According to the French newspaper, Presse Ocean, Broustail was carrying in his suitcase a machete, four kitchen knives, two pocket knives, a retractable baton, a black hood, and a gas canister.
A French military veteran and convert to Islam, Broustail had previously been placed under long-term house arrest in Angers (Maine-et-Loire), days after the horrific attacks in Paris, in which 130 people were murdered.
Discharged from the army in 2014, he had been under surveillance by French security agencies. The media seem concerned that such a person, carrying such weapons, could walk through airport security controls, board a plane and leave the country.
According to Thibaut de Montbrial, a terrorism specialist and president of the Center for Internal Security Studies, the risk is: "having agents of security forces attack their colleagues. Someone in uniform attacks another person, wearing the same uniform. In France, such a scenario is not impossible. Security forces must keep this risk in mind."
A veritable nightmare scenario for France and a dream script for ISIS and other terror groups - radicalized security forces working in tandem with radicalized youth.
---