China Prepares To Take On US At Sea With Hypersonic Railgun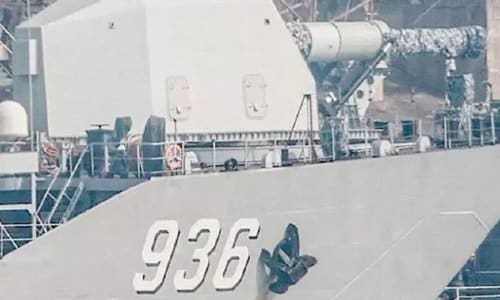 By PNW Staff
January 04, 2019
Share this article:
---
New photos have been released of a Chinese ship with a railgun perched on the bow ready to test it's next generation weapon at sea.
China's futuristic electromagnetic railgun may already be the most powerful cannon to ever roam the high seas and is ahead of schedule for deployment, beating both the US and Russia in the race to develop such weapons.
In June, a U.S. intelligence assessment estimated that the Chinese military planned on using its own version of the electromagnetic railgun on naval vessels as early as 2025, far outstripping the Pentagon's efforts to develop its own version of the much-hyped supergun.
A railgun is a type of weapon that uses powerful electromagnets to accelerate projectiles to very high speeds.
Conventional weapons typically use explosives or propellant to launch ammunition, but electromagnetic forces make it possible for a railgun to achieve a much higher "muzzle velocity".
This means that while a normal gun might manage a projectile speed of around 2km/s, a railgun could blast out projectiles 50 per cent faster, at at least 3km/s.
It also means that you don't need to transport explosive propellants or warheads, which could make a railgun-toting warship much safer than traditional vessels.
Official US reports suggest the Chinese cannon can hit targets nearly 125 miles away.
The photo release comes only a few days after a Chinese naval chief warned his country's military might need to sink two US aircraft carriers to solve disputes over the South China Sea.
Rear Admiral Lou Yuan - deputy head of the Chinese Academy of Military Sciences - made his chilling threat while speaking at a top level military summit.
What the United States fears the most is taking casualties," the notoriously outspoken military expert declared.
He said the loss of one super carrier would cost the US the lives of 5,000 service men and women. Sinking two would double that toll.
"We'll see how frightened America is," he then said, reports news.com.
He bragged China's new anti-ship ballistic and cruise missiles are more than capable of taking out US carriers, despite them being at the centre of a "bubble" of defensive escorts.
At the same time Chinese leader Xi Jinping has issued a new threat to use military force in Taiwan as Beijing intensifies efforts to achieve unification with the self-governing democratic region, holding up Hong Kong as a model for Taipei.
In his speech, Mr. Xi reiterated Beijing's willingness to use its military power in a region it sees as a renegade province.
China will not "promise to renounce the use of force and reserve the option to use all necessary measures" to forestall Taiwanese independence, he said, directing his comments at those seeking autonomy in Taiwan as well as foreign forces - comments seen as a reference to the United States., whose strong ties to Taiwan has made it a key counterbalance to China.
Concerns are mounting the two superpowers could become embroiled in a terrifying conflict in the region which could kill thousands of people as the two nations are now engaged in an extended period of strategic competition.
---