Muslim Children In Philadelphia Sing About Decapitating Jews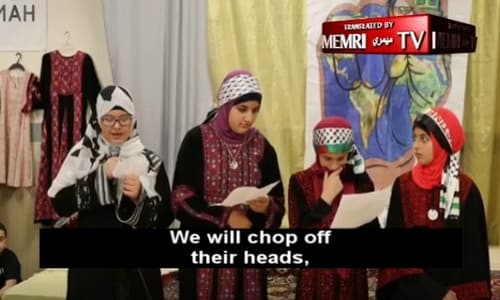 By JNS.org
May 07, 2019
Share this article:
---
On April 22, the Muslim American Society Islamic Center in Philadelphia (MAS Philly) uploaded a video of an "Ummah Day" celebration to its Facebook page in which young children wearing Palestinian scarves sang: "Glorious steeds call us and lead us [to] the Al-Aqsa Mosque. The blood of martyrs protects us. ... Take us, oh ships ... until we reach our shores and crush the treacherous ones. ... Flow, oh rivers of martyrs!"
A young girl read a poem praising martyrs who sacrificed their lives for Palestine, and she asked: "Will [Jerusalem] be a hotbed for cowards?" Another young girl read: "We will defend [Palestine] with our bodies. ... We will chop off their heads, and we will liberate the sorrowful and exalted Al-Aqsa Mosque. ... We will subject them to eternal torture."
MAS Philly belongs to the Muslim American Society (MAS), which has 42 chapters in the United States and one in the United Kingdom. The MAS website says that its mission is to "move people to strive for God-consciousness, liberty and justice, and to convey Islam with utmost clarity," and that its vision is "a virtuous and just American society."
Child Narrator: Those who accept humiliation--what is the point in their existence? Those who reject oppression are the ones who assert their existence, and they eliminate the injustice from the land of the Arabs.
Children Singing: Rebels! Rebels! Rebels! Glorious steeds call us and lead us onto paths leading to the Al-Aqsa Mosque. The blood of martyrs protects us. Paradise needs real men!
The land of the Prophet Muhammad's Night Journey is calling us. Our Palestine must return to us. Oh Saladdin, your men are among us--shame will be washed away!
[You need] force and the Quran, oh free people! We must persevere no matter what happens, and with the help of the Omnipotent Lord, day will follow night.
Take us, oh ships, until we liberate our lands, until we reach our shores and crush the treacherous ones!
Blow, oh winds of Paradise--flow, oh rivers of martyrs! My Islam is calling, who is going to heeds its call? Rise, oh righteous ones!
Girl 1: Our martyrs sacrificed their lives without hesitation. They attained Paradise, and the scent of musk emanates from their bodies. They compete with one another to reach Paradise. Will Jerusalem be their capital city, or will it be a hotbed for cowards?
Girl 2: We will defend the land of divine guidance with our bodies, and we will sacrifice our souls without hesitation. We will chop off their heads, and we will liberate the sorrowful and exalted Al-Aqsa Mosque. We will lead the army of Allah fulfilling His promise, and we will subject them to eternal torture.
Local Philadelphia media and Fox News picked up on the story. The Muslim American Society responded with two "clarifications" -- both of which are not plausible in the least.
The first one, from MAS Philly:
The Muslim American Society - Philadelphia Center rejects a statement made at an event held in April at a local community center in Philadelphia. The center celebrated "Ummah Day" where children sang songs from their cultural traditions. While we celebrate the coming together of different cultures and languages, not all songs were properly vetted. This was an unintended mistake and an oversight in which the center and the students are remorseful. MAS-Philadelphia Center will conduct an internal investigation to ensure this does not occur again.
First of all, it wasn't only songs -- it was songs and poems. Multiple adults were there, applauding -- not to mention the ones who taught the kids, trained them to do their hand motions in sync with the songs, and so on. This was no oversight, and the only remorse is that they were caught.
Secondly, if you take this statement at face value, that means that some Muslim "cultural traditions" include calls to behead Jews in Israel.
Then a new statement was released that contradicts the earlier one, from MAS headquarters in DC:
Our investigation revealed that the school that organized the event on April 17, 2019 is a separate entity renting space from MAS Philadelphia. The school board has informed us that it has taken immediate actions and dismissed the person in charge of the program. In addition, they will form a local commission to aid in sensitivity training and proper supervision for future programs.
Unfortunately, the video from the school was uploaded to the chapter's Facebook page without verifying the content of the video for appropriateness and making sure it conforms to our hate-free policy and values. The chapter will take further steps in assuring strict adherence to publishing and posting policies.
This is not plausible in the least. MAS Philly wouldn't upload dozens of photos and videos for an event from a school only renting the space.
This Facebook post from MAS Philly makes it obvious that they organized and hosted the event:
The backdrop at the front of the auditorium is the same as the one in the MEMRI video, so it wasn't two separate Ummah Day celebrations.
Not only that, but the photos from the post listed here include a bunch of displays of famous Muslim historic figures.
I am afraid that the few journalists that reported on this story will not bother to push back on the obvious falsehoods that were given in the "explanations."
Who will be brave enough to point out that the "apology" was a bunch of lies in an attempt to end the story and perhaps a deeper investigation is needed to investigate just what these Muslim American Society chapters throughout the US are teaching children.
Originally published at
JNS.org
- reposted with permission.
---