EU Rescues PA "Pay-For-Slay" Program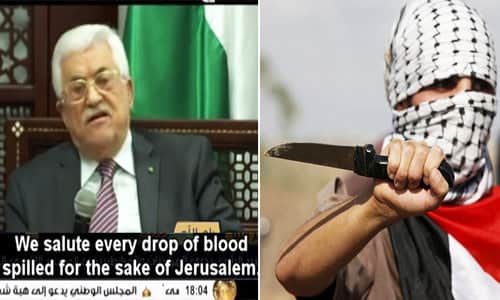 By Itmar Marcus/JNS.org
May 13, 2019
Share this article:
---
The European Union has pledged to give the P.A. 15 million euros to cover the salaries of public employees--salaries P.A. leader Mahmoud Abbas cut to keep up the P.A.'s payments to imprisoned and released terrorists, wounded terrorists and the families of dead terrorists.
Abbas has declared that the PA is "obligated" to continue rewarding the terrorist prisoners and families of so-called "martyrs."
Earlier this year, Israel decided to withhold from the tax money it collects on behalf of the P.A. an amount equaling the sum the P.A. pays to terrorist prisoners. These prisoners include mass murderers and heads of terror organizations.
In response, the PA has refused to accept all the tax money, amounting to over 50% of its budget, thereby inflicting a serious financial crisis on itself.
To overcome this crisis--and in order to have money available to continue to pay the terrorists in full--the P.A. cut the salaries of its public employees by 50%.
According to the Palestinian Media Watch NGO, Abbas then turned to Europe for money, claiming Israel was responsible for the P.A.'s self-inflicted crisis.
The European Union has now answered his appeal after the US ceased all its aid to the Palestinian Authority after the passage of the Tayler Force Act.
American veteran Taylor Force was murdered by a Palestinian terrorist while touring Israel. When the US understood that the PA pays the family of the murderer of Taylor a monthly allowance, it passed the Taylor Force Act.
According to the provisions of TFA, most of the US aid to the PA became contingent on the PA abolishing its "Pay for Slay" policy.
Instead of heeding the call of the US administration, the PA made a positive decision to waive the US aid and continue its "Pay for Slay" policy, with Abbas declaring that the PA prioritizes rewarding terrorist prisoners rather than taking care of the rest of the Palestinian population:
"By Allah, even if we have only a penny left it will only be spent on the families of the Martyrs and the prisoners, and only afterwards will it be spent on the rest of the people." [Official PA TV, July 24, 2018]
The American use of financial leverage to force the PA to choose a peaceful approach and the best interests of its population instead of choosing violence and continued promotion of terrorism by continuing its "Pay for Slay" policy could have constituted a huge step towards achieving peace.
However, the EU has decided it knows better despite decades of abuse of aid by the Palestinians.
Originally published at
JNS.org
- reposted with permission.
---