How The Trade War Is Going To Affect You & Your Family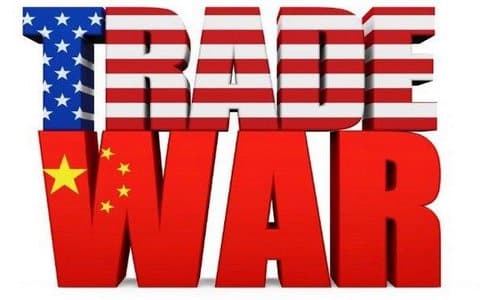 By Michael Snyder/Economic Collapse Blog
May 14, 2019
Share this article:
---
Unless someone backs down in a major way, this trade war is going to last for a very long time, and the Chinese have made it exceedingly clear that they are never going to back down on the core issues.
So that means that the only way out is for President Trump to back down, and with an election looming in 2020, his advisers are telling him that now is the time to be very tough with China.
Bernie Sanders and other top Democrats have staked out positions that are just as tough on China as Trump is being, and so if Trump backs down now he will be absolutely hammered by the other side for being weak.
But if investors become fully convinced that a protracted trade war is in our future, that could be enough to set off a new financial crisis and throw the global economy into a tailspin.
So it looks like we should all get prepared for an extended trade war, and this trade war is going to affect you and your family in a number of different ways.
First of all, we should all expect significantly higher prices at major retailers...
American retailers and manufacturers were largely able to absorb the 10% tariff -- narrowing their profit margins -- negotiate offsetting price cuts with Chinese suppliers, import a big stockpile of goods before the tariff took effect, and spread the added cost across many products. But a 25% duty is too much to camouflage with such tactics and a big chunk of it is expected to be passed to U.S. shoppers.
In particular, price increases will be felt most acutely at large retail chains such as Wal-Mart that purchase goods in massive quantities from China. Needless to say, this will hurt those at the bottom of the economic food chain the most.
Secondly, this trade war will potentially result in a loss of jobs and income for many Americans. In fact, the Trade Partnership estimates that 2.1 million U.S. jobs will be lost if Trump's next round of tariffs is imposed...
If Trump slapped a 25% tariff on the remaining $325 billion in goods the U.S. imports from China, it would cost the U.S. 2.1 million jobs and the average family of four more than $2,000 a year, according to the Trade Partnership analysis.
Thirdly, economic growth would definitely be impacted by an extended trade war. The following bit of analysis comes from CNN...
And then there's the "extreme scenario" of full-blown, multilateral trade war. In this scenario, Oxford Economics modeled the impact of the U.S. putting 35% tariffs on all Chinese imports and 25% auto tariffs globally, plus 10% blanket tariffs on all other goods imported from the EU, Taiwan and Japan -- with all countries retaliating in kind.
The firm calculated this would result in a 2.1% hit to U.S. GDP in 2020, pushing the economy into recession later this year. China's economy would contract by 2.5%, while Europe and Japan would see average GDP losses of 1.5% and world GDP would be reduced by 1.7%.
Unfortunately, the truth is that the projections from Oxford Economics are way too optimistic. As I detailed yesterday, our trade war in the 1930s was absolutely catastrophic for the U.S. economy...
On June 17th, 1930 President Hoover signed the Smoot-Hawley Act which imposed tariffs on more than 20,000 imported goods.
This coincided with the worst economic downturn of the 20th century. U.S. GDP declined 8.5 percent in 1930, 6.4 percent in 1931 and 12.9 percent in 1932.
Fourthly, an extended trade war would mean big trouble for global financial markets. Over 2 trillion dollars of global stock market wealth has been wiped out so far, but that is nothing compared to what could be coming...
The trade war between the United States and China is back on. So far, markets haven't sustained huge losses. That will change if tensions continue to escalate.
With higher tariffs coming into effect, the next risk analysts see is a complete breakdown in negotiations between Washington and Beijing.
"If the deal totally falls apart, we think there's a pretty big chance of a market correction," said Ryan Detrick, senior market strategist at LPL Financial. US stocks could fall as much as 5% over the next month, he added.
But the Trump administration can't back down now, or else it would lose all credibility.
----------------------------------
When you start playing
online roulette Australia
for real money there are many decisions to make - such as should you jump in and gamble with cash or play for free first. We're going to look at both sides of the issue in this article. After all, both kinds of online roulette have their uses, but don't be surprised if
online betting NZ
is calling to you after all is said and done. It has a lot of advantages over free Internet roulette, particularly if you plan on staying interested in the game over the long term.
---------------------------------
According to the latest numbers, we bought 539.5 billion dollars worth of goods from China last year but they only purchased 120.3 billion dollars worth of goods from us. For years they have been slapping enormous tariffs on us, stealing our intellectual property and making it exceedingly difficult for U.S. businesses to do business over there.
Meanwhile, they have been flooding our shores with cheap goods produced by government-subsidized businesses, and they have been getting exceedingly wealthy as a result.
So we can either allow them to keep taking advantage of us, or we can stand up for ourselves.
But let there be no doubt - standing up to China will be extremely painful economically. And at this stage of our society, Americans are not even equipped to handle a low level of economic pain.
A perfect storm is brewing, and this trade war is just a small part of it.
Most analysts seem to assume that tariffs will be the only weapon of choice, but what if China decides to dump US Treasury Bills? Hu Xijin, editor-in-chief of the state-affiliated Global Times, purportedly said in a tweet Monday that Chinese scholars are discussing how such a measure could be implemented without harming the Chinese economy.
In theory, that would push Treasury prices lower and send yields higher. U.S. interest rates would rise, increasing costs for American consumers on things like mortgages and auto loans and for businesses seeking to raise capital. Such a move would also destabilize the global stock market, said Art Hogan, chief market strategist at National Securities Corp. Other Treasury holders would likely follow suit as U.S. debt prices slid.
Another option at their disposal is to cut off our access to rare earth elements. The U.S. rare earth industry is greatly underdeveloped because we assumed that we could always get all that we wanted from China.
Well, if they cut us off we will be in a world of hurt as rare-earth elements are special minerals used in a wide variety of consumer and industrial products. Many industries could not survive without them.
The Chinese can literally hurt us in hundreds of different ways, and they will not hesitate to exert pressure where needed.
A trade war is going to hurt the U.S., it is going to hurt China, and it is going to hurt everyone else too. In fact, this could be what triggers the next great economic meltdown.
Sometimes you can try to do the right thing, but it turns out badly anyway. Standing up to China definitely needs to be done, but it is very difficult to see how this is going to end pleasantly. In fact, many believe that our relations with China are about to take a major turn for the worse.
We shall see what happens. As always, let us hope for the best, but let us also prepare for the worst.
---