Blood Money: Hollywood & Georgia Clash Over Abortion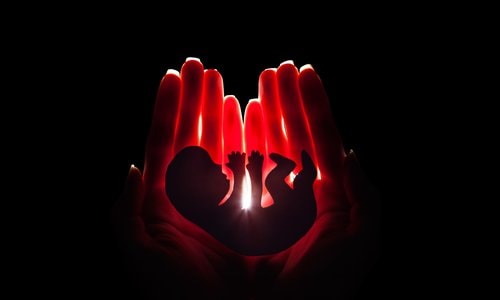 By Stan Guthrie/Breakpoint.org
May 17, 2019
Share this article:
---
In a pairing you might expect to encounter only in a fanciful Tinsel Town script, conservative, Bible-belt Georgia has become known as the Hollywood of the South.
In 2016, the Peach State played host to more feature films than did California. Over 450 movie and TV productions--including blockbuster franchises such as The Walking Dead, Marvel's Avengers, The Hunger Games, Real Housewives of Atlanta, and Stranger Things--have been born there.
Now, however, this cultural odd couple has found itself in a sudden battle over abortion. And, like a Hollywood thriller, the stakes couldn't be higher.
Earlier this month, Republican Gov. Brian Kemp signed one of nation's most prohibitive abortion laws, banning the procedure when a fetal heartbeat is detected, usually after six weeks of pregnancy. Previous state law outlawed the procedure after 20 weeks.
The new law provides exceptions for rape and incest when a police report is filed, and to save the life of the mother. The measure, which would take effect in 2020, also permits abortions when an unborn child is determined not to be medically viable. There were 33,000 abortions in Georgia in 2014.
Opponents immediately promised a court challenge, and a chorus of Hollywood elite threatened to boycott the state's profitable film industry, although some studios are taking a wait and see approach. Alyssa Milano, who stars in the Netflix drama "Insatiable" filming in Georgia, started a petition that said, "[W]e cannot in good conscience continue to recommend our industry remain in Georgia."
Christina Applegate, Don Cheadle, and Alec Baldwin also signed. The Writers Guild of America stated, "This law would make Georgia an inhospitable place for those in the film and television industry to work, including our members."
If that weren't enough of a threat, Milano also called on women to go on a "sex strike" "until we get bodily autonomy back." You might call it a social-justice twist on the romantic comedy.
In effect, Hollywood is saying, "You will continue to get our money [and our bodies?] only if you continue to stop the beating hearts of unborn human beings." The state is being told to place its economic interests above its moral interests, or pay the consequences. This is blood money, pure and simple, and Georgia must not give in to economic blackmail. No boost to the economy is worth this kind of horror show.
In response to the threatened boycott, Kemp said, "Our job is to do what is right, not what is easy. We are called to be strong and courageous, and we will not back down."
Hollywood might wish to reconsider its position. The film industry has benefited from hundreds of millions of dollars in state tax incentives since 2008. According to the Milken Institute, California has lost 36,000 entertainment-related jobs totaling $2.4 billion in lost wages and $4.2 billion in lost economic output since 1997. Many of these dollars have resurfaced in "flyover country."
Georgia now offers a 20-percent incentive on productions of $500,000 or more, with an extra 10 percent if the film credits include a peach logo. Georgia's income tax rate, meanwhile, maxes out at 5.8 percent, compared with California's 13.3 percent.
Of course, lower taxes are only part of the economic equation in Georgia. Production costs, including set construction, dressing, and operations; production staff, production sound, film/tape editing, and other location expenses and transportation generally are lower. The state's diverse topography and locales also help.
And major Hollywood concerns have been pouring in. Tyler Perry Studios is sitting on 330 acres at the decommissioned Fort McPherson Army base. Construction will be completed later this year. Pinewood Atlanta Studios, which opened in February 2014, offers 18 sound stages for a variety of projects on 700 acres in Fayetteville.
The state could also lose big time, however. In 2016 alone, Georgia got a $7 billion economic boost through job creation and tourism because of the film industry. That number grew to $9.5 billion in 2018.
In 2015, the state created the Georgia Film Academy, which trains would-be crew members and connects them with local productions. The industry presence currently supports 92,000 jobs in the state. Some of them might be under threat as the latest casualties in America's ongoing culture war.
With the Supreme Court's conservative shift with the addition of Justice Brett Kavanaugh, Georgia has become the latest battleground over Roe v. Wade, the landmark 1973 ruling that has led to the legal elimination of more than 50 million unborn human beings.
"All the states are looking to the Supreme Court," said Elizabeth Nash of the Guttmacher Institute, a leading abortion-rights organization. "Adding Kavanaugh to the court has totally reshaped the debate at the state level."
Under Roe and subsequent high court rulings, states may not ban abortion before the unborn can survive outside the womb (usually around 24 weeks), and any restrictions after that point must provide exceptions for the mother's life and health. Also, any pre-viability restriction cannot create an "undue burden" on those who seek an abortion.
Georgia is the fourth state this year to pass a "fetal heartbeat" law, joining Kentucky, Mississippi, and Ohio. A federal judge could hear a challenge to the law in Mississippi later this month. Kentucky's law has already been blocked, and similar laws in Iowa and North Dakota were struck down.
Legislators in South Carolina and Tennessee have urged the passage of fetal heartbeat bills, too. This week Alabama's state senate passed H.B. 314, which recognizes unborn children as persons and prohibits most abortions. The Republican governor has signed it.
The reverse is occurring in socially liberal states such as New York, Rhode Island, and Virginia. In the Gotham State, Democratic Gov. Andrew Cuomo signed a law naming abortion as a "fundamental right," and that pro-lifers say opens the door to infanticide.
Supporters of legal abortion frame the dispute as a civil rights issue for women. "This is a full-blown attack on our reproductive freedom--and we will NOT forget it," Naral Pro-Choice Georgia said on Twitter. On the contrary, said Georgia Republican state House Speaker David Ralston: The new law "is about protecting those who truly cannot protect themselves."
The battle lines have been drawn. Winning hearts and minds has been edited out of the script; bare-knuckled coercion, legally or economically, is the plotline.
"So the race is on," says Grayson Quay in The American Conservative. "The pro-lifers are using every trick in the book to overturn Roe v. Wade and achieve their goals through judicial fiat before they're pushed to the fringes of a leftward-moving society. The pro-choicers are scrambling to seize the moral high ground, make opposition to abortion unthinkable, and lay the foundation for a stalwart resistance movement should the legal battle go ill for them."
Will the Hollywood boycott in Georgia work? In 2016, the previous governor, Nathan Deal, vetoed a religious liberty bill supported by many Christians but opposed by Hollywood, numerous high-profile corporations, and gay-rights groups. Deal said it didn't reflect Georgians' image as "warm, friendly, and loving people."
The showdown in Georgia, and in a nation divided by irreconcilable differences concerning innocent human life, will likely continue. While the new "fetal heartbeat bill" is a welcome step for the unborn, its final act is not yet written.
---