Corporate America Joins LGBT Indoctrination Bandwagon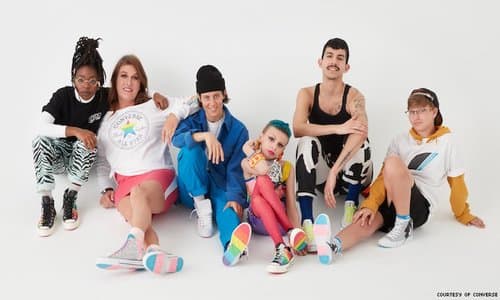 By PNW Staff
June 03, 2019
Share this article:
---
As the LGBT movement continues to grow in power and influence, corporate America has made sure to secure a seat on the "love is love" bandwagon by increasing its marketing efforts to show its alignment with this new indoctrination.
The rush of advertising promoting one aspect or another of these alternative lifestyles is almost too numerous to mention, in facts it's hard to find one that has not joined in. Here are a few that have been featured in the press over the last few weeks:
Nabisco
According to Nabisco, there is apparently no difference between a woman who gives birth to children, raises them, nurtures them, clothes them, feeds them, and guides them through life and a man who dresses like a woman and calls himself a "drag momma."
Drag queen and reality TV contestant Jose Cancel dressed as his alter-ego Vanessa VanjieMateoz (Miss Vanjie) told viewers to buy Chips Ahoy! cookies to celebrate Mother's Day.
In his rant, Cancel explains how anyone who feels like it can be a mom. Anyone you consider to be 'like' a mom is, in fact, a mom. And you should buy them some cookies.
"What's a sweet gesture for you to do to your momma? Your real momma, your drag momma, whichever momma, somebody, whoever take care of you, whoever you feel or consider your momma, it's their day today," Cancel says.
When customers complained on Twitter over the ad the snack food giant doubled down and responded by repeatedly mocking,even laughing, at customers who expressed concern.
Gillette:
In a cleverly designed ad that makes it hard to criticize due to it's personal nature, Gillette posted the ad titled, "First Shave, the Story of Samson," showcasing trans activist Samson Bonkeabantu Brown shaving for the first time since transitioning from female to male as dad watches and offers advice.
"Whenever, wherever, however it happens - your first shave is special," the video is captioned.
"Growing up, I was always trying to figure out what kind of man I want to become and I'm still trying to figure out what kind that I want to become," Brown says in the video.
As the activist begins to shave, Brown's father advises, "Now don't be scared. Shaving is about being confident. You are doing fine."
"It's not just myself transitioning. It's everyone around me transitioning," Brown adds.
The ad closes with a close-up shot on Brown smiling, with overlaying text reading, "The best a man can get."
Converse:
Converse has announced the release of a new line of shoes celebrating LGBT culture alongside a marketing campaign featuring characters of various sexual orientations, including an 11-year-old 'drag kid' who goes by the stage name 'Desmond Is Amazing'.
Desmond is highlighted on the Converse website wearing a flamboyant outfit and make-up, striking a dramatic dance pose alongside a quote stating, "There is no normal".
Desmond has been at the center of a controversy concerning his public appearances as a child drag performer. He first attracted public attention when he was filmed at age 10 onstage at RuPaul's DragCon 2017. The infamous host referred to the boy as "this gorgeous little queen."
The child subsequently appeared on Good Morning America and accepted engagements dancing in gay bars. He was filmed dancing in both New York and San Francisco as men threw money at him.
Desmond also appeared on a YouTube talk show hosted by Michael Alig, a 1990s New York dance club personality who spent almost 17 years in prison for manslaughter after the violent death and dismemberment of a drug dealer named Andre Melendez.
In the video interview over their heads was a painting of a cartoon child skipping rope over the word 'Rohypnol.' Rohypnol is a well-known date rape drug often used to incapacitate victims marked for sexual assault.
This is who Converse wants us to endorse as a role model, enticing youth to buy their shoes.
Corporate Bandwagon:
The popular home furnishings chain IKEA has announced that it will be hoisting the rainbow flag at its stores nationwide beginning June 1 in observance of Pride Month, and will also sell rainbow reusable shopping bags that will benefit the homosexual advocacy group Human Rights Campaign Foundation (HRCF).
Gap has launched a "Love All Ways" campaign and will donate 15 percent of its proceeds from its pride collection to the UN Free & Equal initiative. Footwear companies Adidas, Reebok, Ugg and Nike have all announced their 2019 rainbow-themed collection, and mouthwash brand Listerine made its bottle labels in rainbow stripes for the month of June.
Disney has also rolled out additional rainbow product, and Starbucks is selling a rainbow "love" tumbler for Pride Month.
Target department stores not only are offering clothing and accessories celebrating the gay lifestyle to adults and children, but the company has also pledged to donate to a nonprofit that trains students and teachers in LGBT politics and advocacy.
On Target's official website, it has several pages dedicated to merchandise that features the rainbow gay pride flag as well as messages intended to instill pride in the LGBT lifestyle. In addition, Target proclaims that it is donating $100,000 to GLSEN, the Gay, Lesbian & Straight Education Network.
Coincidentally, Target chief marketing officer Rick Gomez also serves on GLSEN's board of directors.
GLSEN provides training and resources to LGBTQ activists on school campuses while also advocating the homosexual cause in the political sphere. According to its website, "We accomplish our goals by working in hallways across the country -- from Congress and the Department of Education to schools and district offices in your community -- to improve school climate and champion LGBT issues in K-12 education".
Besides Target, major donors to GLSEN include Hollister, Walt Disney, JP Morgan Chase and Co., HBO, Delta Airlines, NBA, McDonald's, AT&T, Morgan Stanley, Gucci, Bloomberg, and Colgate-Palmolive. Through its board members, GLSEN also maintains a relationship with the largest teachers union in the United States, the National Education Association.
In his book "Becoming Visible: A Reader in Gay and Lesbian History for High School Students,"founder and former president of GLSEN,Kevin Jennings wrote, "Some historians trace the development of homophobia in the West from the time when Christianity was adopted by the Romans. ... Whether homophobia began in the late Roman Empire because of the introduction of Christianity or became widespread in the late Middle Ages for political reasons, one thing remains clear: Biblical scriptures were used to justify persecution of those who loved members of their own sex."
Corporate America has made their choice clear. By normalizing these lifestyles, those who hold fast to God's truth that there are only two genders or that marriage is between a man and a woman are increasingly viewed as hateful, intolerant bigots. Only a horrible person would have a problem with this heartwarming moment between a transgender "man" and her father shaving for the first time, right?
Corporate America is now using their positions of influence and power to spread this ideology at every possible opportunity. Whereas in the past a boycott of certain corporations might have worked, the ideological root is too deep and too widespread.
We can still make our voices heard but the realization that this is not our home becomes more evident every day. Our personal responsibility to love God and love our neighbor is our best counter to a society that has chosen to identify with and celebrate the abominations in history for which God brought severe judgment.
"Were they ashamed when they had committed abomination? nay, they were not at all ashamed, neither could they blush. Therefore, they shall fall among them that fall; at the time that I visit them they shall be cast down, saith the LORD." (Jeremiah 6.15)
Judgment is coming.
---