Israeli Airstrike Makes It Clear To Iran That It Cannot Hide In Syria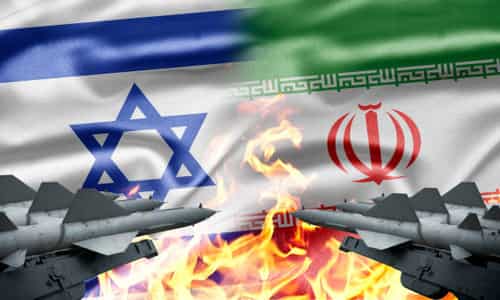 By Yaakov Lappin/JNS.org
June 04, 2019
Share this article:
---
No one took responsibility for the firing of two rockets at Israel's Mount Hermon on Saturday night from Syria, but it doesn't take a lot of imagination to view Iran, or one of its proxies, as the prime suspects.
The Iranian radical axis possesses both the ability and the motivation to conduct such an attack.
Israel's reported responses included a significant air strike on Iranian assets within the T-4 airbase, in central Syria, and deadly strikes on the Assad regime's military.
Israel sent the message that Iran cannot hide behind its proxies and allies, and that its activities remain highly exposed to Israeli intelligence and firepower. It also reiterated that Assad will continue to pay a price for Iran's aggression.
The Islamic Republic has spent years creating proxy terror organizations throughout the Middle East, including in Syria. This gives it an ability to attack and pressure its enemies on their own doorstep, far from Iran's own borders, while maintaining a facade of deniability. The 'anonymous' firing of two rockets on Saturday appears to fit this pattern well.
Tens of thousands of Shi'ite militia members--made up of Iraqis, Afghans and others--are active in Syria. They are armed, trained and funded by Iran, and are also under its command.
Iran has tried to recruit Syrians, who live near the Israeli border, into Iranian-organized terror networks.
In addition, Hezbollah--Iran's powerful Lebanese proxy--is a part of this picture. Hezbollah has repeatedly tried to turn southern Syria into a forward operating base against Israel.
In addition to all of these efforts, Iran has tried to build up its own direct army capabilities in Syria.
In response, Israel uses its advanced intelligence and precision airstrike capabilities to disrupt the threats as they form.
Stopping Iran's entrenchment in Syria has become a top Israeli goal. The Israeli Air Force has, in recent years, shifted into a high operational tempo to keep up with the constantly changing threat. The main mission, in Syria and beyond, is to stop the Iranian axis build-up.
This has frustrated Iran's Islamic Revolutionary Guards Corps and its overseas unit, the Quds Force, which is commanded by the charismatic and notorious Qasem Soleimani.
Iran's plans have run into constant "problems" in the form of hundreds of Israeli preventative strikes, including some in recent months, according to international media reports. The reports said Israeli strikes destroyed valuable Iranian targets, like missile-production facilities and weapons warehouses, killing Iranian personnel in the process.
The mysterious rocket attacks on Saturday night, therefore, could be seen as an Iranian attempt to deter Israel from taking more such action.
Another motivation could be the increasing economic pressure that Iran is under, due to punishing American sanctions. The closer Iran comes to economic crisis, the more willing it is to activate its proxies and destabilize the region.
Recent examples of this trend include the sabotage of oil tankers at a UAE port, the explosive drone attacks launched by Iranian-backed Houthis in Yemen against oil facilities in Saudi Arabia and a rocket attack on the U.S. embassy in Baghdad. Saturday's projectile attack from Syria seems could fit this pattern.
In addition, May 31 marked Iran's "Quds Day," held on the last Friday of Ramadan. This day is marked by rallies held in Iran and by Shi'ite communities abroad who are loyal to Tehran. Its defining message an ideological and fundamentalist religious commitment to Israel's destruction.
The rocket attacks from Syria seem too close to Quds Day to be a coincidence. This year's Quds Day was filled with threats by Iranian officials--not only against Israel, but also against pro-U.S. Sunni Gulf states and the United States itself.
Israel's first response to Saturday's attack was to extract a painful price from the very regime that Iran worked so hard to save. Israeli fighter jets and attack helicopters struck a number of military targets belonging to Syrian President Bashar Assad's military, including artillery batteries, a number of observation and intelligence posts, and an SA-2 surface-to-air missile battery.
The Israel Defense Forces released a statement saying it "holds the Syrian regime accountable for every action taken against Israel and will firmly operate against any activity from within Syrian territory against Israel."
Israel's message is that Iran cannot hide behind its proxies and allies, and that the Assad regime will pay the price for Iran's actions. This response should give Iran pause for thought since the well-being of the Assad regime is a key Iranian strategic interest. It is also a key interest of Russia, which is trying to keep Iran's activities under some level of check to prevent the outbreak of a wider conflict.
In January this year, the Iranians tried to pull off a similar, through more brazen attack. They fired a mid-range missile from the outskirts of Damascus at Mount Hermon, which was intercepted by Israeli air defenses right over the heads of winter skiers.
In response, the Israeli military launched three waves of airstrikes that targeted Iranian sites in and around Damascus, as well as Syrian air-defense batteries that fired on the Israeli fighter jets.
Iran's attack at that time was motivated, according to Israeli assessments, by a desire to stop Israel from hitting its troops and bases in Syria. That initiative failed.
The Lebanese front
Meanwhile, in neighboring Lebanon, Hezbollah chief Hassan Nasrallah used a Quds Day speech to state that "American intelligence knows that every war that erupts will not remain inside Iranian borders, but will spark a fire in the region. Israel and Saudi Arabia will pay the price."
This threat was likely written in Tehran rather than in Beirut. The mysterious rocket attacks fit Nasrallah's warning. His message is that Iran's axis should be seen as a single network, and that Iran will activate its proxies if it becomes involved in any escalation with the United States.
That means that a U.S.-Iranian conflict will trigger an Israeli-Hezbollah conflict.
Still, Nasrallah has no appetite for a war at this time. His lackluster response to the IDF's destruction of a series of Hezbollah tunnels, dug into northern Israel from Lebanon, are evidence of this.
On May 30, the IDF completed the destruction of Hezbollah's largest and key tunnel.
In any future conflict, Hezbollah's plan was to "infiltrate Israel through the attack tunnel into Israeli communities near the border in order to harm civilians as part of its war plans," the IDF said.
Hezbollah invested "the most resources and efforts" into this tunnel, which was designed to allow terrorists to stay inside for a prolonged period of time.
So far, Israel and the Iranian axis have kept this conflict on a low flame. It remains unknown how much longer this will continue to be the case.
Originally published at
JNS.org
- reposted with permission.
---