New Terror Fears As Europe Loses Track of Returning ISIS Fighters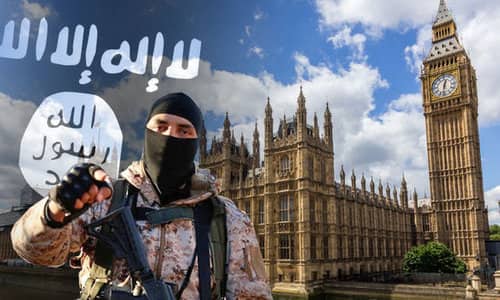 By PNW Staff
July 02, 2019
Share this article:
---
ISIS supporters are making new and chilling threats just as there are new revelations that most European governments have lost track of returning ISIS fighters. According to the International Center for the Study of Radicalization (ICSR) at King's College London, around 1,765 IS fighters have returned to Western Europe, and 784 have returned to Eastern Europe.
Meanwhile, hundreds of foreign jihadi fighters who are being held in Syria represent a "time bomb" and could escape and threaten the West unless countries do more to keep them, according to the Kurdish-led, U.S.-backed authorities holding them.
"It seems most of the countries have decided that they're done with them, let's leave them here, but this is a very big mistake," said Abdulkarim Omar of the Syrian Democratic Forces. "Their home countries must do more to prosecute foreign fighters and rehabilitate their families, or else this will be a danger and a time bomb."
The SDF will eventually have no choice but to let the prisoners go -- making a manageable security threat much worse. These battle-hardened fighters are especially dangerous given their practical knowledge and the respect they could command among would-be jihadists.
Many released fighters would slip into Iraq, blend in with sympathetic Sunni populations, and prepare for an ISIS revival. Others could exploit security vacuums in Libya or Somalia or jump-start conflicts in other unstable regions.
Perhaps the greatest risk is that some will return to the West undetected alongside refugees. Countries hesitant to take back their citizens now should realize they might return anyway--clandestinely.
The potential of sleeper cells has been a growing threat over the years but now with so many former militants returning to their countries of origin it makes recent threats much more concerning.
Propaganda for one terror group has included an image of Big Ben in London's Palace of Westminster exploding in flames, with a caption saying: "Coming soon" and New York's Manhattan Bridge appeared to be another target as one of the posters showed a US soldier fleeing from an apparent attack in that area.
Research group TRAC Terrorism warned that the US is at bigger risk of an attack than the UK because of the upcoming Fourth of July celebrations.
The propaganda does not specifically mention the US holiday, but the ISIS supporters vow to pursue "infidels in their own homeland".
"Know O Crusader infidel that you - Allah willing - will soon be pursued in your own homeland," it reads.
"You will be pursued in the streets and in the alleyways and you will burn by the flames of the IEDs.
"Only this time you will be feeling the pain of what you have inflicted for decades upon the Muslims, of killing, burning, destruction and displacement in refugee camps.
ISIS has carried out a number of bombings targeting mosques and public transport in Afghanistan in recent months.
The bombings have stoked fears that the group, which staged numerous attacks in the UK, US, and France after coming to international prominence in 2014, is planning new strikes against the West.
A US intelligence official, who is based in Afghanistan, said the wave of attacks in Kabul are "practice runs" for bigger attacks in Europe and America.
"The IS core mandate is: You will conduct external attacks" in the U.S. and Europe.
"That is their goal. It's just a matter of time. It is very scary."
A Kurdish commander has also warned that thousands of ISIS fighters are now on the loose and forming sleeper cells that could attack the UK at any time.
Mervan Kamishlo, a commander in the Syrian Democratic Forces, said that members of the defeated caliphate have gone to ground in Syria and are now plotting revenge attacks on countries such as Britain.
Western-backed Kurdish forces have led the fight against Islamic State, which has now lost almost all the territory it was able to capture amid the turmoil of Syria's ongoing Civil War.
"There are still thousands of sleepers here. When we succeeded militarily they disappeared," Kamishlo told the UK Mirror.
Last week, the FBI arrested a 21-year-old Pennsylvania man for allegedly plotting to bomb a church in Pittsburgh. He had come to the United States as a refugee from Syria and was allegedly inspired by ISIS.
Former CIA counter-terrorism officer Dan Gabriel says new terror threats from ISIS ahead of the Fourth of July should be taken seriously.
Earlier this year ISIS terror chief Abu Bakr al-Baghdadi appeared in footage for the first time in almost five years suggesting he may want to take credit for any upcoming attacks.
Charlie Winter, of the International Centre for the Study of Radicalization at King's College London, said: "Now that ISIS has been defeated in Syria and Iraq, it will become more violent outside this area.
"It's a grim outlook, but we are likely to see more attempts at attacks, more regularly, for the foreseeable future.
Sri Lanka was not a one-off. If anything, it was a test run."
---