Battlefield Of The Future: Israeli Autonomous Vehicles Powered By AI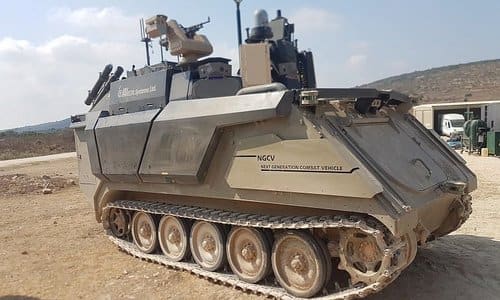 By Yaakov Lappin/JNS.org
August 07, 2019
Share this article:
---
At a military base in northern Israel, the Israeli Defense Ministry and leading defense industries provided a glimpse on Sunday at the battlefield of the future.
The concept that they unveiled--called the Carmel combat vehicle--is a response to three years of planning solutions to the asymmetric, Middle Eastern warfare conditions taking shape.
These modern challenges include hidden enemy cells, embedded in built-up areas, which fire missiles from residential buildings. Such cells send explosive drones hurling into advancing military forces, and pop out of tunnels to open fire and vanish. Such cells surround areas in Gaza and Lebanon that are packed with rockets aimed at Israeli cities, forming "rings" around rocket-launch zones.
Israeli ground forces would need to punch their way through those rings in order to extinguish the rocket fire with the help of the air force.
These challenges have made ground offensives highly complex affairs.
But the solution showcased by the Defense Ministry this week represents nothing less than a revolution in Israel's ability to maneuver in enemy territory.
Carmel armored vehicles will, for starters, be autonomously driving themselves--planning their routes and taking a major burden off the personnel inside. They will blow up roadside bombs on the way, detecting targets and prioritizing threats automatically, while advising the soldiers on which weapon to use against which target.
Just two personnel will be onboard, managing the entire system, because the vehicle's artificial intelligence (AI) will be able to do so much on its own. After receiving human approval, the vehicle can fire on targets with a speed and accuracy that are unknown today.
The same vehicle will be able to deploy its own drones and unmanned ground vehicles (UGVs), and send them forward to gather intelligence and attack enemy targets.
The onboard crew will be able to see 360 degrees around them, using cutting-edge display technology that will stream day and night camera feeds and radar feeds into the vehicle, including the ability to see enemy combatants hiding inside buildings.
This means that they will be able to remain under closed hatch, protected the entire time.
A U.S. Army delegation flew into Israel especially for the demonstration and briskly returned home to share notes with their colleagues.
"Three years ago, we decided to revolutionize the way we maneuver and to change our state of mind," said Brig. Gen. Yaniv Rotem, head of Research and Development at the Defense Ministry's Directorate of Defense Research and Development (DDR&D).
While the future Carmel vehicle has yet to be produced, the capabilities put on display on Sunday will already be installed on current Israeli tanks and armored personnel carriers.
The first technology to be installed is Elbit's Iron Vision "see-through" helmet mounted display, which is similar to the Elbit-made helmet worn by F-35 fighter-jet pilots around the world. Operators wearing the helmet will be able to see targets appear before them as they peer "through" their vehicle's walls and direct weapons to fire on targets.
To kickstart the program, the Defense Ministry asked Israel's three biggest defense companies--IAI, Elbit and Rafael--to each develop their own Carmel vehicle prototypes.
"The Carmel program ... is built on very sophisticated variety of sensors," Rotem told journalists. He added that AI and a 360-degree "situational awareness for the people in the vehicle" all came together to meet the challenge of allowing just two combat soldiers in a closed cockpit to manage operations.
"I can say that in the last month, we did many tests for those three industries in the field ... we made unique, complex scenarios defined by the ground forces. All the industries were successful, and we were successful in showing that only two soldiers can operate armored vehicles and conduct mission," he stated.
In the coming two months, the Defense Ministry will study the results in detail and launch the second phase of the Carmel program. This phase is aimed at getting the vehicles to work in formation, linked together by a sophisticated command network.
Augmented reality and an Xbox joystick
The Carmel prototype produced by Elbit systems is based on the Iron Vision helmet, which the company said will accelerate the two-person crew's decision-making and "facilitate target engagement with dramatically increased rapidity and accuracy."
Rafael, meanwhile, created a vehicle with a transparent cockpit design using augmented-reality (AR) displays. Its prototype depicts enemy targets, tells them apart from friendly forces and has an autonomous mission-planning system.
IAI presented a platform with a panoramic screen display, individual control screens and a vehicle control based on the Xbox joystick--something that young operators will intuitively grasp in little time.
The Carmel Program "places the State of Israel at the forefront of the worldwide effort to develop advanced combat vehicles. This is made possible by the creativity and innovative capabilities of Israel's defense industries," said the Defense Ministry.
Defense industry sources said during the event that their prototypes could, if programmed to do so, be able to return fire automatically at enemy targets that fire on the vehicle. Ultimately, they said, the long-term trend is towards unmanned armored fighting vehicles that will require no onboard personnel at all.
For now, however, humans are still needed, said Rotem. "AI can find the target, but a human sees the overall environment."
At the same time, he added, the Israel Defense Forces' General Staff has discussed a possible vision of unstaffed tanks in the decades to come.
"We are going to promote and continue the Carmel vision," he said. "Each vehicle will operate in parallel with unmanned ground vehicles and drones, which means manned and unmanned teaming."
Armies from the around the world are expected to send delegations to study Israel's revolutionary concept, he indicated. "I believe we are one of the leaders in this field today, and this will be very good opportunity for cooperation with other countries."
Originally published at
JNS.org
- reposted with permission.
---