New Movie Has Blue State Elitists Hunting Red State Trump Supporters For Sport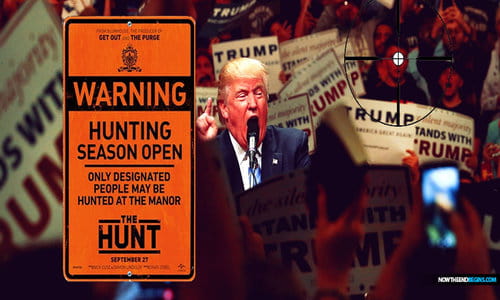 By PNW Staff
August 09, 2019
Share this article:
---
Violent ads for a movie about blue state elitists hunting red state Trump supporters for sport called "The Hunt", have been pulled in the aftermath of the mass shootings. Studio executives say that they fear the tragedies will eclipse the ultra-dark and violent satire.
TV station ESPN has yanked the trailer without waiting for Universal to make up its mind, opting not to air the clip at all in the next few weeks, according to a source at the station.
While one Universal insider claimed the studio was standing by producer Jason Blum, who has turned out successful films including the Purge series and Get Out, they characterized the situation as "fluid" and warned things could change "if people think we're being exploitative rather than opinionated."
While many worry about the ads for this movie causing more mass shootings, perhaps we should all be worried about those who created this movie and the thin and violent line we are walking on as a society.
The film begins with 12 strangers who wake up in a clearing with no idea where they are or how they got there. They soon discover they are "prey" at an exclusive resort called The Manor, where the Liberal uber-wealthy come to hunt human beings--although Hilary Swank's high-end executive (who masterminded the whole thing) scoffs that they should hardly be considered "beings."
"We pay for everything, so this country belongs to us," one of the hunters says in a trailer which is still available on YouTube. The hunters reportedly pick their "prey" based on social-justice sins like using racist language on social media.
Like Blum's other hits, the film (originally called Red State vs. Blue State) features dark satirical undertones beneath all the violence, depicting a handful of "deplorables" who gradually realize they've been kidnapped and deposited into a high-end "private hunting experience" for wealthy liberals.
While one filmmaker questioned whether "The Hunt" was not "the most craven, irresponsible, dangerous exploitation" in the wake of the recent tragedies, a Universal executive doubled down on the film's value as biting social commentary, explaining it is "meant to show what a stupid, crazy world we live in."
DePauw University professor and media critic Jeffrey McCall told Fox News that the movie is "harmful to a culture that surely needs messages of unity and understanding" during the current climate.
"It says something sad about the state of the 'entertainment' industry that this movie ever got conceived and produced. Hollywood clearly thinks it is OK to stereotype so-called deplorables and set them up for a hunt," McCall said. "Thank heavens some sensible outlets are pulling the promotional ads."
"This certainly shows Hollywood for what it really is -- demented and evil. At a time when journalists try to blame President Trump for every act of violence in the world, wannabe Tinseltown terrorists are making sick murder fantasies about right-wingers," said Media Research Center vice president Dan Gainor
"Why would anyone think it's a great idea to have a movie about hunting down someone who doesn't agree with them politically? It's remarkable to me that the left blames Donald Trump's rhetoric for violence, then literally spends millions to normalize the killing of people based on politics".
"The Hunt" stars Betty Gilpin and Hillary Swank, who play characters who represent opposite sides of the political divide.
The Hunt is scheduled for release on September 27.
---