Euthanasia: A Culture of Death Expands Globally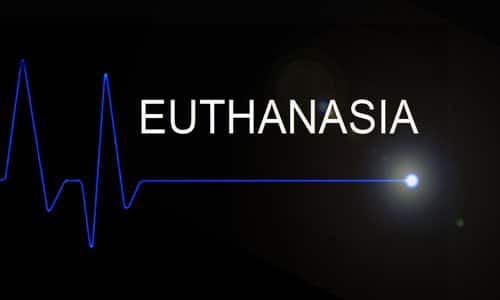 By Tom Olago
May 23, 2016
Share this article:
---
Euthanasia - legalizing premature deaths in a process usually euphemized in such terms as "assisted suicide" and "mercy killing" - is growing and making inroads into new countries such as Canada, South Africa and India.
In countries with long history of euthanasia, the practice is also becoming more accepted. Recent euthanasia statistics for 2015 have been released in the Netherlands, showing a significant increase of 4 percent as compared with 2014.
Jeanne Smits, Paris correspondent for Life Site News explained that the rise is mainly due to the increase of euthanasia for demented, elderly people, as well as psychiatric patients, two categories that raise even more questions than "ordinary" euthanasia for untreatable physical pain.
According to Smit's report, in 2015, 109 demented persons (against 81 in 2014) were killed while still "mentally competent" enough to express their own will. 56 patients with psychiatric disorders were put to death at their own request in 2015, a sharp rise from the 41 such cases recorded in 2014.
In this last category, the End of Life Clinic was reportedly involved in most cases. Out of a total of 5,561 reported euthanasia acts - compared with the 3,695 reported five years earlier - four were deemed not to be in compliance with the Dutch euthanasia law. Two of them were handled by the End of Life Clinic.
But no legal action will be taken, reported the protestant conservative daily, Trouw. By deciding not to act, the competent authorities appear to be retroactively justifying certain forms of illegal euthanasia - this is exactly how the "slippery slope" concept works.
Smit expounded that in the Netherlands, euthanasia, the deliberate killing of a human being supposedly at his or her request is, in principle, a penal offense. Compliance with a "strict" list of criteria, which includes "unbearable suffering," the lack of alternative therapy, and "no possibility" that the patients situation will improve, allows doctors to escape both trial and punishment.
But they are expected to report all acts, with a wealth of details, for them to be vetted by one of the five regional euthanasia supervisory commissions.
Once the commission has studied the case it either approves it as compliant with the law or transmits it to the Health Inspection Service and to the public prosecutor. These can then decide whether to open a judiciary procedure.
Over the years, the regional commissions have accepted more and more dubious cases as legal, so when they decide not to approve an act of euthanasia as compliant, further investigation by a court would appear to be essential.
Not so, decided the Health Inspection and the public prosecutor in two cases that did not make the grade in 2015. The two cases for which End of Life Clinic's doctors were singled out involved psychiatric suffering and advanced dementia.
Smit concluded that the fact that the Justice Ministry's own services have decided not to prosecute in the aforementioned cases, shows the guidelines are being considered as mere indications.
According to a separate report published online recently in timeslive.co.za, euthanasia is deemed a 'good' choice for some. Some observers believe that it is justified in cases of trauma, such as with victims of sexual assault.
In one controversial case, a sexual abuse victim in her 20s was allowed to go ahead with the procedure as she was suffering from "incurable" post-traumatic stress disorder, the Dutch Euthanasia Commission said.
Other countries seem rapidly to be following suit. An example is South Africa, where euthanasia is not legal but a Pretoria High Court ruling recently gave Robyn Stransham-Ford access to assisted suicide. This ruling has now opened the door for people who want assisted suicide approved similarly for them via the court systems.
Paulan Stärcke, who spoke recently at the Euthanasia 2016 conference in Amsterdam, said even children as young as 12 who ask to end their lives should be taken seriously. "Euthanasia is a good death by the wish of the person who dies and no one else," she said.
In India, euthanasia is also well on the path to legal acceptance. Neetu Chandra Sharma for India Today reported lately that the debate over "mercy killing" may soon end as the Union Health Ministry has prepared legislation on the contentious issue of euthanasia.
The Medical Treatment of Terminally Ill patients (protection of patients and medical practitioners) Bill is up for public debate. "Based on the recommendations of the Law Commission, and after examination of the draft Bill in Health Ministry, we are contemplating to enact a law on passive euthanasia," said Dr. Jagdish Prasad, Director General of Health Services (DGHS).
Sharma's report explains that while passive euthanasia entails withholding of common treatments in terminally ill patients such as antibiotics, necessary for the continuance of life, active euthanasia involves the use of lethal substances or forces, such as injections to kill, and is the most controversial.
If approved, the Medical Council of India (MCI) will have an active role in the law. The MCI would prepare and issue guidelines for medical practitioners in the matter of withholding or withdrawing of medical treatment to competent or incompetent patients suffering from terminal illness.
A recent report by the Catholic News Agency stated that Canada's parliament has until June 6 to consider Bill C-14, controversial legislation that, if passed, would legalize euthanasia in the country. But some citizens of Belgium, where euthanasia has been legal since 2002, have a message for Canada: Don't do it.
In a new series of videos, Belgian doctors, lawyers, and family members of the euthanized argue that legalizing euthanasia sets a dangerous precedent that threatens the most vulnerable in society and compromises patient-physician relationships.
The videos are produced by the Euthanasia Prevention Coalition and Dunn Media. The group is also producing a documentary on the issue titled "Vulnerable: The Euthanasia Deception" due out in June.
"Don't go there," Hendrik Reitsema, whose grandfather was euthanized in Belgium, said in one of the videos. "Why? You open Pandora's Box to the practice of killing as though it were a normal part of medicine...and we've now arrived at a moment in history where... physicians now become a threat to their patients."
Euthanasia, which Canada's Parliament is considering, differs from physician-assisted suicide in that anyone - a doctor, a family member, the patient - may administer lethal drugs to the patient. Under physician-assisted suicide, the patient's doctor prescribes lethal drugs, but legally only the patient can administer them to themselves.
Proponents of euthanasia laws often argue that safeguards can protect the vulnerable from abuse of these laws. However, Belgian doctors and lawyers in one of the short videos contend that "safeguards are an illusion."
"For me the only clear safeguard is to say that a doctor cannot kill a patient," Dr. Benoit Beuselinck, a Belgian oncologist and professor, said in the video. "Once you admit that a doctor can kill his patient, even in terminal conditions, it would be very difficult to put a red line and say you cannot go beyond this."
Under Belgian law, any adult with a terminal illness can request euthanasia. But a terminal diagnosis can be deceiving, as many patients survive far past their prognosis.
In another video, Dr. Beuselinck said he has also seen the law go unchecked, with an estimated 30-40 percent of performed cases of euthanasia going unreported. "There is no control of the law," he said. "In Belgium, patients are killed by euthanasia at the first diagnosis of Alzheimer's or of malignant disease of a cancer."
Anti-euthanasia activist Lionel Roosemont said in the "Safeguards" video that once euthanasia becomes enshrined in law, it soon ceases to be a free choice. "The freedom of choice of euthanasia has become the obligation of choice, of having euthanasia," he said.
Etienne Montero, a Belgian lawyer and Dean of Faculty of Law at the University of Namur, said euthanasia laws are also dangerous because of the unclear terms. Belgium has also seen the law stretched beyond its original limits.
Whereas the original law only allowed those 18 years of age or older to request euthanasia, children of any age can now request euthanasia and be given it, if it is approved by doctors, psychologists, and their parents.
Marnix Coelmont, a teacher and advocate, said his advice to Canada would be that if they are going to approve euthanasia, then they also need to invest a lot of money in palliative, end-of-life care that so that people don't feel like they have to choose euthanasia. "Because unbearable pain is a very relative concept," he said.
Dr. Beuselinck said doctors can help their patients at the time of death without killing them. "We help people to die by controlling their suffering and controlling their symptoms. We don't help them to die by killing them directly."
---