Chinese Military Prepares For Global Power Role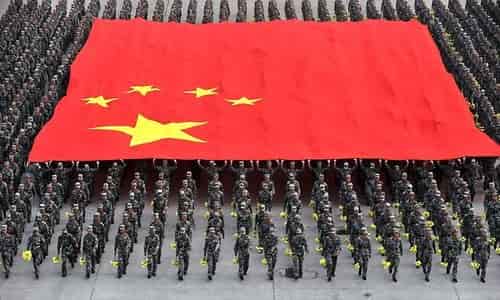 By PNW Staff
May 23, 2016
Share this article:
---
A new Pentagon report says China is working on a significant buildup of its military might that could make it a force to be reckoned with not only in Asia, but around the world.
Pentagon officials, while uncertain of Chinas intent, see this as a potential threat. Meanwhile, China insists that they are simply modernizing and that the U.S. is blowing matters all out of proportion.
Some writers have noted that if the Chinese have no ill will toward the United States, then any threat is greatly diminished. On the other hand, if China has ulterior motives, then the threat increases in proportion to that ill-will.
Even so, the buildup does make China a powerful force and it is rapidly increasing its status as a world power rapidly. China is developing nuclear warheads that can be mounted on submarines, giving it the ability to make a nuclear strike anywhere in the world.
They are also developing more stealth fighters, and creating more military bases around the world. Whereas it is impossible to say what the overall intent of expansion may be, it is clear that the Chinese are making a statement that they, too, want to be a super power.
For years Pentagon officials believed China's potential buildup was more aimed at a potential fight with the United States over Taiwan. This led to the belief that China was more focused on regional conflicts than becoming the primary world super power.
That concept is changing. China's Xi Jinping called it the "Chinese Dream," which is to replace the United States as the world's greatest super power. Rick Fisher, with the International Assessment and Strategy Center noted this and said China clearly has global military ambitions.
For the last 20 years or so China has been building a strong economy, and is now the second largest economy in the world behind the United States. It has also risen in stature as a political force, and there are those in the U.S. intelligence field who believe this is going to be translated into vast increases in military power as well.
Whether it has ill intent or designs on expansion is up for debate, but it is clear the Chinese are undertaking a huge buildup of military might in Asia and around the world, according to the Pentagon report.
China has built up a military installment in Djibouti, a small country on the horn of Africa, near the narrow part of the Red Sea and the Gulf of Aden. This would give it access to shipping lanes that are transporting oil from the Middle East to the rest of the world.
But China also has a self-interest there, as they import 60 percent of their oil and are dependent upon it as they seek modernization throughout their nation. That dependence could rise to as much as 80 percent, sources say.
China has also built a military port in Pakistan, near the Arabian sea, which is even closer to shipping lanes exiting the Persian Gulf.
The question becomes, whether the Chinese are just protecting their interest in oil that they need to survive, or do they have something more nefarious in mind, such as eventual world domination. China has not yet developed out-of-country military bases such as those the United States has, but they could be developing a more subtle program of working with other countries in anticipation of having ready access when it is needed.
Websites such as The Daily Beast and the Washington Free Beacon paint Chinas moves as preparing for war, or seeing it as a provocation to the United States.
A final piece of the puzzle that puts China on equal footing as a super power like the United States, is the development of submarines carrying and launching a nuclear strike. Having this ability is considered, in a defensive sense, a deterrent to a nuclear attack.
For now, only Russia and the United States have this capability. It is called a Triad in the sense that it will be able to deliver nuclear strikes by land, air or sea. A country with all three capabilities would survive a first attack and be able to strike back at another country that hit it first.
Conventional wisdom says that if you cannot wipe out your enemys nuclear arsenal, you are better off not attacking it with nuclear weapons at all.
This works as a deterrent because a country using nuclear weapons would want to be sure it did not leave the door open for retaliation. Beijing will soon be able to launch nuclear missiles from the sea. And thats going to make it harder to deter any future Chinese aggression.
---