Rainbow Wars - Student Suspended For Hate After Opposing LGBT Rainbow Poppy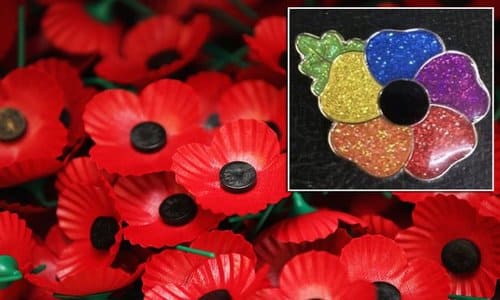 By PNW Staff
November 08, 2019
Share this article:
---
17-year old student Natalie Salisbury of Manitoba, Canada decided to take matters into her own hands after LGBT supporters and teachers at her school, Stonewall Collegiate, began to circulate the idea of wearing rainbow poppies to show LGBT solidarity this Remembrance Day.
In an interview with The Post Millennial, Natalie says she disagreed with the decision to change the traditional red-and-black poppy used to honor Canadian veterans during the Remembrance Day holiday. "I typed up papers on a computer, printed them off, and taped them up in the halls."
The printed papers contained quotes from news stories and people on social media Natalie had collected of individuals expressing criticism of the rainbow poppy. Some of the quotes on the paper included:
"Never seen something so disrespectful in all my days." "What does LGBT have to do with the war?"
"Red represents Blood, black represents widows and loved ones, Green represents land the blood was spilled on. NEVER change the poppy."
"You've got a whole month dedicated to the LGBT community, but the people who legitimately made a difference and died so that we could live decent lives have one day. You don't need a poppy, you just clearly want attention."
"One day to remember the real heroes how about we don't make it about your sexuality for once?
Natalie says she was just trying to express her beliefs and opinion on the matter but as soon as she put up her fliers teachers tore them down and had her report to the principal's office where she was accused of hate speech and endangering the physical safety of a group of individuals [LGBT students].
Natalie had attempted to record the conversation with her phone, wanting to show her parents what was happening. When the principal saw, her cellphone was "snatched away" and she was told there would be "consequences" if she posted about the suspension on social media or went to the press.
"So I asked why? Why am I being suspended and punished for expressing my feelings? And they said everybody is entitled to their own beliefs, opinions, and way of life. So I asked, why am I not?"
Natalie will not be allowed to return to school until after Remembrance Day and students who posted on the schools Facebook page in protest have had their comments deleted.
The Royal Canadian Legion official position is that altering the poppy is a sign of disrespect: "The poppy is the sacred symbol of remembrance and should not be defaced in any way."
---