Space Wars: Satellite Warfare Could Be America's Achilles Heel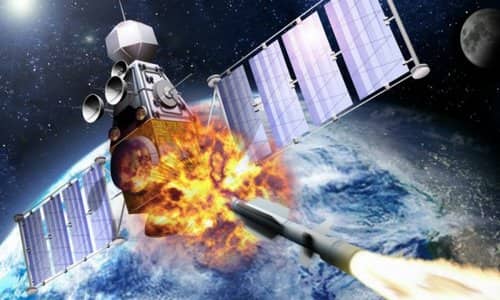 By PNW Staff
November 26, 2019
Share this article:
---
When the first Star Wars movie was released back in the late 70's, audiences imagined intergalactic battles taking place at a time far in the future - possibly a full century into the future.
No one could have predicted technology would improve at such an incredible rate in the decades to follow. Here we are approaching 2020 and as the last Star Wars movie approaches it's release - we are reminded that a "star war" is a very real possibility.
Much of the technological advantage enjoyed by the United States and other world powers is owed to the use of satellites.
Troop movements can be precisely coordinated with GPS, drones can be flown from bunkers on the other side of the globe, battlefield commanders can communicate over vast distances and high-resolution cameras can provide insight into enemy positions.
We have become so dependent upon satellite technologies that without them it would be fair to say we would be "flying blind" both figuratively and literally. Some experts have even warned that our dependence upon them has created an Achilles heel due to their potential vulnerability to our adversaries.
Steve Isakowitz, CEO of The Aerospace Corp., a government-funded think tank that serves as the military's leading adviser on space said the U.S. can no longer afford to take its dominance for granted.
"That supremacy in space has enabled us to have the world's greatest war-fighting capability ... whether it is our soldiers on the field, our drones that fly overhead, our bombers that travel around the world, intelligence we collect," he told POLITICO. "More and more every day, literally, we become more dependent on it.
"And our adversaries know that." It is the old error of having all one's eggs in one basket.
Air Force Gen. John W. Raymond, commander of the Pentagon's new Space Command, said last week that the threat of attacks against vital American satellites is real.
"I can tell you from my perspective, the scope, scale and complexity of that threat is alive and well and very concerning," Gen. Raymond told an audience Nov. 18 at the Center for Strategic and International Studies.
A previous report by the Department of Defense warned that if the U.S. is to avoid a 'Space Pearl Harbor,' it needs to take seriously the possibility of an attack on the U.S. space system.
Clearly, any nation that can destroy its opponent's satellites gains a considerable advantage, and that is exactly what Russia and China are now preparing to do.
The United States is deeply concerned that Russian movements in space indicate the country is building an offensive military space force that could knock out American satellites.
Assistant secretary for arms control, Yleem Poblete, categorized the developments as both "unprecedented" and "very abnormal" as Russia develops both a combat laser system and specialized missiles that can be launched from an aircraft mid-flight to destroy American satellites.
Russia is also reported to have launched an orbital kinetic kill vehicle, a sort of kamikaze satellite, known as the Kosmos 2499.
Already traveling at incredible speeds, the satellite would target American satellites in orbit and obliterate them with a simple collision.
The Chinese military's Joint Staff in 2018 said it's goal is to achieve "space superiority" -- controlling space without interference from ground-based or space-based threats.
To that affect, China has launched its own satellite killer, one equipped with grappling arms, called the Shiyan. Other weapons pulled from the pages of science fiction include lasers and magnets.
The Chinese Shiyan satellite has performed at least one successful capture using its grappling arm, capable of throwing other satellites out of orbit or stripping them of their useful parts.
China is even planning a permanent base on the moon as part of it's dual military and commercial program.
Russia has also been spotted using what has been dubbed 2014-28E, a rather enigmatic name for a secret military satellite. Launched clandestinely along with three Russian communication satellites, it was at first believed to be simply debris resulting from the launch.
When the object began to change orbit however, its propulsion capabilities became apparent. Russia has kept quiet about the craft but many believe it to another example of an erstwhile Soviet-era program called Istrebeitel Sputnik, or Satellite Fighter.
These are not proposals or prototypes of what Russia and China could launch, they are offensive satellites already orbiting the Earth with a singular purpose: removing American satellites from above the field of battle.
Gen. Raymond, commander of the Pentagon's new Space Command, disclosed during his Senate nomination hearing in June for the first time that the Pentagon is working on "counterspace weapons" to conduct offensive and defense military operations in space.
He further warned "China is pursuing a full spectrum of threats to our space capabilities, including reversible jamming, directed energy weapons, cyber threats, orbital threats, and kinetic energy threats from ground-based missiles.
Rick Fisher, senior fellow at the International Assessment and Strategy Center, warns that the biggest key to thwarting Chinese dominance in space will be denying Beijing control over the moon and the region of space between it and the Earth.
"If America fails to beat China back to the moon to secure commanding positions that can help deter conflict, we are then condemning our country and military forces to many future wars with China," Mr. Fisher said.
---