Ticking Time Bomb - European Jihadis Return Home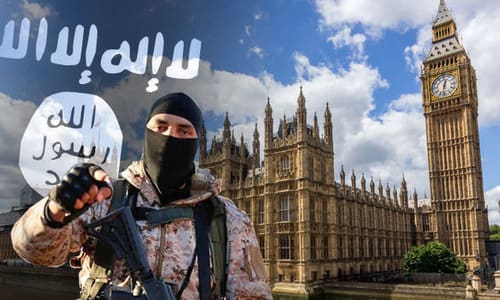 By Soeren Kern/Gatestone Institute
December 03, 2019
Share this article:
---
The Islamic State has claimed responsibility for the November 29 jihadi attack at London Bridge, where a Pakistani Islamist stabbed two people to death and injured three others. The suspect, 28-year-old Usman Khan, a convicted terrorist, was subsequently shot dead by police.
Khan, from Stoke-on-Trent, was convicted in February 2012 of plotting — on behalf of al-Qaeda — jihadi attacks against the London Stock Exchange and pubs in Stoke, in addition to setting up a jihadi training camp in Pakistan. He was sentenced to an "indeterminate sentence," meaning that he could have been kept in prison beyond his original minimum term of eight years due to the danger he posed to national security.
In April 2013, however, the Court of Appeal revised that sentence with a fixed term of eight years. Khan, a student of the Islamist extremist Anjem Choudary, who co-founded the now banned Al-Muhajiroun group, was released from prison in December 2018, before the end of his sentence, after agreeing to wear an electronic tag.
Khan's early release and subsequent attack prompted a row between the Conservatives and Labour over the practice of reducing prison terms for violent offenders. British Prime Minister Boris Johnson said that people convicted of terrorism offenses should not be allowed out of prison early:
"I think that the practice of automatic, early release where you cut a sentence in half and let really serious, violent offenders out early simply isn't working, and you've some very good evidence of how that isn't working, I am afraid, with this case."
Meanwhile, German authorities have arrested three suspected members of the Islamic State who were allegedly planning an attack with explosives and firearms in the Frankfurt Rhine-Main area. Prosecutors said that the men had wanted to kill as many "infidels" as possible.
This plot — and others like it that have been foiled in recent months — comes as the Turkish government has started repatriating European jihadis who fought with Islamist groups in Syria and Iraq.
Observers warn that while the Islamic State may have been "defeated" in the Middle East, it remains a potent danger to Europe.
On November 12, more than 150 German police officers raided three apartments in Offenbach and arrested a 24-year-old Macedonian-German and two Turkish citizens aged 21 and 22. Frankfurt Prosecutor Nadja Niesen said that the 24-year-old was the main suspect:
"The men are accused of plotting to commit a religiously-motivated crime in the Rhine-Main area by means of explosives or firearms to kill as many so-called infidels as possible.
"We have evidence that the 24-year-old has already procured chemicals to make explosives and that he continued to try over the internet to obtain firearms. We have secured various materials and equipment for making explosives."
A week later, on November 19, German police arrested a 26-year-old Syrian jihadi at his apartment in the Schöneberg district of Berlin. The man, who had been in Germany since 2014, was employed at a Berlin primary school as a cleaner. He had been under surveillance for at least three months after German authorities received a tipoff from a "friendly foreign intelligence service." Police said that the man had acquired chemicals to produce explosives to "kill as many people as possible."
The plots in Frankfurt and Berlin are, respectively, the eighth and ninth jihadi attacks that German police have foiled in the country since a rejected asylum seeker from Tunisia murdered 12 people by ramming a truck into a Berlin Christmas market in December 2016.
Germany's security challenge is about to increase yet further. On November 4, Turkish Interior Minister Süleyman Soylu announced that Turkey would begin repatriating captured Islamic State fighters back to their countries of origin — even if their European citizenship has been revoked:
"We will send back those in our hands, but the world has come up with a new method now: revoking their citizenships. They are saying they should be tried where they have been caught. This is a new form of international law, I guess. It is not possible to accept this. We will send back Daesh (Islamic State) members in our hands to their own countries whether their citizenships are revoked or not."
At least 1,200 Islamic State fighters, including many from Western countries, are being held in Turkish prisons. Another 287 jihadis from at least 20 different countries have been captured by Turkish forces since the start of an offensive that began on October 9 against the Syrian Democratic Forces (SDF) in northeastern Syria.
Approximately 100 German Islamic State supporters are believed to be in custody in Turkey, according to the German news agency, Deutsche Presse-Agentur. The German Interior Ministry said that although the identity of the jihadis being held by Turkey was not known, they could not be denied entry to Germany if they indeed were German citizens.
A German government spokesman, Armin Schuster, insisted that the German returnees were not "serious cases" and warned against "media-fueled hysteria." He explained: "They did not take part in the fighting. They won't be sent to prison, but they must be kept under surveillance."
On November 11, Turkey officially began repatriating Islamic State detainees to the West by deporting a German, an American and a Dane.
On November 14, Turkey repatriated another eight Islamic State fighters: seven Germans and one Briton. One man, a German-Iraqi father of a family of seven named Kanan B., was accused by Turkey of being a member of the Islamic State. German authorities allowed the man and his family to return to their home in Lower Saxony. They said that although he is a member of the Islamist Salafist movement, they do not believe that he ever joined the Islamic State.
On November 15, two female jihadis arrived in Frankfurt on a flight from Istanbul. German authorities arrested a 21-year-old Nasim A., whose origins are Somali. She moved from Germany to Syria as a minor in 2014 and, according to German investigators, married a jihadi fighter in late 2015. German authorities reportedly want to charge her with the offense of supporting the Islamic State. The other woman, 27-year-old Heida R. from Lower Hesse, had her fingerprints taken, but was released because she reportedly attended a deradicalization program.
German opposition parties have been critical of the government's failure to face the problem of jihadi repatriations sooner. The deputy leader of the Free Democratic Party (FDP), Stephan Thomae, said that Berlin had little choice but to accept German citizens deported by another country:
"The government kept its head in the sand for a long time and didn't want to have anything to do with these cases. That is coming back to bite them now. It would have been better if the government had contacted Turkey much earlier to discuss such processes."
The Secretary General of the International Criminal Police Organization (Interpol), Jürgen Stock, warned that Europe faces a new wave of Islamic terrorism as radicalized individuals return to the continent:
"We could soon be facing a second wave of other Islamic State linked or radicalized individuals that you might call Isis 2.0.
"A lot of these are suspected terrorists or those who are linked to terrorist groups as supporters who are facing maybe two to five years in jail. Because they were not convicted of a concrete terrorist attack but only support for terrorist activities, their sentences are perhaps not so heavy.
"In many parts of the world, in Europe but also Asia, this generation of early supporters will be released in the next couple of years, and they may again be part of a terrorist group or those supporting terrorist activities."
---