Nikki Haley Condemns UN For Corruption, Hypocrisy On Israel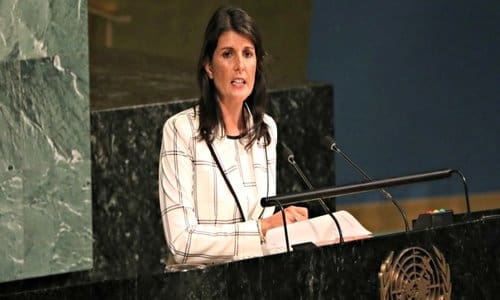 By Shiryn Ghermezian/JNS.org
December 11, 2019
Share this article:
---
In a scathing speech last week about corruption in the United Nations, former U.S. Ambassador to the United Nations Nikki Haley accused Canada of making a "deal with the devil" and called again for the removal of Venezuela from the United Nations Human Rights Council.
"If we are serious about being advocates for human rights, Venezuela's membership on the Human Rights Council cannot stand," Haley said on Thursday night at the inaugural gala of the UN Watch NGO in New York City, where she received the Eleanor Roosevelt Award for defending truth, fairness and human rights. "At stake is the ability of the Venezuelan people to reclaim their freedom and human dignity. The revolutionary notion that we are all children of God and entitled to his gifts is embedded in the founding purpose of the United Nations.
It is at the heart of the American idea. As long as I have a voice, I will never stop being the proud ambassador of this cause."
In October, Venezuela won a seat on the U.N.'s Human Rights Council with 105 votes, despite its very public and recorded human-rights abuses. A total of 14 U.N. members were elected to the 47-member council for three-year terms starting in January, including the human rights-violating countries Cuba, Somalia, Saudi Arabia, Libya, Sudan, China, Egypt, Qatar, Somalia and Pakistan.
Haley, a former governor of South Carolina, wrote in an op-ed last month in The Miami Herald that "Venezuela is the last country that should sit on a council that's supposed to protect human rights." On Twitter, she denounced Venezuelan President Nicolas Maduro's regime as being "one of the world's worst human-rights abusers."
"Many encouraged us to remain on the council because the United States, they said, provided the last shred of credibility the Human Rights Council had," she noted in her Dec. 5 speech. "And that was precisely why we decided to leave. The United States should not lend any credibility to this cesspool of political hypocrisy and corruption."
"The United Nations' greatest failure when measured by the yardstick of its own charter is the Human Rights Council," she added.
She said the international body is "allowing the world's worst actors to call the shots on human rights."
UN Watch launched a global campaign in October to remove Maduro from the Human Rights Council, and Haley urged the public to support the campaign and efforts by its chairman, Ambassador Diego Arria, former chairman of the U.N. Security Council and former Venezuelan ambassador to the United Nations.
Speaking to JNS, Arria praised Haley for supporting the freedom and human rights of Venezuelan people "in such a deciding and committed way" and for backing efforts to remove Venezuela from the UNHRC.
He has become "a great admirer" of Haley's, he said. "I think she is really the most extraordinary American ambassador in the U.N. ever. I hope we will see more of her. She could be president of the United States, I am absolutely convinced."
Hillel Neuer, executive director of UN Watch, also said his NGO is "deeply grateful" for Haley's support for the campaign. He criticized the General Assembly for voting Venezuela in, calling it "one of the worst regimes in the world," where 4 million people have been forced to flee oppression, hunger and poverty caused by the "failed policies" of the former Hugo Chávez and current Maduro regimes.
"It's an oppressive government, and it's the last government that should ever have ever been elected to any human-rights body, let alone to the world's highest human-rights body," he told JNS.
'A culture of bullying'
Haley also charged the United Nations for exhibiting a "culture of hypocrisy, entitlement and unaccountability," as well as a "culture of bullying" that has causes it to "time and again" fail to "live up to its charter."
She said the international body is "allowing the world's worst actors to call the shots on human rights."
"Instead of protecting human rights, the Human Rights Council has long protected the tyrants, dictators and strong men who abuse her," she told the audience last week. "It's honestly difficult to say which was worse--the tolerance we encountered for human-rights violators in the council or the hypocrisy of the countries that should have known better."
Haley branded the U.N. Security Council's regular meeting on the Middle East a "monthly Israel-bashing session" and described the United Nations as a "club" where "there's a constant pressure to abide by the rules; to conform to the culture."
And that culture, she stressed, "corrupts everyone it touches."
"I speak from experience when I say the United Nations presents many opportunities to strike a deal with the devil."
Almost all of the pro-Israel countries in the Human Rights Council agreed that reform was needed, but refused to take a stand in public and gave in to the corruption of the international body, reported Haley. She accused Canada of being an example of "this cultural corruption playing out in real time" by "trading its integrity" for a seat on the U.N. Security Council when it recently voted in favor of an anti-Israel General Assembly resolution co-sponsored by North Korea.
"This is a resolution that Canadian governments for years have voted against," said Haley. "I speak from experience when I say the United Nations presents many opportunities to strike a deal with the devil."
The anti-Israel resolution will be voted on one final time on Dec. 18, Neuer told JNS; a petition by UN Watch that calls on Canadian Prime Minister Justin Trudeau to reverse his vote against Israel has more than 30,000 signatories.
"Canada has, for the past at least 15 years, only moved in the direction of opposing these resolutions, so the shift by the Trudeau government is quite significant, and it's clear that they are motivated by an attempt to curry favor for their Security Council candidacy," said Neuer. "It seems that they want to go along to get along, and that's wrong. We see too much of that at the U.N.--a failure of principal and instead people doing very questionable trades, backroom deals, to win U.N. positions."
"The fact that Canada voted for a resolution ... which is entirely one-sided; which criticizes Israel repeatedly, makes no mention of Hamas, Islamic Jihad; and that they would do so days after hundreds of rockets are fired at Tel Aviv, is absolutely offensive. We hope that Prime Minister Trudeau will change his position and vote 'no.' "
Originally published at
JNS.org
- reposted with permission.
---