Confusion In The Church - LGBT Clergy Expands Across The Nation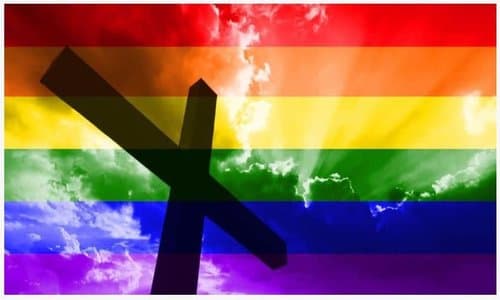 By PNW Staff
December 16, 2019
Share this article:
---
This month the Evangelical Lutheran Church celebrated it's newly formed Westview Lutheran Church in Boulder, Colorado. At the head of that new church is the nations first transgender Latina pastor Nicole Garcia.
Nicole is part of a growing number of LGBT clergy that has infiltrated the leadership of churches that have bowed down the altar of moral relativism.
Instead of provided clear Biblical answers to the cultural chaos, such churches have fallen in league with it by aligning the Gospel message to conform with a progressive message where feelings are emphasized over scriptural facts, essential Christian doctrines are open for interpretation, historical terms are redefined, and the heart of the Christian message shifts from sin and redemption to social justice.
One of Nicole's main goals and others like her is to push an agenda of LGBT acceptance in the church. Nicole began working with an organization called Reconciling in Christ several years before her ordination, which works toward full acceptance of the LGBTQ community within the Lutheran denomination.
Five years later, Garcia was elected to the group's national board of directors as their transgender representative, and in that position she continued to campaign for the advancement of LGBTQ people into pastoral positions.
The Gospel of Jesus Christ is a message of compassion and salvation for all people, but movements such as these promote continuation of sinful lifestyles rather than repentance. Yet the church allows them and even encourages them.
When some denominations push back such as the United Methodist ban on LGBT clergy, the bishops of the Western Jurisdiction of the United Methodist Church rebelled and declared their churches a "safe harbor" for LGBTQ clergy. A "safe harbor" to protect Christian leadership from the Biblical model of Church discipline when they are in doctrinal error?
Instead of providing Christian leadership to churches across the country many are causing confusion.
From non-binary deacons that refuse to accept that they are either men or women to hyper-sexual, church-sponsored drag shows, to transgender baptisms and renaming ceremonies, the assault on Biblical values has intensified.
The Bible sternly warns against leading little ones astray: "But whoever causes one of these little ones who believe in Me to sin, it would be better for him to have a great millstone fastened around his neck and to be drowned in the depth of the sea" (Matthew 18.6).
The Church of England, however, has instituted renaming ceremonies for the new identities/names of those confused individuals who have decided to identify as the opposite sex that God made them, including young children.
The UK's mirror newspaper recently featured the story of a 7-year-old child who had recently 'transitioned' and the mother commented how important the church's 'rebaptism' ceremony was in affirming this change, noting that the vicar was even wearing a silk rainbow scarf in support of LGBT rights during the ceremony.
The Church of England's new pastoral guidance advises clergy to refer to transgender people by their new name. The guidance, which was voted on wasn't even close, showing how far the Church of England has sunk. The vote was overwhelmingly in favor of the new ritual.
The House of Bishops came down 30-2 in favor with two abstentions, the House of Clergy voted its assent 127-28 with 16 clergy abstaining and the House of Laity showed 127 votes in favor with only 48 in opposition and 8 more marked as abstentions.
The guidance for the ceremony, while stopping short of calling it a baptism, details how elements including water and oil can be incorporated into the service as well as how the 'candidates' can be presented with gifts such as a Bible inscribed in their chosen name, or a certificate.
The guidance further notes: "For a trans-person to be addressed liturgically by the minister for the first time by their chosen name may be a powerful moment in the service".
As a central part of the new service, called the Affirmation of Baptismal Faith, the minister lays hands on the candidate or candidates, addresses them by name, and prays for them. Whereas the Church is clear that this does not constitute a second baptism, it explains that the Affirmation of Baptismal Faith enables people to "renew the commitments made in baptism and in a public setting and provides space for those who have undergone a major transition to re-dedicate their life to Jesus Christ".
The Anglican bishops declare their warrant for the new rite/adaptation to be an "unconditional affirmation". Baptism, however, is not meant to be an "unconditional affirmation" but an act of obedience afterone has responded to the call of repentance and conversion.
In fact, the Anglican ceremony specifically asks the candidate for baptism, "Do you turn away from sin? do you reject evil? do you trust Christ as Savior? do you trust Him as Lord?" Incredibly, under the new ritual the candidate is expected to answer "I do" to each question while, at the same time, 'affirming' to live just the opposite.
It is a warping of baptism to treat it as a celebration of "I'm OK, you're OK" when the fundamental Christian message is that, absent the transforming grace of Jesus Christ, no one is "OK".
A member of the same clergy that once presided over the coronation of her majesty Queen Elizabeth II, has now had the effrontery to ask the faithful to pray that her great-grandson, Prince George, age 6, might become a homosexual in order to increase tolerance for the LGBT community.
Earlier this year, Anglican clergy urged the British government to ban so-called "conversion therapy" for those with gender dysphoria, and announced their intention to attempt to recruit transgender clerics.
It should not surprise us that the youth are following the example of Church leadership. The congregation of St. Matthew Trinity Lutheran Church in Hoboken, New Jersey now refer to their pastor as Peter. 'Peter', formerly Rose Beeson, was the center of one of the first renaming ceremonies in the Evangelical Lutheran Church in America.
The ceremony, according to witnesses, was conducted in the same style as a christening or baptismal ceremony with the bishop blessing Beeson and pronouncing her newly-chosen name.
It should come as no surprise that we then also have another church leader who refuses to be identified as male or female. Methodist Deacon M. Barclay is now accepted by his church as a non-binary Deacon in Chicago, which means that she prefers the pronoun "they" rather than "she" and doesn't identify as either gender.
Deacon Barclay studied theology for 12 years and had originally tried to become a deacon in Texas but was rejected due to her personal and un-Biblical views on transgenderism. It was only after moving to Chicago that she was accepted into this leadership role, demonstrating the approval of the Methodist Church for transgenderism.
A member of any congregation struggling with gender identity confusion is understandable, but when that person both embraces this transgenderism and is elevated to the role of deacon, an entirely different message is sent, which is to say that the church and God support this lifestyle.
Methodist churches are not the only protestant denominations that are starting to welcome the gender-confused into leadership roles. First Baptist Church of Greenville began accepting LGBTQ ministers and weddings in 2015. It broke away from the Southern Baptist Convention in the 1990s but is now a part of Cooperative Baptist Fellowship.
Another Baptist church in Ohio this last summer called a transgender pastor to lead its church. Peace Community Church called Erica Saunders, a graduate of Wake Forest University School of Divinity, and then held an official welcoming service this month for Saunders, according to Baptist News Global.
The congregation was founded as First Baptist Church of Oberlin in July 1866 and is affiliated with the Baptist Peace Fellowship of North America, the Association of Welcoming & Affirming Baptists, and the Alliance of Baptists. Saunders was promoted to the church as "one of the first openly trans-women ordained in Baptist life." Saunders' passions were featured as "preaching, the study of Christian origins and LGBTQ education and advocacy".
Naturally, a church that approves of transgender leadership is going to indoctrinate its people with other pro-LGTBQ messages such as sponsoring Drag Shows in the church.
The Ames United Church of Christ in Iowa, which has considered itself open and affirming of LGBTQIA people since 2000, likes to hold these events on an annual basis.
Last year's event, published on the church's Facebook page, assured parents that there would be "adult supervision" for the drag queen and king contest as the youngsters dressed in drag and paraded around, skirting the legal line of child sexual abuse. With every step the church is working to recruit more teens and preteens into that lifestyle.
In First Congregational United Church of Christ of Portland, under Minister Michael Ellick, an event was previously held called "Drag me to Church" and the proceeds (a $5 entrance fee) were donated to a local LGBTQ community center.
The church brought in the cabaret group Caravan of Glam to perform. One could be excused for not realizing that First Congregational is merely masquerading as a church upon seeing the four scantily dressed drag queens performing erotic dances to music.
The First Church Somerville UCC in Somerville, Massachusetts, has made their drag event a yearly affair since 2011. A multi-day celebration of the transgender lifestyle, it begins with a benefit concert given by performers in drag, the equal of any adults-only night club.
On Sunday, the pastor then delivers a LGBTQ-focused sermon interspersed with so-called gospel music and followed by church members, both children and adults, cross dressing as they eat brunch.
The list goes on and on as we welcome the arrival of the last days church. A church that presents a form of godliness but deny's its power to change lives through repentance and obedience to the scriptures.
Scripture makes clear we are to avoid such places - it's time to take a stand and if you are part of these churches to depart.
---