Turkey's Turn To The Dark Side - A Very Big Concern For 2020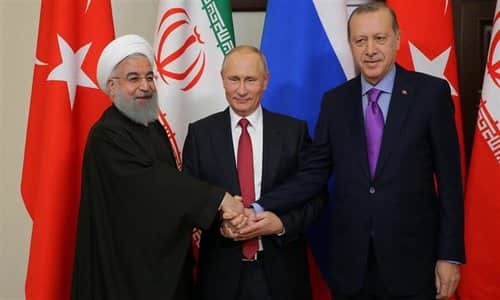 By Burak Bekdil/Gatestone Institute
December 24, 2019
Share this article:
---
While NATO, the North Atlantic Treaty Organization, celebrated its 70th anniversary on December 4, these days it is sitting on a different paradigm than it did since its birth in Washington DC in 1949. Three years later, in 1952, Turkey, along with its Aegean rival Greece, became a member.
In the 67 years since its membership, Turkey has moved from being a staunch ally defending Europe's southeast flank in the Cold War to being NATO's unresolved burden.
In nice, Kodak-moment speeches, optimists cite Turkey's unique geography, its airbases, it warehoused American nuclear weapons, its past in the alliance, its strategic presence in the Black Sea and Mediterranean Sea, its leverage on Muslim countries, a growing need to "keep the family together" and fear of losing Turkey -- especially to Russia.
Turkey has NATO's second-biggest army, and largest navy (relative to Russia's) without whose presence the Black Sea would be a Russian lake (Romania and Bulgaria, members since 2004, have small navies and air forces.)
"One must acknowledge that Turkey is an important ally," NATO's Secretary General Jens Stoltenberg told the German weekly Bild am Sonntag. "In the fight against ISIL, Turkey has made crucial contributions for physically destroying the so-called caliphate. Furthermore: No other ally is hosting so many Syrian refugees, 3.6 million in total. And no other NATO ally has suffered more terrorist attacks than Turkey."
"Turkey has been an important ally of that alliance since the mid-1950s," said another optimist, Air Chief Marshal Sir Stuart Peach of Britain's Royal Air Force, who heads the NATO Military Committee. "That situation has not changed. The geostrategic reasons for Turkey's membership have not changed ... and [it] plays a full role in the NATO command structure."
And according to General David Petraeus, former CIA director, "Turkey is a very, very important country to NATO, it is very geo-strategically important in its positioning and a variety of different ways. It played an important role as a base for our aircraft and other assets in the region, so again I hope this can be resolved."
Then, sadly, there are the realities. Turkey in 2010 became the first NATO country to have air exercises with China. In 2013 it selected (then cancelled) a Chinese company to build its first air and anti-missile defense architecture. This year, it replaced the Chinese option with the Russian S-400 batteries. Ankara says it will activate the Russian system in April despite U.S. demands that it not unpack it.
In addition Turkey is in talks with Russia to purchase a second batch of the S-400 system, including co-production and technology transfer options. If the S-400 system is operated in Turkey, Moscow could find a built-in cyber backdoor to spy on NATO assets.
Deeply marginalized member Turkey once again angered its NATO allies, including the United States, when it launched a military offensive into northern Syria on October 9, with most Western countries announcing arms embargoes on Ankara.
On October 11, U.S. troops who had not yet cleared out of northeastern Syria came under Turkish artillery fire, and U.S. officers said the assault was no accident. U.S. Secretary of Defense Mark Esper told the North Atlantic Council chamber that Turkey's operation was "unwarranted" and the latest sign that the Ankara was heading in the wrong direction.
Allies seriously need to defend the free world against the threat of ballistic missiles from rogue regimes such as Iran and North Korea. Turkey has a different take here, too. Halkbank, a Turkish government lender, is facing multi-billion dollar U.S. sanctions for evading sanctions on Iran.
In addition, Turkey's Islamist strongman, President Recep Tayyip Erdoğan, said in September that it was unacceptable for Turkey not to have its own nuclear weapons - although Turkey is a signatory to both the Nuclear Non-Proliferation Treaty and the Comprehensive Nuclear-Test-Ban Treaty.
NATO, though, is not only about a security alliance. Members, notes the preamble to the NATO Treaty, "are determined to safeguard the freedom, common heritage and civilization of their peoples, founded on the principles of democracy, individual liberty and the rule of law."
In these political criteria, Turkey fails as an ally, as well. "Constitutional changes adopted in 2017 concentrated power in the hands of the president, and worsening electoral conditions have made it increasingly difficult for opposition parties to challenge Erdoğan's control," according to the report, "Freedom in the World 2019," which pronounced Turkey's status "not free."
Turks have a confused mind over their membership in NATO - as do many in the West. According to another report, "Research on Public Perceptions on Turkish Foreign Policy," released by Istanbul's Kadir Has University, 60.8% of Turks favor membership in NATO.
The same research found out nevertheless that 81.3% of Turks believe that the biggest (security) threat to Turkey is the United States. In other words, Turks favor Turkish membership in NATO but think NATO's biggest member is also the biggest threat to their country.
In 2016, Erdoğan said that Turkey did not need to join the European Union "at all costs" and could instead become part of the Shanghai Cooperation Organisation, a security bloc dominated by China, Russia and Central Asian nations. In 2018, Erdoğan said that if the U.S. continues to "disrespect" Turkey, Ankara will seek "new friends and allies."
Erdoğan thinks that he can forever benefit from the East-West divide by officially belonging to West but more-than-courting the East. He seems to love playing the Russia card to Americans and the America card to Russians. He should be led to understand that he cannot play this carpet trading game forever.
The question is: Would Turkey, with its unambiguous incompatibility, be admitted as a NATO member today?
---