Emerging Trends In The Christian Movie Industry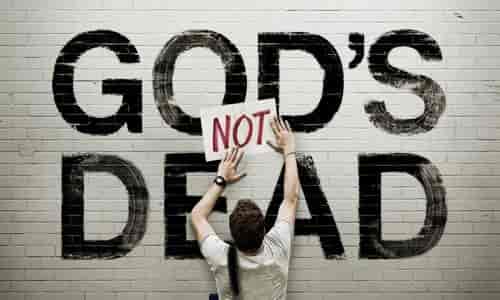 By Tom Olago
June 03, 2016
Share this article:
---
What makes a movie truly Christian? What types of faith-based movies appeal the most to Christians and the broader category of 'faith audiences'?
What Biblical values and themes do they esteem most highly? Would they grant the film industry freedom to deviate from these under the guise of 'creativity' or 'poetic license'?
In 2016, faith-based film developments in the movie industry continue to attract Christian interest and enrich producers in this lucrative market. Before mid-May, Risen, The Young Messiah, Miracles from Heaven and God's Not Dead 2--were reported jointly to have grossed more than $120 million.
The movies were hailed by Faith Driven Consumer (FDC) as hitting the high standards that they expect and set for entertainment.
So exactly how is this being done?
"The studio needs to make the right product, it needs to make it authentic," Chris Stone, certified brand strategist and founder of Raleigh, North Carolina-based Faith Driven Consumer (FDC) reiterates in part. "They have a model that they follow and they understand that model. But when they put something in there that suits their model but does not suit the audience, then it is just gratuitous."
Stone cautions about language, violence, and gratuitous sex. "If you can get past all that and give us real meat, people will show up."
Andreas Fuchs in a recent article for the filmjournal.com made this and other pertinent observations, as did FDC, that "Hollywood is rolling out faith content with a pace and frequency that has not been seen in a generation.
A vast audience--one which has been largely underserved--is finally being offered the choices they have been seeking, and filmmakers will continue to be richly rewarded."
Fuchs also referred to an americaninsights.org poll that came up with views of 'faith audiences' and Christians, as well as their preferences in regards to general entertainment and the faith-based movie niche in particular. Findings included the following highlights:
" 96% of faith-driven consumers (FDCs) say that their faith has a major influence on their entertainment choices, compared to 47% of Christians overall. 61% of FDCs rate faith's influence as a 10, compared to 18% of Christians overall.
" 87% of faith-driven consumers are much more likely--58% very much more likely--to choose entertainment options that promote Christian-compatible values, compared to 54% of Christians overall, while 73% of Faith Driven Consumers avoid watching television and films that conflict with their Christian worldview, compared to 41% of Christians at large.
" 81% of faith-driven consumers are likely to recommend a movie to others, compared to 79% of Christians overall. 49% of FDCs are very likely to recommend a movie, compared to 39% of Christians overall, while 61% of Faith Driven Consumers are likely to discourage others from seeing a movie, compared to 49% of Christians overall. 31% of FDCs are very likely to discourage a movie, compared to 17% of Christians overall.
" 78% of faith-driven consumers say it would have a significant influence on their decision to see a film if their church encouraged it, compared to 55% of Christians overall, and 57% of Faith Driven Consumers' churches encourage members to see specific faith-based films, compared to 36% of Christians overall.
On a scale of one to five, faith-driven consumers rate Biblical accuracy as the #1 factor in considering a film. Below is how all factors were rated.
" 60% gave "how accurately the movie reflects the Bible" a 5 (4-5: 84%), compared to 28% of Christians overall.
" 59% gave "compatibility with Christian values" a 5 (4-5: 89%), compared to 23% of Christians overall.
" 56% gave "how appropriate the film is for children" a 5 (4-5: 78%), compared to 30% of Christians overall.
" 51% gave "faith-compatible characters and relationships" a 5 (4-5: 83%), compared to 21% of Christians overall.
" 51% gave "faith-compatible situations" a 5 (4-5: 83%), compared to 20% of Christians overall.
" 50% gave "entertainment value" a 5 (4-5: 83%), compared to 36% of Christians overall.
Indications, however, are that some of the newer movies such as "Last Days in the Desert" and "The Confirmation" do not necessarily hold true to the Biblical scripts, but have rather tended to inject angles, scenarios, and themes that may, nonetheless, appeal to faith-based audiences.
This, In effect, is accomplished by injecting a mix of truth, controversy and error to the original Biblical script, as was the case with the movie Noah released early 2014.
As Ann Hornaday for the Washington Post recently reported, these may not be "Christian movies" in the post-"Passion (of the Christ)" sense of being produced and advertised for a particular market, but "Christian movies for the rest of us" are becoming a niche in their own right.
Andrea Lapin for npr.org holds a similar view. Lapin states: "Some of the best films about Christianity don't treat the Gospel as, well, gospel. The filmmakers don't view the act of movie-going as a pilgrimage only for the devout to undertake, nor do they allow theological rigor (an expectation that Biblical entertainment must adhere as closely as possible to the source material) to overtake the more necessary task of telling an engaging narrative.
If a filmmaker can treat Jesus as a fully realized character rather than a deity, and the story as something cinematic instead of a Sunday school class, then the result can have meaning for an audience beyond Christians by addressing itself to more universal struggles".
Although Lapin heaps praise on Last Days in the Desert, he goes on to admit that: "Throughout the film, we never see any sign that God is listening, that Jesus' path is indeed righteous, or that Satan is anything but a hallucination brought on by the heat and lack of nourishment. There are no easy answers in the desert".
In this movie, Ewan McGregor excels in a dual role as both Jesus and the Devil. Further, Satan is characterized as "...not a purely malevolent (evil) force, but an inquiring sort, asking the questions about God and the unknowable that give Jesus pause..."
Such views as Lapin and Hornaday hold regarding such heretical movie concepts would certainly not be entertained by believers who choose to hold firmly to the standards of Biblical teaching and records.
Little wonder that movies of this genre, such as Martin Scorsese's 1988 release titled The Last Temptation of Christ carried blasphemous and grossly un-Biblical depictions of Christ - and were roundly condemned by Christian fundamentalists.
Theodore "Ted" Baehr, J.D., is chairman of the Christian Film & Television Commission and publisher of MovieGuide (MovieGuide.org), a family guide to entertainment. Dr. Baehr, in a recent report for the Washington Times, weighed in on the topic of why Christian and faith-based movies have gained so much popularity - and so rapidly - over the past several years.
In Baehr's words: "...this increased move toward faith and values (and even toward moral principles in blockbusters like "The Jungle Book," "Furious 7" and "Batman v. Superman: Dawn of Justice") isn't just the result of one or two successful movies. Nor is it the result of more evangelical filmmakers in Hollywood. It's the result of 20 years of promoting the Annual MovieGuide Report to the Entertainment Industry, which shows how to make more money at the box office.
The work of the filmmaker can be enhanced by faith and moral business practices in varied ways. Thus, you don't have to make a Biblical epic to make a successful movie with faith and values. You can insert a positive character with faith and values into your story.
Or, you can insert positive references to Biblical places, Biblical characters and Biblical principles, such as "Love thy neighbor," into your story. Or, you can insert some Christian Biblical metaphors into the movie, such as symbolic representations of the life, death and Resurrection of Jesus Christ.
Numerous filmmakers have told us personally how taking our advice and turning from making movies without faith and values to making movies with faith and values has brought meaning, purpose, dignity and many blessings to their own lives and the lives of their families.
Thus, even the work of making entertaining movies for a mass audience can be a great benefit, not only with regard to financial prosperity but also to one's personal growth and fulfillment -- especially when you apply Biblical principles of faith and values to your endeavors..."
Based on the views sampled, the film industry seems essentially to favor two main tactics to enhance the 'crossover' appeal of Christian and Faith-Based movies: either twist the original Biblical narrative with personal (and often subtly anti-Christian) conjecture or infuse Christian values into a secular movie narrative.
As much as both approaches keep the film industries' cash registers ringing incessantly, the mixture is likely to pollute or at the very least confuse the Gospel messages, values, and themes that Bible-based movies should be intended as 'good, clean, family entertainment'.
---