You Can Help Make A Difference In Israel This Purim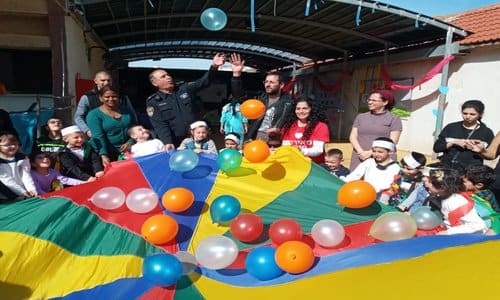 By Israel 365
March 10, 2020
Share this article:
---
Purim is a time of joy and celebration. In Israel, there are crowds of revelers dancing in the streets wearing creative costumes and big smiles on their faces. Everyone participates in a variety of outdoor parties, costume contests, and fun activities for the children.
Following that, is the Seudat (feast of) Purim. This festive meal is a commandment for Jews to commemorate the miracle that took place on this day many years ago. It often involves a celebratory meal where friends and family get together to eat, drink and give thanks.
Due to the extreme rise in poverty, not everyone in Israel can afford to enjoy a proper Purim feast. With 1.8 million Israelis who live below the poverty line and nearly half of them children, so many people are not in the position to celebrate a Happy Purim.
That's where an organization called
Meir Panim
comes in. Meir Panim, 'to light up faces', runs a network of Restaurant-Style Soup Kitchens throughout Israel. Over and above all of their regular programs and activities, on Purim, Meir Panim has many exciting delights in store for their patrons.
Each Restaurant-Style Soup Kitchen will be having abundant Purim Feasts which include the holidays' traditional triangular-shaped cookies - 'Hamantashen'. But their activities this year will go well beyond the Restaurant-Style Soup Kitchen.
There is another tradition on Purim observed by the Jewish people called 'Mishloach Manot'.
Translated as 'sending gifts of food', Jews are commanded to give two separate foods, which are ready to eat, to at least one person on Purim day. Mordechai, one of the Purim heroes, instituted the practice of Mishloach Manot, as is quoted in the Book of Esther:
That is why village Yehudim, who live in unwalled towns, observe the fourteenth day of the month of Adar and make it a day of merrymaking and feasting, and as a holiday and an occasion for sending gifts to one another. (Esther 9:19)
Each of their patrons will be given two baskets of Mishloach Manot- one for themselves and one to give to someone else. "They love it. And we love being able to do it!!" said Mimi Rozmaryn, Director of Global Development for Meir Panim.
Now is your chance to go
above and beyond
and give the gift of dignity to Israel's hungry. You can do that by making a Purim donation to Meir Panim.
Take part in the Purim holiday in Israel and celebrate with our Israeli brethren.
Donate to Meir Panim today
. Feed the hungry in Israel and let them feed others.
---