Containment Efforts Have Failed: What Happens Next?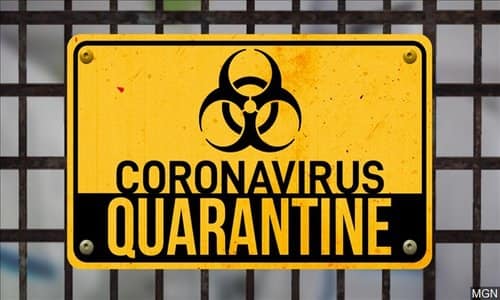 By Daisy Luther/Organic Prepper
March 06, 2020
Share this article:
---
As confirmed cases of Covid-19 continue to pop up all around the United States, it appears that containment efforts have failed.
The cruise industry is going to have great difficulty recovering from the latest news that another Princess cruise ship is is going to be held offshore in quarantine due to numerous people showing symptoms of the coronavirus.
The Princess Grand cruise ship headed from Hawaii toward San Francisco contains 21 people who are showing possible symptoms of the novel coronavirus, according to California Gov. Gavin Newsom.
"The ship will not come onshore until we properly assess passengers," Newsom told reporters at a press conference. Newsom declared a state of emergency in California on Wednesday.
The virus that has already shut down the school system in Japan and Italy - is now causing various closures throughout the country including Washington, Oregon, Idaho and Rhode Island.
California, Washington, and Oregon have reported "community spread," which means that investigators are unable to figure out where patients have contracted the virus. Community spread is generally a turning point in an outbreak that means the illness is uncontained.
An explosion in purchases of essential items like food and toilet paper took place all over the country this weekend as people began to become more aware of the need to be prepared to stay home for a period of time.
A series of errors by the CDC is part of the failure
The CDC failed to follow guidelines laid out by the World Health Organization and developed its own test. Unfortunately, that test was faulty, putting the nation weeks behind in detected cases.
As a result, until Wednesday the CDC and the Food and Drug Administration only allowed those state labs to use the test -- a decision with potentially significant consequences. The lack of a reliable test prevented local officials from taking a crucial first step in coping with a possible outbreak -- "surveillance testing" of hundreds of people in possible hotspots. Epidemiologists in other countries have used this sort of testing to track the spread of the disease before large numbers of people turn up at hospitals.
According to ProPublica, the CDC promised on February 14 to begin surveillance testing in New York, Chicago, Los Angeles, San Francisco, and Seattle, but this testing has not yet begun. As I wrote last week, I don't believe the official numbers are reflective of the actual cases because of narrow guidelines about who can be tested, the faulty tests, and the complete lack of tests in many areas.
Vice President Pence said over the weekend that 75,000 more testing kits will be made available this week. He also seems to be loosening the criteria to be tested, telling Jake Tapper in an interview, "...we've established a process in a number of cities across the country where if somebody presents at the local hospital with a respiratory ailment, we want them also tested for coronavirus."
Don't be surprised to see a sharp increase in cases once more tests become available. This won't necessarily mean that the illness is spreading faster - it just means that people will be diagnosed instead of being told they have the flu and getting sent home to spread it further.
Unfortunately demand is expected to outstrip supply and Mike Pence admitted Thursday that the administration will not be able to follow meet its promise to deliver one million coronavirus testing kits by the end of the week.
'We don't have enough tests today to meet what we anticipate the demand going forward,' Pence said during a visit to a 3M Company plant in Minnesota Thursday afternoon.
What happens next?
Federal and local governments will try to mitigate the spread. Expect to see more quarantines, workplace and school closures, and cancellations of public gatherings.
As other countries hard hit by coronavirus cancel public activities and shutter schools, HHS Secretary Azar said such measures could be part of the containment toolkit here, if needed.
Keeping kids home from school and running workplaces on a skeleton staff is part of what experts call "social distancing," a way to keep people from passing disease to one another. As recently as 2009, a flu pandemic led to school closures in many U.S. communities.
"It can be indicated under certain circumstances that it might make sense to close a school or schools, or take other measures like that," said Azar. In the U.S. that would be a decision made at the local level.
There will be a lot of personal economic ramifications to this.
First, it means that there could be a lot of people not getting paid. Here's some information on how to prepare for the financial consequences of a potential quarantine or workplace closure. If you are quarantined and your workplace isn't closed, you may have some protection under the law to be sure that you keep your job according to this article on Forbes. It will also mean childcare issues for those who still need to be at work but whose children are unable to attend school.
Shortages will become more obvious soon.
Face masks won't be the only thing in short supply soon despite the CDC specifically not recommending them for healthy people trying to protect against COVID-19. As people clear the shelves in supermarkets and general merchandise stores across the country, some of that inventory may not be replaced quickly. Mainstream sources suggest we could see bare shelves in mid-April, but I suspect after the weekend's buying frenzy, our just-in-time supply chain could begin to fray very soon.
Part of this is the fact that so much of our merchandise originates in China. The problem is two-fold. First, factories have been shuttered as millions of Chinese people in numerous cities have been quarantined for more than a month, so production has ground to a halt. Secondly, shipping has seriously declined - world ports are already seeing an impact.
So even those who have money could soon have difficulty finding the products they want.
If you haven't stocked up, now is the time to do so. The supply chain is showing its first signs of wear and it could be months (at the least) before it bounces back.
The economy shows all the signs of a pending recession.
Investors are bracing themselves for another bad week in the market next week. The travel sector and shipping industry are due to lose billions if the current trends continue. Economists warn we could be looking at a full-blown recession.
Consumer spending, says the Washington Post, has propped up the US economy for a decade. With potential job losses and income interruptions, people will (wisely) pull back from non-essential spending.
"The odds of a recession are roughly a coin toss, and that's exceptionally high," said Edward Al-Hussainy, an analyst at Columbia Threadneedle Investments. "Conferences are getting canceled. Corporations are asking people to work from home. Schools are getting closed. That is a massive hit to demand."
This is a situation that the usual governmental policy repairs cannot mitigate.
Interest rate cuts by the Federal Reserve (some now speculate the Fed will be forced to go to 0) can lower borrowing costs and raise stock prices. But they can't replace the goods made by factories closed to keep their workers from getting sick with Covid-19, the serious respiratory illness the virus causes. The government can try to pump more money into people's pockets directly, such as with tax rebates, but money alone won't put goods on empty store shelves.
This could be different from previous recessions like the one a decade ago. Not only will it lead to more unemployment and lower pay, but we'd also be dealing with the afore-mentioned shortage of goods. This could drive the prices of available goods up, creating a perfect storm for Americans.
We could begin to see social unrest.
Social unrest is different from civil unrest - it's the part that comes before a breakdown of the system. As people become more and more nervous, the rumor mills begin and people start to take actions based on bad information. An example of this occurred in Alabama over the past week.
Not long before local leaders decided, in the words of one of them, that federal health officials "didn't know what they were doing" with their plan to quarantine novel coronavirus patients in town, a doctor here set out in a biohazard suit to stage a one-man protest along the highway with a sign. "The virus has arrived. Are you ready?" it asked.
The town didn't think it was. Residents already were unnerved by strange stories posted on Facebook and shared via text messages about helicopters secretly flying in sick patients, that the virus was grown in a Chinese lab, that someone -- either the media or the government -- was lying to them about what was really going on.
What happened here over the past week illustrates how poor planning by federal health officials and a rumor mill fueled by social media, polarized politics and a lack of clear communication can undermine public confidence in the response to the novel coronavirus, which causes the disease named covid-19...
...The panic and problems that burned through Anniston also provided a preview of what could unfold in other communities, as the spread of the virus is considered by health experts to be inevitable.
This isn't to say that all the concerns of Anniston, Alabama are crazy conspiracy theories - but it's a glimpse at how quickly a community can lose faith in the official response and begin to panic.
Selco wrote a few weeks ago that the worst of the situation wasn't the virus. It was the threat to the system.
Virus or illness on itself might not be a problem in its essence, but the impact that it brings to the system and people might be so huge through the media that it causes the system to stop working in the normal way. So you could find yourself in a collapse not necessarily because of a huge pandemic, but because of the reaction to it.
Another case might be the simple unwillingness from the system to admit how bad the situation is in order to stop the panic when folks realized the truth.
So, what might bring the system to collapse might be a real pandemic or a reaction to the pandemic (which might or might not be controllable) or simply the government's poor or late response to the pandemic.
It's not Selco's first rodeo with systemic collapse, and it looks like things could play out exactly as he predicted. And it could play out soon.
What should you do?
Selco's advice?
No matter what, in the end, it always comes down to the basics.
So when you not sure what to do and when you are not sure what is gonna happen just go back to the basics and think about how you can keep yourself and your family secure and safe, fed, as far as possible from trouble, healthy, warm...and for how long.
Do not forget the emphasis on "how long."
Do not get mesmerized by a particular possible event too much or too long, because yes, in the end, it is about the basics.
Here's a list
to help you cover your basics. Even if you never see a quarantine, these items will help see you through a period of systemic failure. If you're on this website, reading this article, you probably have a lot of the items already.
The week ahead is likely to bring rapid developments. It's important to keep a clear head, to be ready to separate facts from theories, and to choose reliable sources for your information. Stay away from situations that could escalate into violence or disorder.
You can't control the government response, shortages, and the overall economy. You can't control the system. While we may be in for a bumpy ride, the best way to keep it together during stressful times is to focus your energy on what you can personally control.
---