Dangerous Trend: Media Blaming Evangelicals For Spreading COVID-19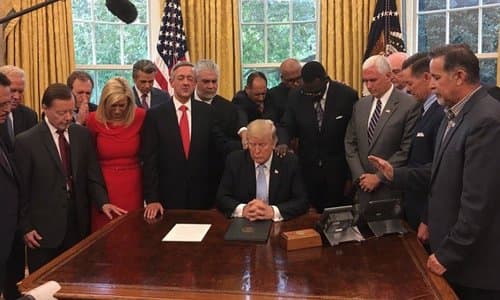 By PNW Staff
March 30, 2020
Share this article:
---
This is not the first time something like this has happened. A national tragedy occurs, and Christians get scapegoated.
The ancient pagans of Rome, as their society fell apart, blamed Christians. Remember Nero blaming the Christians for the burning of Rome?
Several media organizations are now focusing on how several large megachurches around the country continue to meet, especially in New Orleans where the virus is now considered a "hot spot".
With President Donald Trump announcing on Sunday that his administration was extending the social distancing guidelines for the entire month of April watch for the focus on churches to continue to get increased scrutiny in the press.
New York City (another hot spot) Mayor Bill de Blasio has already warned pastors to shut down their houses of worship - or else. The mayor said the police department, fire department and building inspectors "will force congregations to disperse if they are found holding worship services this week.
Any congregation that refuses to comply with the mayor's order, could face fines or have their buildings permanently closed.
Such orders are reinforcing the public consciousness that Christians are in part to blame for the rapid spread by refusing to stop meeting at church.
The death toll is expected to continue to rise greatly this week in New York, New Orleans and other major metro areas (with the peak death toll still not expected to take place for another two weeks) .
As emotions begin to run high, don't be surprised if other localities begin to issue such orders as NY has done in regards to church closures, which in turn will spread the mindset that if you need someone to blame other than the politicians, those Bible believing Christians are next in line.
The media has often associated Evangelicals with support for Trump and now some are taking direct fire at that association in spreading the blame.
The New York times ran a disturbing piece last week with the title:
'The Road to Coronavirus Hell Was Paved by Evangelicals'
Subtitled,"Trump's response to the pandemic has been haunted by the science denialism of his ultraconservative religious allies."
According to Katherine Stewart, the author of the article, "Donald Trump rose to power with the determined assistance of a movement that denies science, bashes government and prioritized loyalty over professional expertise. In the current crisis, we are all reaping what that movement has sown."
Other articles in the media have already sowed the seeds of such divisiveness when the White House previously released a picture of the vice president praying with the coronavirus task force in his West Wing office.
After the taskforce prayer photo began circulating on social media, it didn't take long for some on the political left to mock the prayer or take offense to it.
Hemant Mehta, who writes for Patheos.com's "Friendly Atheist" blog, wrote that "it's not a joke when people say these Republicans are trying to stop a virus with prayer."
"What else did anyone expect?" Mehta asked. "Science? Reason? Something sensible? Of course not. If this virus truly becomes a pandemic, we're at the mercy of people delusional enough to think their pleas to God will fix the problem. The same God who presumably created the virus, at least in their minds, will somehow make sure it hurts only a handful of Americans ... and a ton of Chinese people."
Dr. Angela Rassmussen, a virologist at Columbia University, also criticized the prayer.
"I have yet to attend a scientific meeting that begins in prayer," she wrote.
Thomas Chatterton Williams, a writer with the New York Times Magazine, shared the photo on Twitter and commented that "we are so screwed."
---