Global Digital ID With Vaccines Is Now Being Promoted As Way To Combat The Virus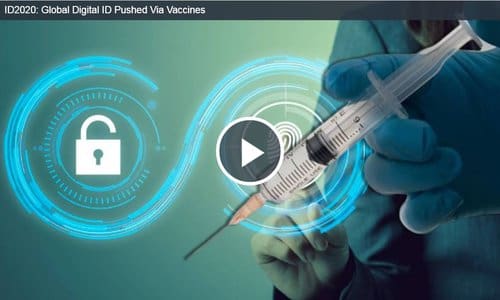 By PNW Staff
April 13, 2020
Share this article:
---
First, it was former UK Prime Minister Gordon Brown who called on world leaders to form a "temporary" global government in response to the coronavirus pandemic.
Then it was the United Nations Secretary-General asking nations to contribute at least ten percent of their annual income, essentially a global tax.
Now we have Bill Gates and other influential leaders suggesting another global solution - Global Digital ID as part of a vaccination program.
Bill Gates has emerged as a global "authority" in the wake of COVID-19, funding vaccines and advising governments on how to respond to the pandemic.
Gates was busily working to establish global digital ID infrastructure long before the outbreak, which is now being promoted as a way to combat the virus.
ID2020--a project initiated by Bill Gates Foundation, the Rockefeller Foundation, transnational pharmaceutical corporations, and technology firms--is pushing the concept that every human on the planet needs biometric verification because "to prove who you are is a fundamental and universal human right," according to the ID2020 website.
Gates is not the only one in favor of such systems. Director of the National Institute of Allergy and Infectious Diseases, Dr. Anthony Fauci who appears with Trump at the daily news briefings recently confirmed in an interview with CNN that the idea of Americans carrying "certificates of immunity" is a possibility being considered to identify people who have been infected with the COVID-19 virus and help jump-start America's economy in the coming weeks.
The certificate of immunity is the pathway that Gates sees for introducing his Global Digial Id certification. Last month Gates was asked about such a certificate on a Reddit forum and said the following:
"Obviously, some kind of recording and tracking mechanism that relies on technology to alert -- in context of discussing coronavirus -- "who has recovered," versus who has "been tested," versus who has been administered a vaccine, "when we have one."
The similar thinking of Fauci and Gates should not come as a surprise. Both are well connected with one another. Fauci serves as a member of the Leadership Council for the Global Vaccine Action Plan.
This organization was established in part by the Bill & Melinda Gates Foundation, the World Health Organization and Fauci's own NIAID -- a plan that calls for a "Decade of Vaccines" to spread far and wide, all around the globe.
Bill Gates, one of the wealthiest men in the world, is already leading the charge to fund the construction of several factories that will be looking for a vaccine for this new virus and has suggested "larger public gatherings may not resume until broad vaccination has taken place."
"As countries begin to lift coronavirus lockdowns, biometric identification can help verify those who have already had the infection, and ensure that the vulnerable get the vaccine when it is launched, health and technology experts said," reports Reuters.
A biometric ID system can keep a record of the infected and those getting the vaccine, said Larry Dohrs, Southeast Asia head at iRespond, a Seattle-based nonprofit that launched its technology last month.
Under the "digital inclusion" initiative, Bill Gates has already been pushing for India's Aadhaar digital ID system to expand around the world prior to the outbreak. The World Bank is heavily invested in the project.
The GSMA - the industry organization for global mobile operators - recently published a report detailing the push for digital ID systems worldwide to respond to COVID-19. As reported:
State governments in India are adapting real-time digital identification mechanisms to monitor compliance with quarantines arising from the COVID-19 pandemic...
Meanwhile, the Jamaican government is looking to fast track the rollout of its National Identification System to help it dispense aid in response to the COVID-19 outbreak...
GSMA technologies are supported by the Bill and Melinda Gates Foundation. As reported last year, the biometrics company Idemia joined the project:
Idemia has joined the newly launched GSMA Inclusive Tech Lab to support the development of innovations and future technologies that boost digital and financial inclusion...
The GSMA Inclusive Tech Lab intends to promote access to financial, healthcare, mobility, and other services by supporting initiatives around open APIs, artificial intelligence, and digital identity... The GSMA Inclusive Tech Lab is supported by the Bill & Melinda Gates Foundation.
Idemia is a central company involved in supplying the infrastructure needs of most digital and biometric ID systems around the world.
Idemia also makes drivers licenses in the United States.
Gates said in a 2018 CNBC interview that it was "too bad" if someone thought that Aadhaar was a privacy issue and that those who refuse to be tagged by this system will eventually become outcasts and denied basic services.
If you believe this is dangerously close to China's "social credit" system, you're not far off the mark.
Such a vaccine will eventually become mandatory and those who resist will be blacklisted as public health criminals. They will be locked out of society, similar to Chinese citizens suffering under China's totalitarian social credit system.
Biometric data, ID technology, health ratings/vaccination records, and digital commerce are all merging and advancing to the next level.
While we don't ultimately know what final form the "Mark of the Beast" described in the Book of Revelation will take - these trends all appear to be a foreshadowing of what may be to come.
Prophecy News Watch has several great resources to help you and your loved ones better understand the times in which we live and what may lie ahead:
1.
Before The Wrath DVD
- A message of hope about the Return of Jesus but also a warning of what is yet to come. Special bulk discounts for sharing with friends.
3.
The Coming Convergence DVD
- A profile of several world events that are all converging at this time in history - exactly as foretold in scripture.
---