New Report On World's Worst Religious Freedom Violators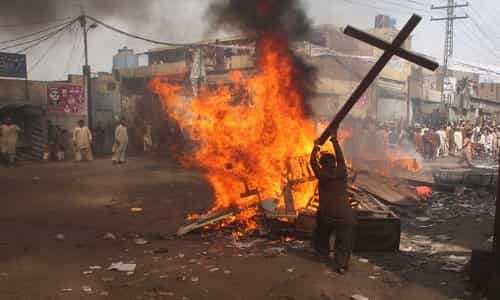 By Suzanne Bowdey/Family Research Council
May 07, 2020
Share this article:
---
The report is 104 pages -- but it tells a thousand stories. For young women like Mary Mohammadi, sentenced to flogging and more time in prison, the one hope she has, apart from Jesus, is here in the United States.
Her prayer -- like so many others in Nigeria, North Korea, China, India, Iran, and elsewhere -- is that Americans step in and stop the suffering. For 21 years, one commission's goal has been to do exactly that.
There are nine of them -- different people with different backgrounds, different faiths, united by one belief: religion is no excuse for oppression. Every spring, after months of meeting with leaders overseas and shaking the hands of brave survivors like Mary, the U.S. Commission on International Religious Freedom (USCIRF), which Tony Perkins chairs, calls out the worst offenders of faith-based persecution in the world.
Together, they pour over the events of the last 12 months, measuring countries on the severest of scales. If their violations to religious liberty are "systematic, egregious, and ongoing" then they're recommended as a country of particular concern (CPC). This year, 14 nations -- each a symbol of anguish for tens of millions of people -- qualified. Fifteen others were just shy -- but worth including, they believed, on a special watch list.
For all of the misery this document represents, there were some rays of hope. In Sudan, where Tony visited a couple months ago, the developments have been unexpectedly positive. The African country, one of many who's appeared on the list since it started, suddenly finds itself under a transitional government that is at least open to the idea of religious tolerance.
After his delegation met with the prime minister, they were pleasantly surprised with how receptive he was to USCIRF's recommendations -- like revising the local public-school curriculum to make it more friendly to faiths.
In many ways, Sudan is a great example of how influential this administration's agenda has been. Now that President Trump and State Department Secretary Mike Pompeo have prioritized religious freedom, other countries seem more anxious to get in line. They sense that America is paying attention in a way that it hasn't before. And that's resulted in changes that, an administration ago, never seemed possible.
On the flip side, there are places where evil isn't so easy to uproot. As FRC's Arielle Del Turco pointed out, North Korea is -- and has been -- among the world's worst, if not the worst, religious freedom violator of the modern age. Christians there have absolutely no freedom at all. "Any expression of faith will land you in a prison camp. And it could land your family in a prison camp as well.
Even something as simple as being caught with a Bible." When defectors are caught by the Chinese and sent back, Arielle explains the first questions they're asked are, "'Did you encounter Christianity? Did you meet any Christians?' And if the answer is yes, they are going to be treated much more harshly in these prison camps... This is not a new development, but the fact that it remains even in 2020 is a huge problem and we need to be paying more attention to it than we already are."
Then, unfortunately, there are the unexpected backsliders like India -- a democratic nation, at least in theory, consistently moving in the wrong direction. Ironically, as Arielle mentioned on "Washington Watch," "Indian leaders are always very defensive about their record on religious freedom.
But really, the religious freedom situation has deteriorated rapidly over the course of the last year -- they really don't have too much to argue with here." Indian laws have been ruthless on religious minorities, specifically Muslims, but also there's also been mounting mob violence from the ground up. "And this mob violence is often inspired by the Hindu nationalist rhetoric of the current Hindu nationalist party that rules India... And frankly, these leaders have not done enough to condemn these attacks. Sometimes their rhetoric even incites it. And they just look the other way when there are attacks."
In places like Nigeria, the jihadi attacks are building a bloody legacy. FRC's Lela Gilbert talked about some of the harrowing massacres taking place as the Fulani tribe burns and kills its way through the villages, yelling "Allah Akbar!" For Christians and non-Muslims, it wasn't enough to deal with one enemy -- Boko Haram. Now they have to cope with two. "We know what the Islamic State is all about," Lela says. "They're very violent. They love to make videos now of beheadings," and with Boko Haram, "it's the same pattern."
"They go into these poor villages... in the middle of the night during darkness, and they just start slaughtering. They kill the men. They take the women. They rape the women. They take the young women and the young girls and boys kidnap them and hold them for ransom or whatever, put them into slavery... And yet, there hasn't been much done about either of these groups in Nigeria, which is a big problem for us... This is why we keep bringing it up -- because it's getting worse. It's not getting better."
That's where the Trump administration comes in. As anyone in the international religious liberty community knows from meeting with the president, these are problems he takes seriously. If his foreign policy team has to be more aggressive with the countries USCIRF identifies as abusers, he's not afraid to use the leverage he has.
Religious freedom -- around the world and here at home -- is a top Trump priority. And for all of the Mary Mohammadis in the world, this is the hope: that America will use every tool in its chest to uphold it.
---