US Space Force Rushes To Stop A 'Space Pearl Harbor'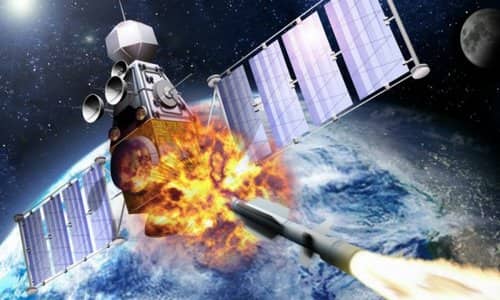 By PNW Staff
May 25, 2020
Share this article:
---
When the first Star Wars movie was released back in the late 70's, audiences imagined intergalactic battles taking place at a time far in the future - possibly a full century into the future.
No one could have predicted technology would improve at such an incredible rate in the decades to follow that we would now have our own U.S. Space Force or USSF. The USSF is the first new military service since the U.S. Air Force was established in 1947.
This past week the President took part in the a ceremony to unveil the official flag of the U.S. Space Force which ironically some have pointed out has similarities to the logo used in Sci-Fi TV series Star Trek.
Much of the technological advantage enjoyed by the United States and other world powers is owed to the use of satellites. Defending those satellites will become a top priority for the Space Force in order to avoid what a pentagon report call the danger of a "space pear harbor".
Steve Isakowitz, CEO of The Aerospace Corp., a government-funded think tank that serves as the military's leading adviser on space said the U.S. can no longer afford to take its dominance for granted.
"That supremacy in space has enabled us to have the world's greatest war-fighting capability ... whether it is our soldiers on the field, our drones that fly overhead, our bombers that travel around the world, intelligence we collect," he told POLITICO. "More and more every day, literally, we become more dependent on it.
"And our adversaries know that." It is the old error of having all one's eggs in one basket.
Just as important, the network of communications satellites allows for civilian communications, data transfer and economic coordination across our country.
Clearly, any nation that can destroy its opponent's satellites gains a considerable advantage, and that is exactly what Russia and China are now preparing to do.
President Putin has not been shy of boasting of his growing military arsenal designed for space.
"I want to tell all those who have fueled the arms race over the last 15 years, sought to win unilateral advantages over Russia, introduced unlawful sanctions aimed to contain our country's development: You have failed to contain Russia," Putin said during a national address last year.
Russia recently launched an orbital kinetic kill vehicle, a sort of kamikaze satellite, known as the Kosmos 2499.
Already traveling at incredible speeds, the satellite would target American satellites in orbit and obliterate them with a simple collision.
On April 15, Russia fired an anti-satellite missile in a test of technology that the U.S. Space Force considers a threat to American orbital assets.
This test followed the country's on-orbit test maneuvers of two satellites that "exhibited characteristics of a space weapon," COSMOS 2542 and COSMOS 2543, which the U.S. has been closely following, the U.S. Space Force said in a statement yesterday.
In February, the U.S. Space Force spotted these Russian satellites following a U.S. spy satellite, behavior that Space Force commander Gen. John "Jay" Raymond described at the time as "unusual and disturbing."
"This test is further proof of Russia's hypocritical advocacy of outer space arms control proposals designed to restrict the capabilities of the United States while clearly having no intention of halting their counterspace weapons programs," Raymond added.
China has also launched its own satellite killer, one equipped with grappling arms, called the Shiyan. Other weapons pulled from the pages of science fiction include lasers and magnets.
The Chinese Shiyan satellite has performed at least one successful capture using its grappling arm, capable of throwing other satellites out of orbit or stripping them of their useful parts.
China is even planning a permanent base on the moon as part of it's dual military and commercial program.
Rick Fisher, senior fellow at the International Assessment and Strategy Center, warns that the biggest key to thwarting Chinese dominance in space will be denying Beijing control over the moon and the region of space between it and the Earth.
"If America fails to beat China back to the moon to secure commanding positions that can help deter conflict, we are then condemning our country and military forces to many future wars with China," Mr. Fisher said.
He further warned "China is pursuing a full spectrum of threats to our space capabilities, including reversible jamming, directed energy weapons, cyber threats, orbital threats, and kinetic energy threats from ground-based missiles.
It should then come as no surprise that Yleem Poblete, the U.S. assistant secretary for arms control has warned that the Trump administration will not sit idly by as Russia and others attempt to gain the advantage in the militarization of space.
"While the United States would prefer that the space domain remain free of conflict, it will prepare to meet and overcome any challenges that arise," Poblete said. As Vice President Pence recently noted, "Our adversaries have transformed space into a warfighting domain already. And the United States will not shrink from this challenge."
"The United States will not support various treaties proposed by the Russians to limit space militarization at a time when they are behaving in the opposite manner", Poblete added.
The Trump administration has also warned, "Any harmful interference with or an attack upon critical components of our space architecture that directly affects this vital U.S. interest will be met with a deliberate response at a time, place, manner, and domain of our choosing."
The U.S. Space Force is already preparing for the potential space conflict on the horizon by building an arsenal of as many as 48 ground-based weapons over the next seven years designed to temporarily jam Russian or Chinese communications satellite signals.
Experts warn that Russia and China already have a head start in the space arms race and we could remain particularly vulnerable for the next few years while we catch up.
---